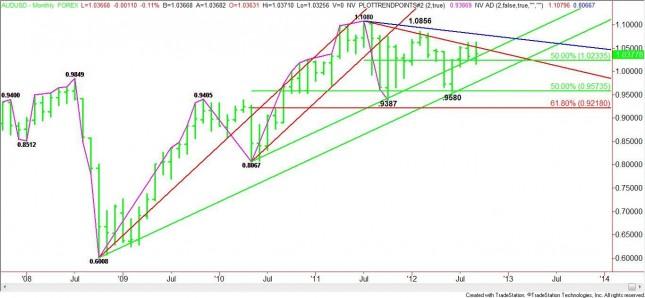 The AUD/USD closed slightly better last month following a month which featured an outside move. An outside move occurs when a market posts a higher-high and a lower-low than the previous month. This pattern tends to indicate impending volatility. 
Initially, the Australian Dollar traded weaker against the U.S. Dollar, reaching a low at 1.0165 on September 6. Shortly thereafter, the announcement of fresh stimulus from the European Central Bank and the U.S. Federal Reserve helped to drive up demand for higher-yielding assets. The Aussie reached its high for the month at 1.0624 on September 14 on the news.
 Now that the near-term range has been established, 1.0165 and 1.0624 are expected to act as pivot prices. However, the longer the market remains inside of this range the greater the move once it violates support and resistance.
 From a technical standpoint, a downtrending resistance line from the 1.1080 top is at 1.0480 during August. A breakout through this price could trigger a further rally to 1.0780. On the downside, support this month is at 1.0387 and .9848.
 Based on the range of 1.1080 to .9387, the key price to watch is the 50% level at 1.0233. The AUD/USD has been straddling this level for several months, highlighting its importance as a balance point. This level appears to be controlling the short-term direction of the market. Traders should watch this level to gauge the market's strength. Holding above it will give the Aussie a bullish tilt while a failure to establish support will be an indication of impending weakness.