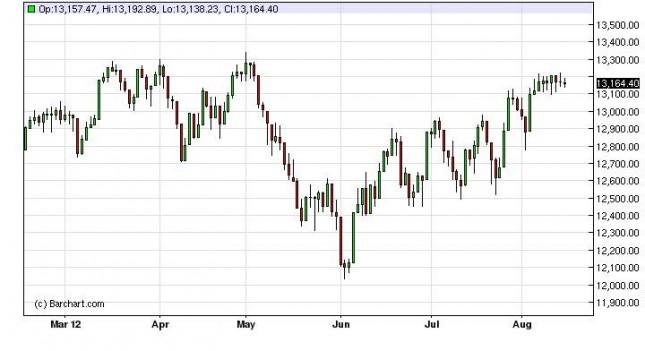 The Dow Jones did very little during the Wednesday session as the markets remain flat. With the vacation season in high gear, there is very little to move this or any other market at this moment in time. This is by far the slowest time of the trading year, and as such only the most junior traders are at the large desk during this month.
The 13,200 level marks the beginning of a resistance area goes all the way to 13,300. As we are struggling to get above the 13,200 level, it does look like we are being contained within the previous downtrend.
In order to buy either Dow futures or higher beta Dow Jones Industrial Average companies, we would need to see a break above the 13,300 handle on a daily close to show momentum to the upside. As for selling, we have to see a break down below the 12,800 level and quite frankly perhaps something a little more deeply than that. The one caveat of course is going to be the Fed and whatever it does about monetary policy. If they do very little, we could see a run out of the a lot of the space is to become nervous.