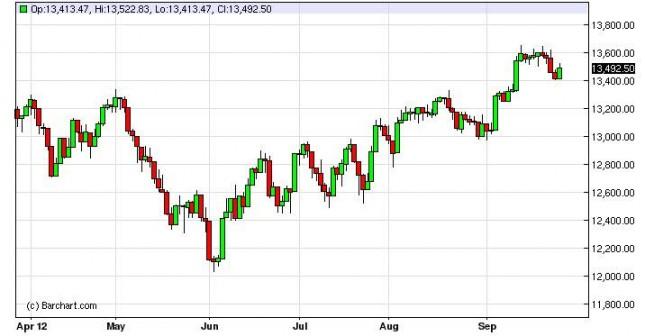 The Dow Jones Industrial Forecast rose during the session on Thursday as Spain and Greece both suggested they were ready to take on more austerity measures in order to procure funding and backing by the ECB. This of course helped risk appetite around the world by investors, and as such we saw a rise in many of the risk related assets globally.
It does look like the 13,400 level has held as support, and as such we think that buying outside calls in the options market may be one viable strategy at the moment, as well as buying ETFs that follow this index.
We believe that with the quantitative easing that the Federal Reserve is currently undergoing, stock prices should continue to rise. Whether or not it will actually help the real economy is a completely different discussion, but we do know that the sugar high that the markets are getting from this loose money typically means higher asset prices over the longer run. Of course, there will come a point in time when the stock market recognizes that earnings must go down, but at this moment in time we are currently in an a nice up trend and it looks like we are going to continue this movement.
For us, we feel that some of the larger blue-chip names that pay a nice dividend will be the play for the foreseeable future. We do like the ETFs as well, as it allows us to spread our risk out throughout the index, and of course options. As for the futures market is concerned, we are very hesitant to use them mainly because of the inherent volatility and expense of trading futures a market that is so headline driven.
If we can get over the 13,600 level on a daily close however, we would at that point time be more than comfortable going long in the futures market as it would suggest another leg higher. With the weakening US dollar, it is very likely we will eventually see this scenario, but in the meantime we could expect a bit of choppiness as the world worries about Europe at the same time.