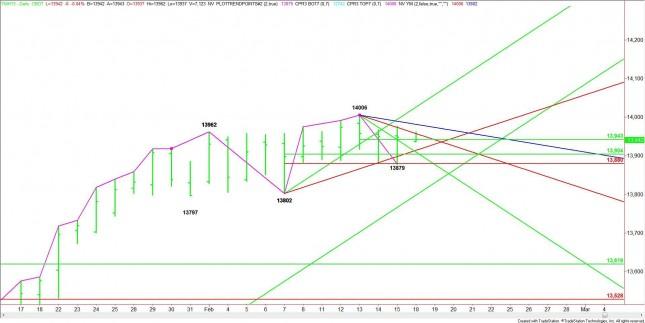 Technically, the triangle chart pattern currently forming on the daily March E-mini Dow Jones Industrial Average chart reflects the uncertainty that has been holding the market hostage since February 1. The triangle chart pattern is a non-trending pattern and typically indicates impending volatility. The gradual narrowing of the support and resistance angles compresses prices to the point where they often trigger volatile moves once broken. Although it is difficult to forecast the direction, the apex or the point where support and resistance meet, helps with the timing of the move.
 From the 14006 top, downtrending resistance comes in at 13958 and 13982 today. The major uptrending Gann angle from the 13802 bottom is at 13914.
The short-term range is 14006 to 13879. This creates a pivot price at 13943. The fact that the market is holding above this level in the overnight trade gives it a slight bias to the upside.
The mid-term range is 13802 to 14006. The retracement zone of this range is 13904 to 13880. The lower boundary or Fibonacci level of this range proved to be solid support last week when the market stopped at 13879 and rallied into the close.
The combination of the non-trending triangle chart pattern with the retracement levels is holding the market in a tight range. This movement could continue for several more days, creating choppy, two-sided trading conditions. If the Dow can shed this range with rising volume then traders are likely to drive the market in that direction.
Trend traders may be hoping for an upside breakout, but the sluggishness of the market at this time coupled with the end of earnings season could trigger a counter-trend move. The usual rule is to "follow the money". This should become more apparent if a catalyst is revealed. Some feel it will be the approaching March 1 deadline for across-the-board Federal spending cuts that could be the news that creates the volatile move being created by the chart pattern.