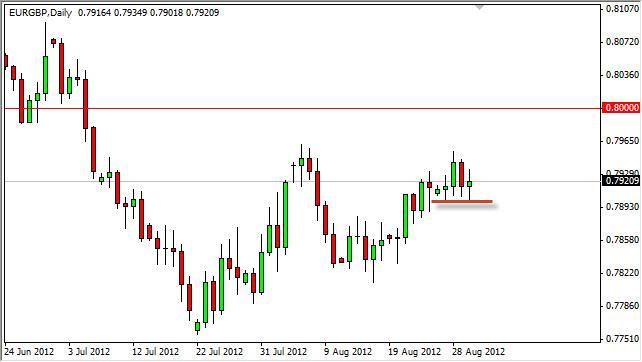 The EUR/GBP pair rose slightly at the end of the session on Thursday, after a fairly tight range. The pair currently sits above the 0.79 level that we see as support, and as such we are very interested in this area. We still think the pair is in a downtrend, and the 0.80 level looks to be very resistive. Because of this, we prefer to sell this pair rather than buy it.
A breaking of the 0.79 level on a daily close would be enough to get us to start selling again. After all, it does make sense of the Euro would continue to struggle against the British pound as the European Union is quite frankly in a bigger mess than the United Kingdom. However, both of these economies are very much intertwined, and as such it makes the moves in this pair very choppy.
The range from 0.7950 to the 0.8050 level for us seems to be far too resistive for this market to overcome. After all, it would require one of two things: either the United Kingdom to run into massive problems, or the European Union to finally get its act together. If this were to happen, we suspect it would be the former of the two that would be more likely to push the markets as it seems the Europeans are millennia up out away from getting their act together.
If we do manage break the 0.79 level, we think that a run down to 0.78 is the first target. Below that, we see a retest of the recent bottom in the middle of July, and then of course to the 0.75 level which shows quite a bit of reaction on the longer-term charts. Because of this, we think that this could be a better longer-term play as the move will certainly take some time - they always do in this currency pair. If we manage to somehow bounce above the 0.81 level, we would consider buying at that point as it would show momentum change, but we think that is very unlikely to happen.