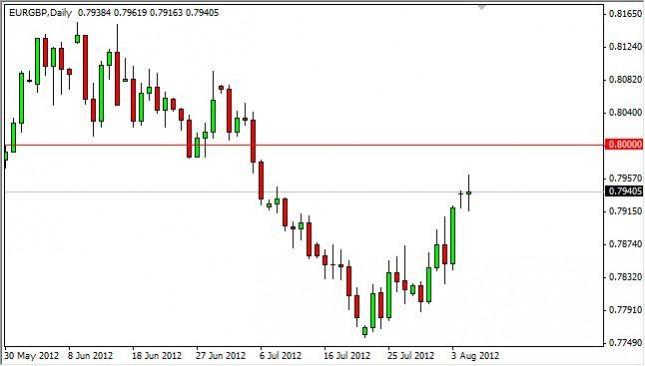 The EUR/GBP pair had a tough session on Monday as the market went back and forth. It did finish slightly positive for the session, but it must be said that the long-legged doji that was printed for the session will do very little to instill confidence at this point. The bullish traders will not have like to have seen this candlestick formation, and it does present itself at the 0.7950 level.
The 0.7950 level is the beginning of resistance all the way up to the 0.80 level. This area should be most resistive, and as a result we are more than willing to sell somewhere within the next 50 pips. On the first sign of weakness, we will be selling this market as it has been in a downtrend for quite some time.
It should also be noted that the British pound is doing quite well against the US dollar. While this may not be intuitive, it does measure the strength of the British pound on its own if you will. It is not influence by what's going on with the Euro, and as such it shows real underlying strength in the Pound. As a matter fact, if the British pound can get over 1.58 against the US dollar, this pair will probably fall apart. This is because of true British strength.
We are more than willing to look at shorter time frames from which to sell this chart, and will more than likely maker trade based upon where the price action is, and not necessarily what it is. Remember, nothing's really been sold in Europe yet, and although somewhat dependent on the European Union, the United Kingdom does have the ability to print its own currency, and of course set its own monetary policy. In a sense this somewhat insulates it from the problems on the continent.
In order to buy this pair, we would have to see a clearance of the 0.81 handle, as it would show a significant momentum changed. This would take a lot of strength to overcome this resistance, and would leave no doubts as the trend being changed. However, we think this is very unlikely.