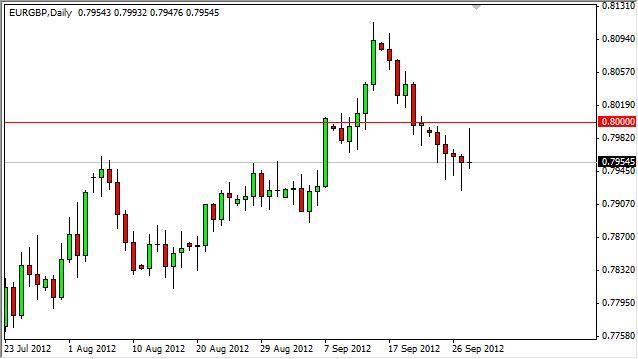 EUR/GBP took off during the session on Friday, and even slammed into the 0.80 level. However, by the end of the session we had fallen to form a shooting star. This is very odd, considering the fact that the previous four candles were hammers, and this should have been the beginning of a significant move higher.
Looking at the longer-term charts, it appears that the weekly chart suggest that we are testing support at the 0.7 950 level, so there is still hope for an upside move. Because of the daily charts however, I believe that we are essentially going to see a move higher but stopped at the 0.8150 level. Essentially, this will become a much consolidated market.
This would make sense, as both currencies are fairly strong right now, and for two totally different reasons. The Euro is essentially getting a lifeline in the form of available bailouts for Spanish and Greek governments, and as a result the currency is benefiting from the "it's not the end of the world" trade. Alternately, the British pound is very strong because of the Bank of England and its seemingly comfortable stance in current monetary policy. In other words, they are not going to take on any other easing measures.
We see the next 200 pips above as being rather congested, so while we think bullish action could be coming, you should be aware the fact that this pair tends to grind under the best of circumstances. In this particular scenario, we think this pair will grind be very erratic. Unless you have the patience and the fortitude to stick in a trade like this, we would suggest finding another market in which to trade. Certainly the Euro will have an easier time against other currencies such as the US dollar and Japanese yen, and as a result we think that this pair although bullish, may be one of the more difficult wants to trade right now.
However, we see a move down below the 0.79 handle, we think this pair could fall down to the 0.75 handle before it's all said and done. Under the circumstances of course we would be more apt to go with this pair as it would be following the overall trend.