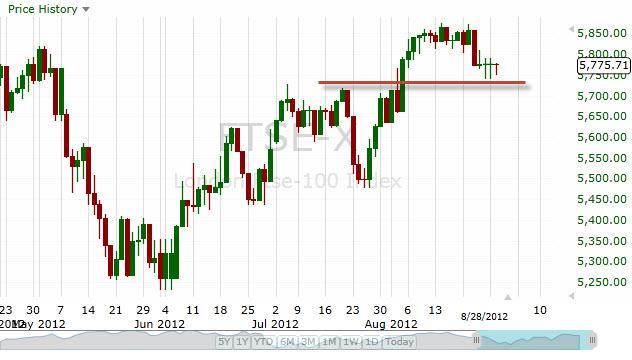 The FTSE 100 fell during much of the session on Wednesday as the world still seems to be sitting and waiting for the Federal Reserve Chairman to give his speech on Friday to the central bankers at the Jackson Hole, Wyoming meeting. The entire world wants to see whether or not the Federal Reserve will continue to ease, and it seems to be seeping into the various foreign stock exchanges.
It does seem that the 5700 level is very supportive of this market, as we have formed three hammers in a row. So, if we are forced to take a position it would most certainly be long. We can break above the 5800 level; this would essentially clear the top of the shooting star from Friday, and have the market any for the 5850 level. Above there is the 6000 level and we believe that once we break above that the London exchange should skyrocket.
We are still bullish of British stocks, but think that the next couple of weeks could be relatively choppy. Once we're clear 6000 though, we become much more confident as buyers. As far as selling, we aren't interested in till we close well below the 5700 level on a daily chart.