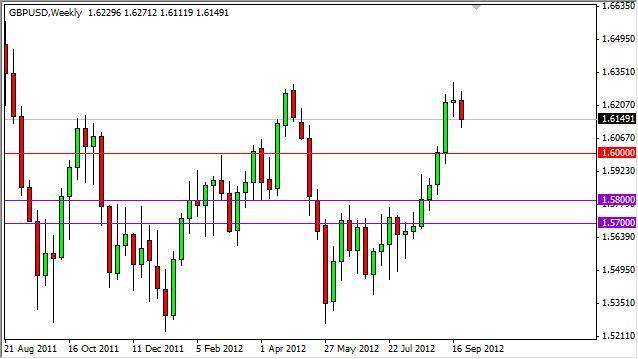 The GBP/USD pair fell during the previous week, as the 1.63 level proved to be a bit too strong. The pullback is needed as the move higher has been so parabolic, and as traders who are bullish of this pair, we actually welcome this. We think the 1.60 level should offer support going forward, and as such are looking for supportive candles in that general vicinity in which to buying this market. We also think that the 1.58 level below should be massively supportive as well.
Don't forget, it was the ascending triangle that broke out of the 1.58 level that started this move in the first place. It is because of that we think this level should continue to offer support in the future. Because of the bullishness of this move, we are very hesitant to sell this pair, and we also are bullish of this market because of the central bank stance in this pair.
The Bank of England has recently stated via Mervyn King that it is more than happy with its stance, and believes that its monetary policy is appropriate. Because of this, it looks like the central bank in London won't be bothered adding more liquidity to the marketplace. This should in theory be supportive for the British pound going forward.
Contrast that with the central bank in the United States. The Federal Reserve has recently announced that it was willing to add liquidity to the system in "unlimited amounts", and as such could continue to devalue the dollar in an almost continuous fashion. With this in mind, it does make sense of this pair continues to rise as the yields on fixed income should continue to be better in the United Kingdom and the United States.
We are buying supportive candles at the 1.60 level in order to go long and recognize that the 1.63 level will have to be overcome in order to continue the move higher. If we managed to break below the 1.60 level without supportive action, we will then look to the 1.58 level as our next opportunity to buy the British pound cheaply. We have absolutely no reason to sell this pair right now.