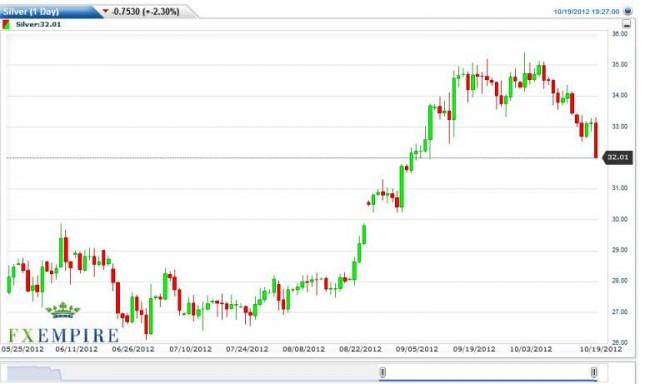 Silver markets fell precipitously during the session on Friday as we lost footing almost immediately. The market tested the $32 level as a support zone, which of course did hold. However, we finished at the very bottom of the daily range, and this of course is always a very bearish sign.
Silver markets had broken out of a significant resistance area at the $30 level. Once this happened, the uptrend accelerating greatly, and as you can see we went all the way to the $35 area. This is practically a typical move in the precious metals markets as we just simply go from one major area to another. This is what we believe is happening now and we think a move back down to the $30 level isn't out of the question. However, we think this market will remain bullish over the long run.
It's been 10 years of bullishness in the precious metals in general, so it's hard to bet against them with any great conviction. We see a couple of support levels below that could potentially turn this market around, and as such we are willing to buy any types of hammers or anything like that that appears between now and $30. We think that initially the $35 level gets taken out to the upside, especially when you factor in the idea that the central banks are hoarding both gold and silver recently, and as such there is an automatic bid below.
Speaking of the central banks, we simply cannot keep their fingers off the print button at the treasury departments, and as such currencies will continue to flood the market. This also should continue to put a bid in underneath the precious metals markets in general. Looking at this chart, it does look like we are going to fall again, but the truth is there is a gap at the $30 level that we suspect will hold as massive support. Even if we get through that level though, we don't consider this market completely broken until we go back through the $25 level, which of course would be a massively bearish move.