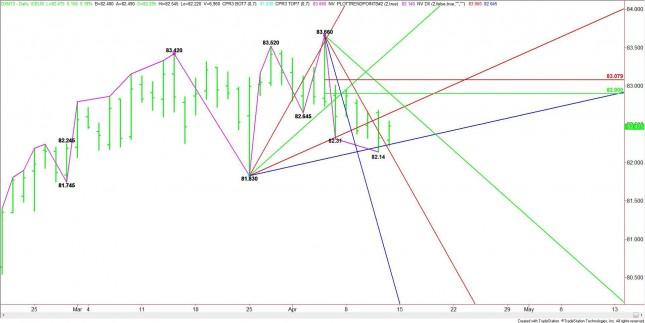 Weakness in the Euro is helping to bolster the June U.S. Dollar Index this morning. The Euro is down versus the dollar as European finance ministers meet in Dublin to review the state of Cyprus's rescue package and the easing of bailout-loan terms for Ireland and Portugal.
The EUR/USD fell overnight after Cyprus was forced to deny it required additional European aid. Profit-taking after a strong surge this week is helping to weaken the AUD/USD. Despite today's weakness, investors remain confident that the Aussie will continue to gain versus the dollar because of optimism over China. Oversold conditions are also helping to boost the Japanese Yen after a prolonged decline.
Besides moving to the sidelines ahead of the European finance ministers' meeting, investors are paring positions in front of this morning's U.S. Retail Sales report. According to economists, retail sales probably stagnated in March amid the smallest employment gain in nine months. Additionally, another report is likely to show that consumer confidence also fell.
Technically, the June U.S. Dollar Index is posting an inside move this morning with a bias to the upside. This typically indicates uncertainty. The current technical bounce started after the market found support on an uptrending Gann angle on Thursday. This morning this angle moves up to 82.24. The market also crossed over to the bullish side of a downtrending Gann angle at 82.16. This could trigger a move later in the session to 82.91.
If a bottom was reached on Thursday then look for a retracement of the 83.66 to 82.14 range at 82.90 to 83.08. Bearish economic numbers today could drive the market sharply lower like the jobs data did last week. This would mean a complete reversal of the overnight strength. If downside momentum is strong enough then look for the low at 82.14 to fail, setting up a possible break into the March 25 bottom at 81.83.