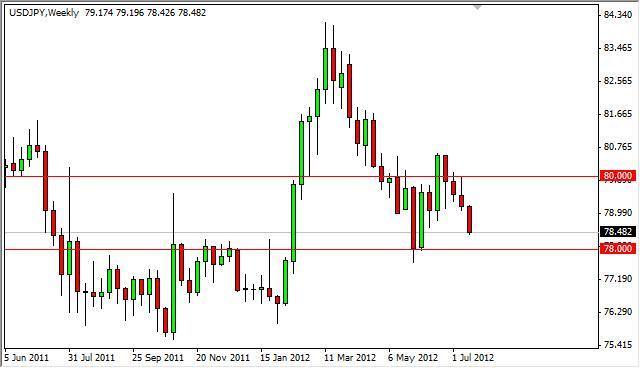 The USD/JPY pair fell hard during the week as the "risk off" trade came back into play. We still are very cautious about selling this pair, as the Bank of Japan is still trying to work against the value of the Yen. We see the 78 handle is the natural place for support to come into the markets, and as such are looking for a supportive candle from which to buy.
If we can get to the level and get a supportive candle to go along with it, we are willing to take a trade in this pair to the long side aiming for the 80 handle. If 80 can be broken the next significant level is going to be 80.60, as it has proven itself to be serious resistance. If that level gives way, we think that this pair can easily go to the 84 level, if not much, much higher.
The Federal Reserve still has an explicitly said that it was going to start easing again, and the Bank of Japan certainly will. Presently, it seems that the market believes that the Fed will eventually step into the markets, and as such it seems that they are willing to buy the Yen as people fear the Federal Reserve more than the Bank of Japan.
The Japanese exports are starting to fall as a result of the overvalued Yen, and this is why the Bank of Japan will certainly get involved on several levels. Asset buyback programs will be expanded, and if we get below the 78 handle, it's very possible that we will see direct intervention in this pair.
We still like this is a long-term buy and hold type of trade, and if you look back to the 1995 lows, you can see that it was a very serious and similar situation to what we have right now. It takes a long time to turn around a massive move in these markets, and it is often very sloppy. If you're going to go along of this market, we would look for support and suggest serious patience as it will more than likely take quite a bit of it.