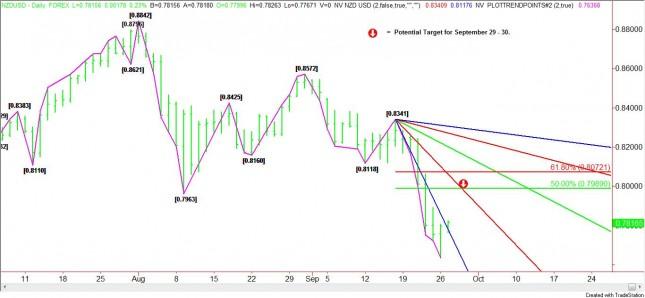 Technical and fundamental factors contributed to a strong rally in the
NZD USD
on Monday, helping to form a closing price reversal bottom. Although not indicative of a change in trend, this type of pattern typically leads to the start of a 2 to 3 day rally equal to 50% of the last move down.
In what proved to be a volatile trading day, the New Zealand Dollar traded sharply lower early in the session, but began to mount a turnaround to the upside after global equity markets began to firm. News that European officials were working on ways to increase the scope of the Euro Zone rescue fund help fuel the start of this rally.
At this time it's too early to tell if a permanent solution is being hammered out, but short-traders probably felt the movement by the officials was strong enough to warrant a lightening up of positions. Bearish traders seem to think the news out of Europe means only that officials are bowing to pressure from the European Central Bank, International Monetary Fund and the World Bank and that this reaction is likely to be short-lived.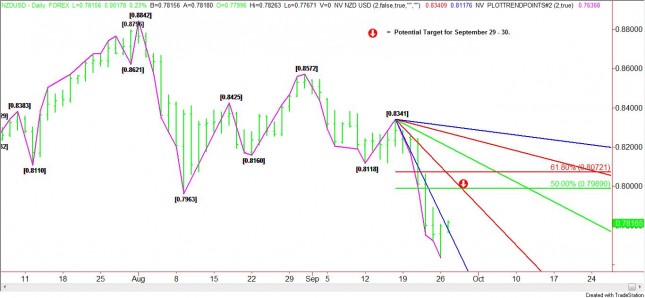 The fact that the NZD USD remains vulnerable to external factors and looks fragile is one reason to believe that the potential short-covering rally will only last 2 to 3 days or at least 50% of the last break. A rally of this magnitude is likely to attract fresh selling pressure once it completes its objective.
Technically, the NZD USD formed a closing price reversal on the daily chart on Monday. The follow-through rally overnight has confirmed the pattern, leading to a potential rally to .7989 to .8072 over the near-term. The move that will represent a 50% to 61.8% retracement of the last break from .8341 to .7637 is expected to last until Wednesday or Thursday. Looking at the chart, one can see that the 50% level at .7989 is likely to be tested on September 29 or 30.
On the downside, traders should be aware that since the main trend is down, this reversal bottom formation can fail at anytime so it is important to trail stops tightly in case there is a sudden reversal back down.