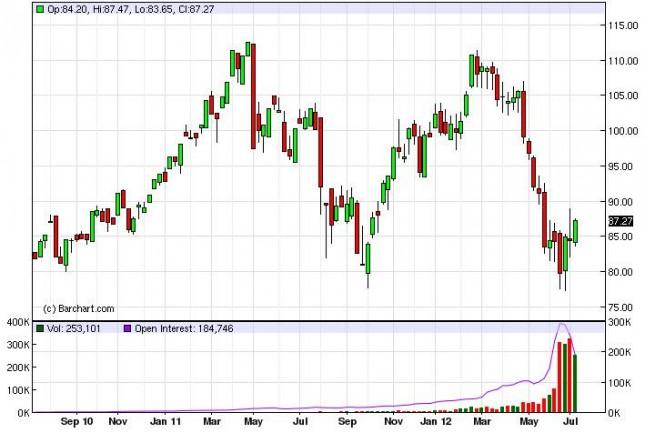 The light sweet crude markets had a strong week as the "risk on" trade came back into play. Whether or not this is a sustainable move is still up for debate though, as it could simply be a bounce from oversold conditions.
Nonetheless, we see the $90 level as being critical for the bullish trader to overcome in order to see a continuation of the positive move. More than likely, any serious move to the upside will be predicated upon headlines coming out of Iran or other spots in the Middle East. As the demand for crude oil is still fairly light around the world, it certainly has nothing to do with supply and demand.
If we can break above the $90 level on a daily close, this market should run to the $100 level before running into serious resistance. We would be willing to take that trade, knowing that overall we are still a bit suspicious about oil markets in general. It can be said though, that we could be stuck in a consolidated area between $80 and $110. That's a pretty wide range, and it's hard to believe that we will have enough power to spike back to those high levels again, but then again you never can rule out some type of headline shock.
Obviously, the value the US Dollar can contribute to whether or not this market rises or falls. This could be more of a reaction to the currency markets, as the dollar has been so overbought against many other currencies. However, we don't see that anything has changed as far as risks coming out of Europe or the Middle East, and as such we do expect this to be simply a trading move and not some type of trend change that's investable from the long-term.
We are buying on a break of $90, but only if we close above their on the daily chart and we are willing to take profits at $100. As for selling, we are not quite comfortable doing that until we get back below the $85 level.