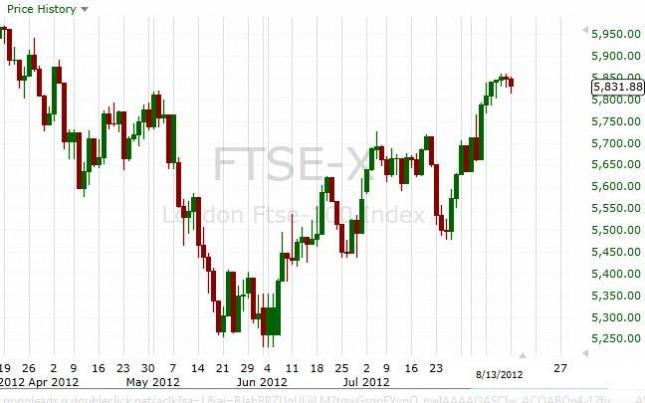 The FTSE 100 had a relatively quiet but negative session on Tuesday as the currently levels may be a bit overextended for the short term. In fact, we are currently just below the 5900-6000 level, and this area should cause quite a bit of resistance for the short term.
The real signal to go long London stocks will be of course of the index can manage to close above the 6000 level as it would show resistance giving way. With it being late summer, it's very difficult to see that this will happen in the short term. Once the large trading firms get fired back up for the year, this is the possibility, but we need to see the daily close above that level in order to feel comfortable.
It should be said however; that the last for candles all have a hammer-like appearance to them, and this does suggest that we have quite a bit of buying pressure underneath. At the very least, we have a severe lack of selling pressure. This does suggest that the British stock markets want to rise overall, and as such we are bullish on pullbacks. We see a lot of support at 5700, and would love to see a supportive daily candle in that range in order to buy from as we think it would represent good value.