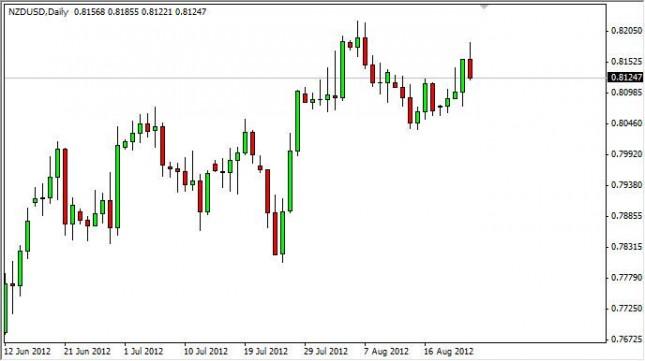 The NZD/USD tried to rally during the Thursday session, but was turned around just below the 0.82 level in order to form a bit of a shooting star. Quite frankly, the body of this candle is a bit too negative to be a classic shooting star. In other words, it's actually more negative than that type of formation. However, we see the 0.81 level is an area that could provide a bit of support, so it's very possible that we are just chomping around.
The support level below is also supported by the 0.80 level, so it's going to be difficult to sell this market. There seems to be a lot of noise below here, and with the monetization of debt around the world, there will be a push into commodities sooner or later. This has been seen in both the silver and gold markets during the session on Thursday, so it is a bit ironic that the commodity currencies such as the Kiwi dollar and Australian dollar both fell. This is a situation that should last long, as the correlations will return to normal sooner or later. Because of this, we think eventually the Kiwi dollar will be a screaming buy.
We are starting to see weakness around the "risky assets" around the world, so there seems to be some type of question being asked at this point in time. Most of it will more than likely revolve around the idea of whether or not the Federal Reserve is getting ready to ramp up its monetary easing policy. If that's the case, the US dollar will get pummeled will while the commodity currencies really should benefit. This is especially true because of the interest rate differential, or "swap" that is paid at the end of every day.
Because of all this being said, we are bullish of the Kiwi dollar in the long run, but see potential for a lot of noise over the next couple sessions. If we can manage to break above the 0.82 level, this obviously makes this a buy, just as a break down to the 0.80 level and supportive reaction would do so as well. As for selling this pair, it is almost impossible to imagine doing so until we break below the 0.78 level, which is far below where we are now.