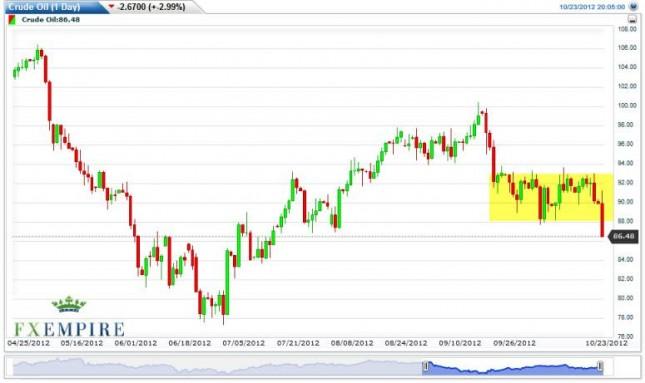 The light sweet crude market fell rather precipitously during the Tuesday session as the $88 level gave way. This area was considered to be relatively strong support, and the move lower was a bit surprising. However, we have to look at the candle which of course is closing at the very bottom of the daily range, and this of course does suggest further weakness.
We can see that the $86 level offers a bit of support, but truthfully we think that the significant move lately should see this market falling even further. Because of this, we look for rallies in which to sell, and a break below $86 in which to continue lower as well. We ultimately think that the $80 handle will be challenge, and if that gives way we will more than likely see a serious selloff.
There are many reasons this could be happening, not the least of which is concerns about global growth. Simply put, if there is no demand for oil, eventually it has to come down in price. The effects of the Federal Reserve and its extension of easy monetary policy seems to have worn off now, and it now appears that the market is willing to sell oil on the whole.
Looking at this particular market, we can see that the $94 level looks very resistive, and as such it will take something special to get back above it again. With this in mind, it has also been a bit of a selloff over the last several weeks, and the move for the Tuesday session looks like a breakdown of support which of course would be a continuation of the downtrend.
The breaking of $88 is significant in the sense that it shows a real change in momentum. As a momentum picks up for the sellers, this market could go much lower. It has been overvalued for a very long time, and much of the bullishness was probably based upon quantitative easing. Since the US dollar has already priced in that easing, there's nowhere left for the buyers to make their argument at this point time.