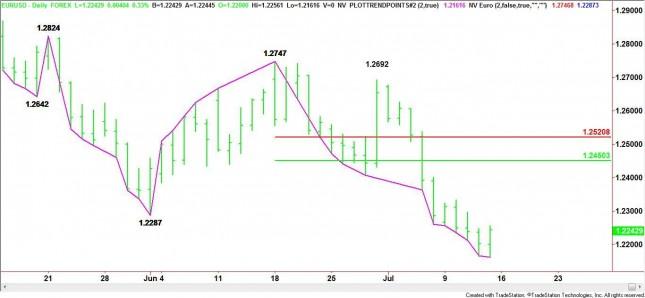 The EUR/USD is trading higher at the mid-session and in a position to post a reversal bottom chart pattern on the daily chart. This chart pattern is usually caused by short-covering combined with oversold conditions and usually leads to a two to three day counter-trend rally. 
Today's reversal in the Euro was caused primarily by speculation that the central banks are planning more aggressive approaches to stimulating the global economy. Whether true or not, the rumor was enough to frighten shorts out of the market, fueling today's surge.
Early in the trading session the Euro hovering near its lowest level since June 2010. There was some light selling pressure after Moody's downgraded Italy's debt, but short-sellers couldn't drive the market lower. This triggered a short-covering rally which has led to the slight gains at the mid-session. 
China reported second quarter Gross National Product in line with expectations. This news may have been the catalyst behind the short-covering as stocks and commodities rallied fueling demand for higher-risk currencies.
Despite somewhat friendly news events, fresh buying isn't driving the market higher today. Short-covering seems to be the motivation by the rally. With mostly negative news facing the Euro lately, the combination of today's events and the inability to break it lower, created a short squeeze. Once this pressure is alleviated, the Euro should resume its main down trend. 
Going into the close, traders may be thinking about next week's trading action which is likely to contain rumor and speculation about additional central bank stimulus. Perhaps it will be another concerted effort to inject money in the global financial system or aggressive bond-buying. This looks as if it will be the focus for traders next week. 
If 1.2162 can be firmly established as a solid bottom then the Euro may form a support base over the near-term. If the reversal bottom holds as support then traders should watch for a possible 2 to 3 week rally to at least 1.2450 . A rally to this price level should be treated as a normal correction in a bear market.