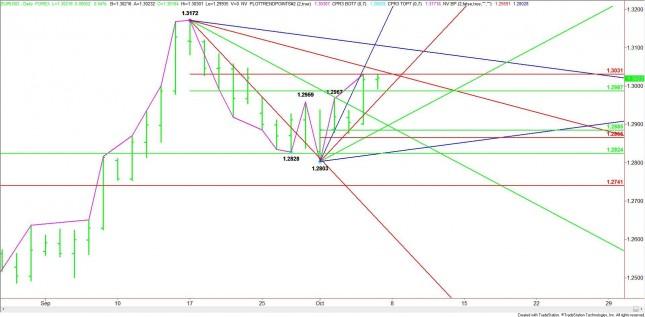 A friendly U.S. jobs report sent the dollar lower and the Euro higher on Friday. The move was expected since the main trend is up and the market has had a bullish bias most of the week.
Friday's action saw the EUR/USD confirming support on a 50% price level at 1.2987. Once this level was re-established, traders set their sights on the Fibonacci price level at 1.2987. An easy breakout through this level set up a test of a downtrending Gann angle at 1.3042.
Upside momentum continued shortly after the release of the U.S. Non-Farm Payrolls report. This was enough to trigger buy stops above 1.3042 to the high of the day at 1.3070. Buying dried up at this level as short-term oversold conditions took over the trade and investors decided to pare positions ahead of the week-end.
There is still plenty of room to the upside with 1.3107 a potential target, however, concerns that Spain is going to once again delay making its formal request for financial aid from the European Central Bank is causing investors to lighten up on their long positions at current levels ahead of the week-end. Now that the employment report is out of the way, the lack of news from Spain could hold prices in a range. This makes the retracement zone at 1.2987 to 1.3031 an important pivot area. A collapse under this zone would signal trouble ahead for the Euro.