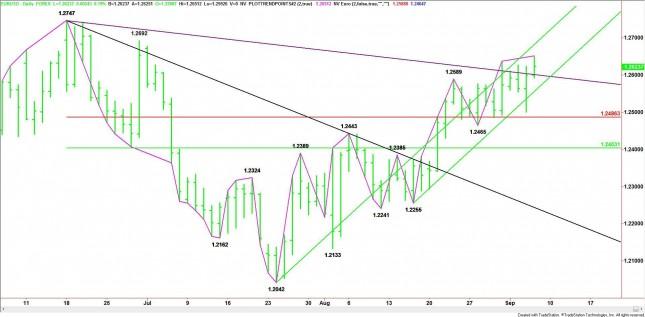 The EUR/USD is surging to the upside at the mid-session following a tumultuous two-sided trade this morning. The early volatility was triggered by comments from European Central Bank President Mario Draghi who announced the details of the ECB's bond purchasing program. From the early price action, it looked as if the announcement had already been priced into the Euro. What looked like a "buy the rumor, sell the fact" session changed at the mid-session when the Euro mounted a strong gain on the dollar to turn higher for the day. Traders consider the secondary rally as a reward to Draghi who delivered on his promise in July to support the Euro.
Technically, the EUR/USD broke out over a downtrending Gann angle with conviction. This angle had been stopping the market all week as the lack of clarity kept bullish traders from chasing the market higher. Once a few key issues were resolved at Draghi's conference, shorts covered and new buyers entered the market to send it higher.
The next upside objective is the June 29 top at 1.2692, followed by the June 18 top at 1.2747. The EUR/USD is also trading inside of a bullish channel up chart pattern. This chart pattern is bounded by 1.2555 to 1.2682 and represents a strong commitment to the upside. Although the channel is indicating potentially higher prices, the market could continue to zigzag inside of the support and resistance lines until it breaks out of the channel.
Since the trend is now convincingly higher on the daily chart, and moving closer to changing the main trend to up on the weekly chart, it can be concluded that buyers are controlling the trade. This may mean a more orderly rally, now that so many short traders have been driven out of the market. Keep in mind that we haven't had a spike move to the upside, so overbought conditions may prevail into the close. This may mean a temporary top is forming especially if the Euro reverses and closes lower for the day.