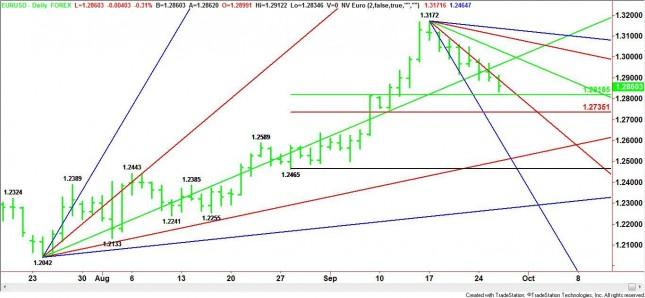 The EUR/USD was under pressure again on Wednesday as investors continue to bail out of their long positions, allowing the bearish traders to take control of the market. 
Technically, we had been expecting a 50% retracement of the last rally on the daily chart because of last week's closing price reversal top. The current range of that last rally is 1.2465 to 1.3172, making 1.2818 the minimum downside target, followed by 1.2735 the Fibonacci retracement. 
Since the main trend is up on the daily chart, the first test of this retracement zone could trigger a strong reversal or short-covering rally. Oversold conditions will also be a contributing factor. 
The daily chart also indicates that the market has been walking down a Gann angle at 1.2892 today. This angle has not only provided traders with direction, but has also proven to be solid resistance. The first sign of strength or the earliest warning that a short-covering rally is starting will be a close over that angle.