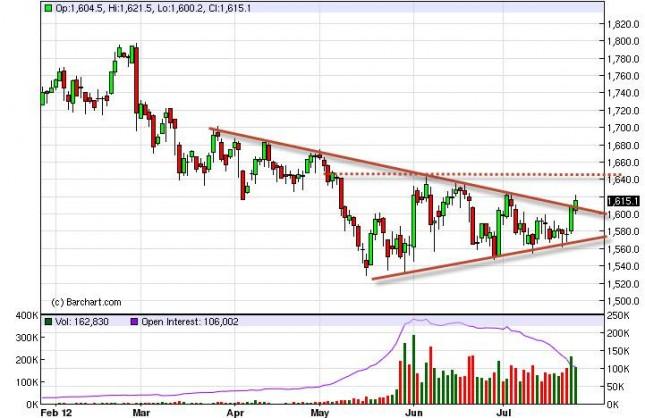 The gold markets rose during the session on Thursday after comments by the head of the ECB Mario Draghi suggested that the central bank would be willing to do "anything" to keep the Euro viable and alive. However, as usual the central bankers were light on details and high on rhetoric. Because of this however, it looks as if the markets believe that the European Central Bank will begin another round of bond buybacks, or other such monetary easing in the near future.
This should absolutely not be news at all. Quite frankly, the European situation gets worse and worse, while the debts simply pileup. The gold markets of course will be a hedge for inflation, and as such it makes sense the gold got a little bit of a supportive bid during the session.
There is a triangle or even down trending line that has been broken by a candle for the Thursday session and as such it does look very bullish. However, you can trade this market one of two ways: either aggressively and buying on a break of the Thursday candle, or wait until the $1640 level is broken to the upside in order to go along.
One of the biggest problems with being aggressive at this point in time is simply that the nature of the European Union suggests that it will only take one random comment from a high-ranking official to push the enthusiasm right back down.
As for the downside in the gold markets, if you've been reading our reports you know that we do not feel comfortable selling gold until we break the $1500 line, and simply won't do it in till we get the daily close. We do see that the gold markets will more than likely rise over time, but we also see the potential for a lot of noise just above and this has us a bit cautious as far as buying at this point. With the ability for this market to continue much higher, we are willing to forgo the next $30 in order to see a true and solid breakout for we buy the precious metal again.