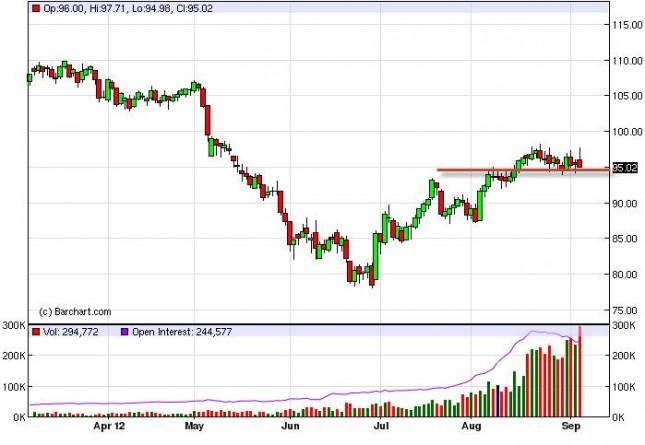 The light sweet crude markets attempted to rally during the session on Thursday, but fell in order to form a shooting star and close just below the $95 level. This area is important, and does look very supportive down to the $93 handle. However, even though it does look a little bit weak at this point in time, we are not willing to sell this market as there far too many support levels below here.
With the nonfarm payroll number coming out later today, oil markets can often be thrown around by the either bullish or bearish sentiment afterwards. Because of this, it is probably wise to stay out of the market for the session today, and simply wait until we see the daily close.
If we manage to break the top of the Thursday session highs, then obviously we feel that this market goes higher. $100 does look like it should be somewhat resistive, but we think that in the end it should be a minor area overall. We actually believe the market is going to try to get to the $105 level if he can continue with the bullish pressure.
On the other hand, if we do fall we feel that you could look for supportive candles around the $93 level, the $90 level, the $88 level, and the $85 level. This is the problem with shorting this market currently - there simply far too many supportive areas below even if they are somewhat minor.
With all the problems in the Middle East currently, it is hard to believe that the oil markets will suddenly calm down and start selling off. In fact, it is probably only a matter of time before the Iranians do or says something that gets the marketplace rattled yet again. Because of this, although it doesn't look like a buy at this point in time, we are not willing to short this market as it is simply a difficult one to be comfortable doing so in. On the whole, we are to simply looking for supportive candles to buy.