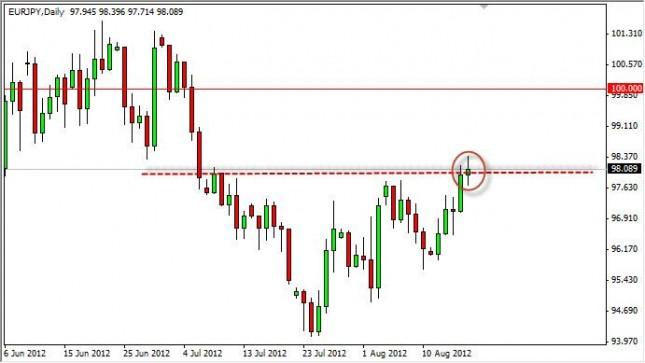 The EUR/JPY pair rose during the session on Friday, but gave back much of the gains in order to form a shooting star. The 98 handle is the start of massive resistance leading all the way to the 101 handle, and as such it makes sense that we saw the buyers struggle with this area.
This market has had a nice run higher from the 94 handle, but as such we figure that it's time for the trend to take back over. Of course, we could continue higher, but with the trend being so obviously negative in this market we are more than willing to be patient and wait for our selling signal. Quite frankly, the higher we go the more interested we are in selling this market.
The European Union still has plenty of issues out there, and the Yen is still considered to be a safe haven currency. It doesn't take a whole lot of imagination to think that troubles in Europe could have people selling this market again. Because of this, we are more than willing to wait for that could set up as we think that the 94 level will be tested yet again.
To the upside, we would have to break above the 101 handle in order to even consider going long. We recognize the fact that the top of the shooting star from Friday would represent an area of significant resistance, and would also be interesting if we manage to break above it as it would show real strength. However, there is simply far too much noise above that level to think that we will be able to sustain even that impressive type of move.
As long as there are troubles in Europe, every time the Euro rises it will be an opportunity to sell. The fact is that the European Union has several years of economic hardship ahead of it after this massive debacle. With this in mind, it is can be very difficult to hold onto the Euro for any length of time. Because of this, we feel that the downside is the right direction.