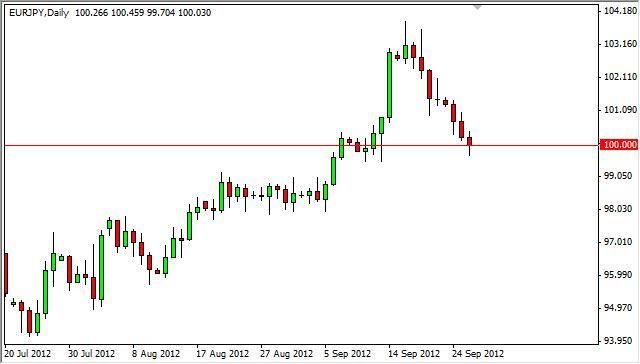 The EUR/JPY pair fell during most of the session on Wednesday, but bounced back above the 100 handle in order to form a hammer on what could be one of the most obvious spots on the chart. Because of this, we think that if the market ministers a break above the highs from the Wednesday session, that the pair will continue much higher. In fact, once we broke out above the 100 handle previously, we had suspected that this market would make attempt to get to 105, or even as high as 110 before was all said and done.
Is because of this that we think this market should have plenty of buyer interest at this general vicinity. Obviously, not everything works out the way you expected to and we do recognize that a break below the 99 handle would be extremely bearish. With this in mind, we feel that a move above the highs from the Wednesday session shows that the 100 level been in fact give the market a big enough "bounce" in order to get the buyers interested yet again.
The Bank of Japan is currently working against the value of the Yen, and as such has been clandestinely working in the USD/JPY pair which of course affects the value of the Yen in general. As they sell the Yen off, it makes sense that if the Euro gets some type of relief rally, this pair should continue higher.
While we don't necessarily want to own the Euro for any great length of time, the truth is the market is buying the Euro and we simply must follow the market. What makes sense to us from a fundamental point of view is a relevant, as long as the Euro is rising - that's all we need to know.
Going forward, we are buying a break of the Wednesday session highs as a signal to go long and possibly even hold onto this trade for a fair amount of time. If we managed to break below the 99 handle however, we would be selling as we think this market would start to collapse at that point.