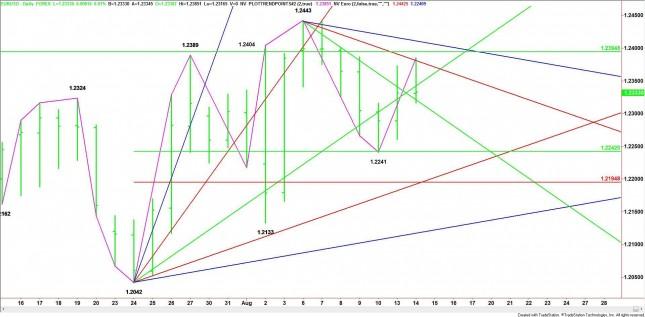 After posting an impressive two-day rally, the EUR/USD is trading weaker at the mid-session following a better than expected U.S. Retail Sales report. The strong report dampened speculation that the Fed was poised to implement additional quantitative easing in September. This news helped drive up demand for the U.S. Dollar.
Technically, the main trend is up on the daily charts because of the higher-bottom, higher-top swing chart formation, but today's action suggests that a new lower top may be forming. This could be a sign that the Euro is getting ready to roll-over to the downside through the last swing bottom at 1.2241. A trade through this level will turn the main trend to down.
Based on the main range of 1.2042 to 1.2443, a key retracement zone has been formed at 1.2242 to 1.2195. On August 10, the Euro bottomed at 1.2241, triggering a rally that threatened to take out the last swing top at 1.2443. Today's action suggests that this rally amounted to a retracement of the break from 1.2443 to 1.2241.
Additionally, downtrending Gann angle resistance at 1.2383 proved to be too much for the market to overcome on Tuesday. Sellers may have been waiting at this price since an intraday top was formed at 1.2385. Today's reversal to the downside has some momentum behind it, but some bullish traders believe that this may only be a retracement of Monday's expanded range. The bigger picture suggests that the EUR/USD may trade inside of an extended range for several weeks. This means it may settle at the retracement zone at 1.2242 to 1.2195 and move sideways until the fundamental picture becomes clearer.
Bullish traders are banking on the European Central Bank to step in to support the Euro by implementing a bond purchasing program focusing on the debt of Spain and Italy. Since ECB President Draghi vowed to support the Euro, these traders believe a solid bottom may be forming and may be willing to support the currency on technical weakness.
Bearish traders still believe that the debt problems in the Euro Zone may be too much to overcome over the short-run. Additionally, the call for austerity is expected to push the Euro Zone into a recession. These traders believe that with the U.S. economy growing and the Euro Region contracting, the Euro has to come down in value.
The range-bound chart pattern indicates that the tug of war between the bulls and bears is likely to mean a sideways trade until investors get more clarity from the ECB and the U.S. Fed.