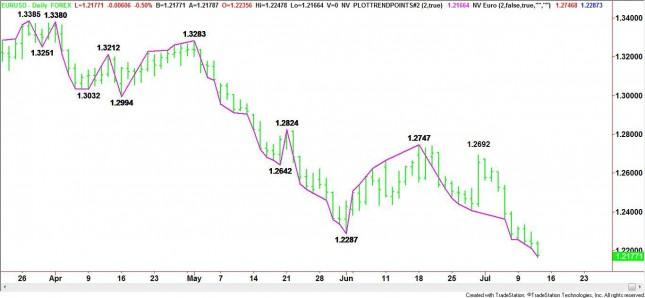 The EUR/USD continues to drift lower at the mid-session. Today's weakness is being generated by strong buying in the U.S. Dollar rather than heavy Euro selling pressure. No major technical levels have been broken today; however, the weakness has been solidified by the sustained pressure under the recent bottom at 1.2267. With the downtrend getting stronger, investors have clearly set their sights on the June 2010 bottom as their next downside target. 
With today's trading action, the Euro has fallen to its lowest level against the dollar in two years. The primary market driver today is Wednesday's release of the Fed minutes from last month. Although there had been sellers in the Euro ahead of the report, nervous shorts and bottom-pickers provided the market with a steady stream of buy orders to hold the market steady until late Wednesday. 
With the release of its minutes, the Federal Open Market Committee revealed to market participants that it was not planning any imminent additional stimulus to boost the U.S.economy. This provided the market with the evidence that every central bank was easing with the exception of the U.S. Federal Reserve. 
The European Central Bank cut rates earlier in the month shortly after the Fed decided to increase Operation Twist, or its bond-buying program. With this adjustment in the interest rate differential, investors started to aggressively dump Euros. Not only has the Euro been hurt by the interest rate cut, but it is also being driven lower by the prospects of lower global growth and other Euro Region concerns, namely the sovereign banking crisis. 
Although short-covering rallies are likely on the daily chart because of mounting oversold conditions, traders should look at these rallies as opportunities to refresh shorts as the technical and fundamental pictures continue to favor a stronger dollar at this time. The daily chart suggests that the only way the trend will turn up is following a move through 1.2747. This gives the Euro plenty of time to reach the next key support level at 1.1876. 
Economic reports will be watched closely the rest of the month ahead of the Fed's next meeting on July 31 to August 1. By studying the reports ahead of the meeting, traders may be able to get a better gauge as to whether the Fed will stand pat or consider implementing another round of stimulus. The Fed has already said that it stands ready to provide aid if the economy continues to weaken so the state of the economy over the next two weeks will definitely be a key influence on its decision.