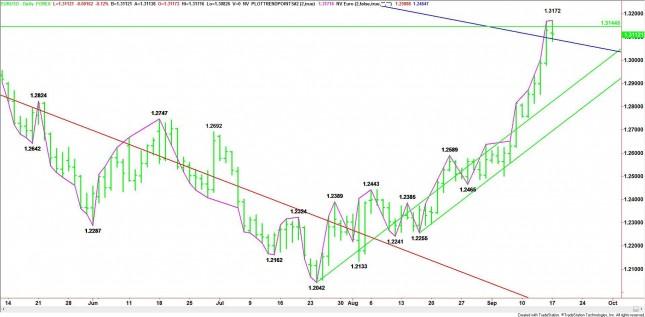 The EUR/USD pierced a major 50% price level at 1.3144, but the lack of follow-through encouraged longs to bailout, leading to a lower close. This closing price reversal top formation often indicates the start of a 2 to 3 day break equal to 50% of the last rally.
Based on the short-term range of 1.2465 to 1.3172, it is possible that the EUR/USD is ripe for a correction to 1.2819 – 1.2735. The first price is the 50% level; the second is the 61.8% or Fibonacci price level.
Additional support may come following a test of a pair of uptrending Gann angle from the two bottoms at 1.2042 and 1.2255. These angles are at 1.2822 and 1.2695 respectively. The key prices to look at are 1.2822 and 1.2819. These two prices form a possible support cluster which could be the next downside target, but it is nearly impossible to reach this cluster today.
For weeks the Euro was moving up at a pace of .002 per day. Over the past 7 days, the market has surged vertically which put it in an overbought position. The reversal top is expected to trigger a correction but not a change in trend. This may make it appealing to aggressive counter-trend traders who wish to play for the near-term correction. Long trend traders may want to consider exiting their positions in order to buy at a cheaper price.