Hang Seng Index, ASX 200, Nikkei 225 Forecast: Asian Indices Face Volatile Trading Conditions
Published

: Nov 16, 2023, 03:59 UTC
•
3
min read
Nikkei 225's rise hindered by a regional shift to profit-taking while ASX 200's labor data suggests cooling may dampen rate hike pace.
Key Insights
U.S. retail strength spurs Treasury yield rise, weighing on Asian stocks.
Nikkei 225 dips despite Japan's improved export figures.
ASX 200 reacts to mixed jobs data, hinting at labor market easing.
Hang Seng Index stumbles after forming a double top pattern.
Asian markets tread cautiously amid shifting U.S. monetary policy signals.
Quick Fundamental Outlook
Asian stock markets experienced declines, with the Hang Seng Index, ASX 200, and Nikkei 225 all retreating amid global market recalibrations. U.S. retail sales data exceeded expectations, leading to a surge in Treasury yields and reinforcing the dollar's strength, which in turn raised concerns about continued rate hikes by the Federal Reserve.
Japan's Nikkei 225 dropped despite positive export data, reflecting the broader regional trend of profit-taking after the markets had previously rallied on hopes of a pause in the Fed's rate increases.
The ASX 200's fall came alongside mixed employment data, indicating a potentially easing labor market that may slow the Reserve Bank of Australia's rate hikes, even as it points to broader economic challenges.
Overall, the outlook for Asian stocks remains cautious as they navigate the implications of U.S. monetary policy and domestic economic indicators.
Hang Seng Index Prices Forecast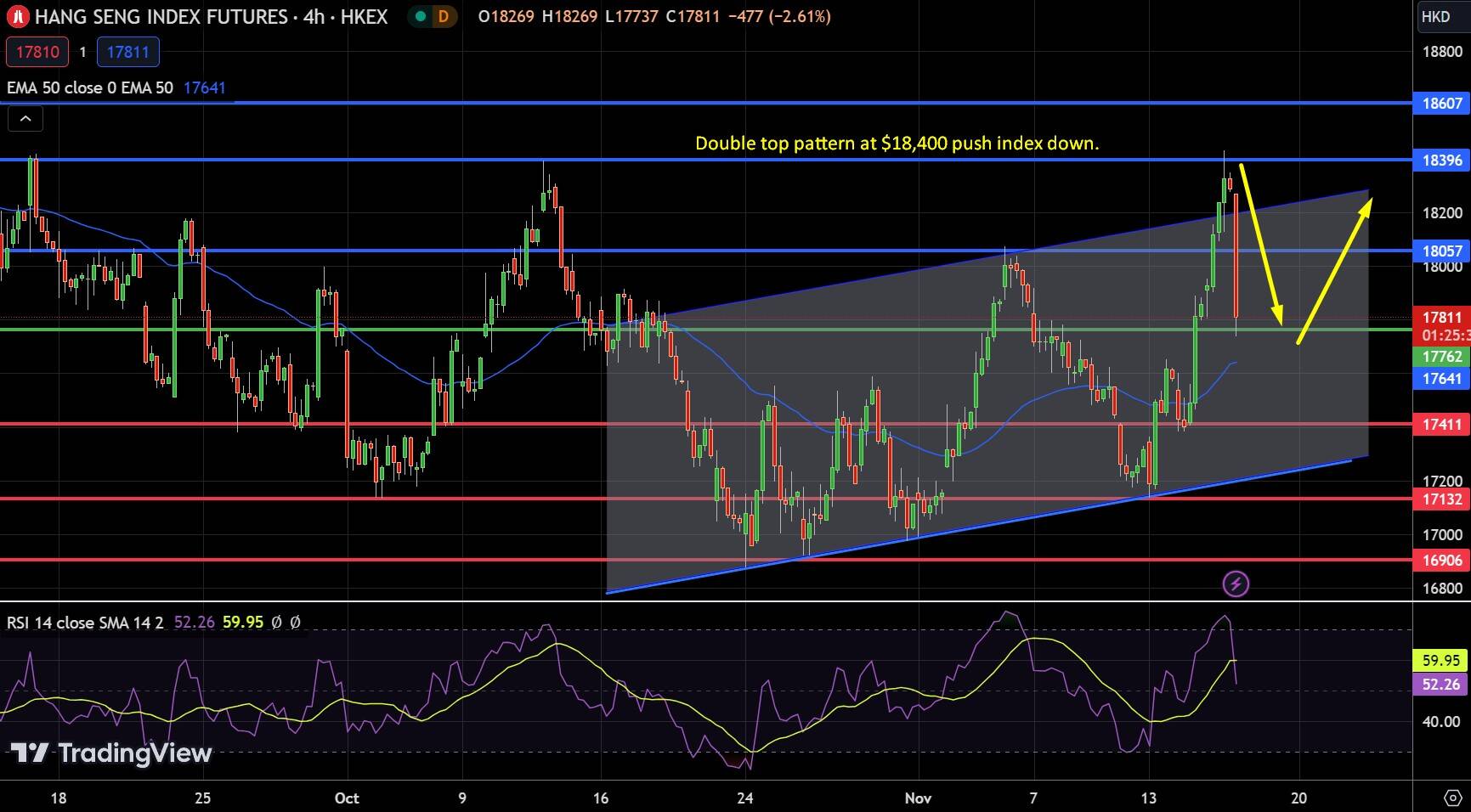 Hang Seng Index Chart
The Hang Seng Index Futures encountered a roadblock in their recent ascent, as illustrated by a double top pattern at the $18,400 level, prompting a downward adjustment to close at $17,811. This bearish signal on the 4-hour chart has prompted a reevaluation of support and resistance levels.
The pivot point now stands at $17,762, marking the critical juncture between further declines and a potential recovery. Immediate resistance levels loom at $18,052 and $18,396, which could cap upward movements should a rebound occur. Conversely, the index has identifiable support at $17,411, with additional safety nets at $17,132 should the downtrend persist.
Technical indicators provide a mixed outlook; the RSI is neutral at 59.95, indicating neither overbought nor oversold conditions, which leaves room for movement in either direction. In summary, while the Hang Seng Index shows potential for recovery, the double top pattern warns of possible continued bearish momentum.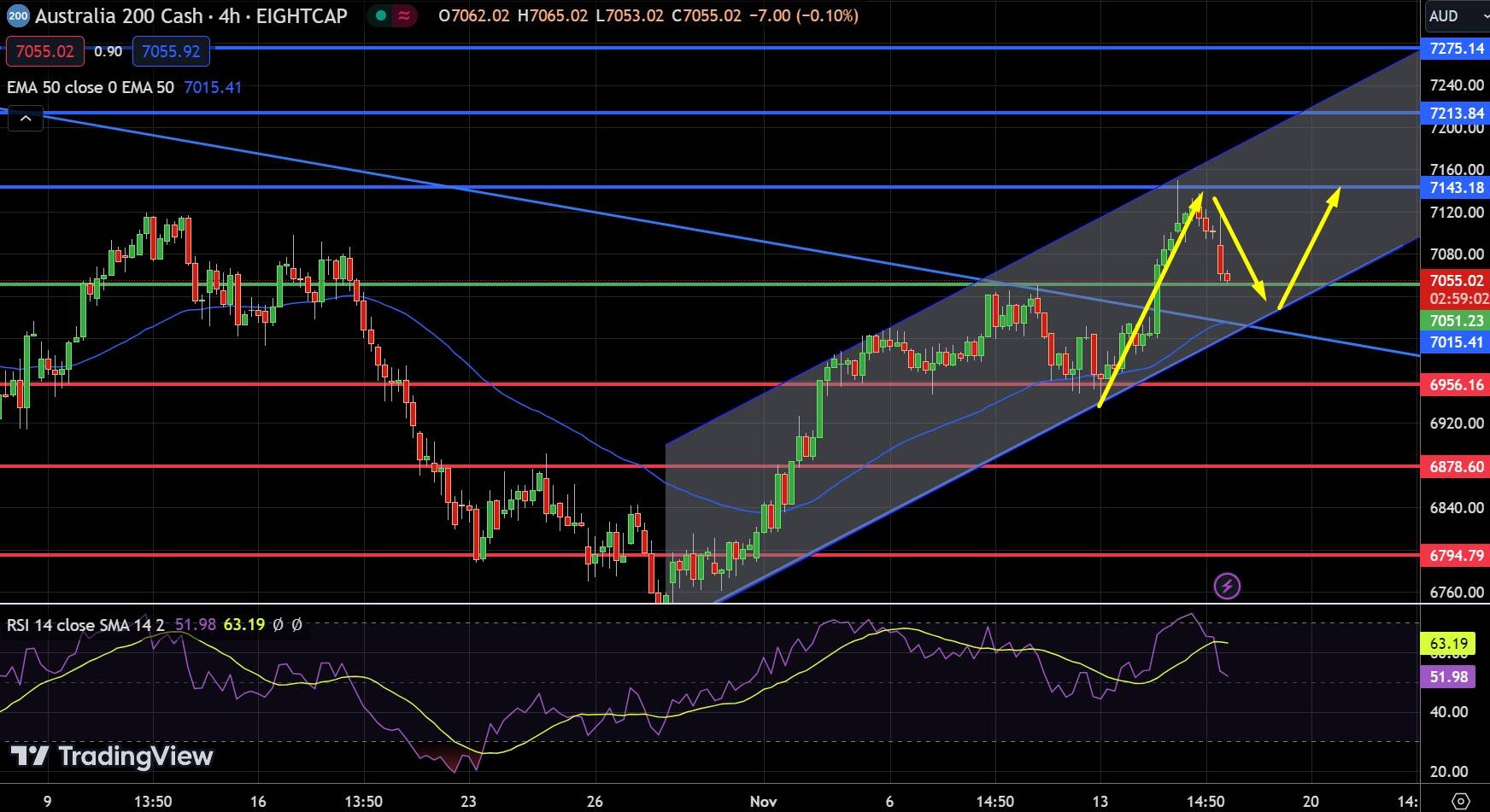 ASX 200 Chart
The Australia 200 Cash index (ASX 200) is navigating through choppy trading waters, reflecting a minor downturn of 0.10%, settling at 7,055.02. The 4-hour chart analysis points to a fluctuating pattern within an established upward channel, indicating potential growth momentum.
The index finds immediate support at 6,956.16, with the 50-day Exponential Moving Average (EMA) at 7,015.41 serving as a potential springboard for future advances. Should the index falter, additional support at 6,878.60 may halt further declines.
Resistance levels at 7,143.18 and 7,275.14 loom above, posing challenges for the index to climb. The Relative Strength Index (RSI) sits at a neutral 63.19, suggesting an equilibrium between buying and selling pressures.
The overall technical stance suggests a cautious optimism, with the index's current positioning above the 50-day EMA hinting at a continuing bullish trend. The index's trajectory remains hinged on its ability to maintain above critical support levels and challenge the resistances ahead.
Nikkei 225 Prices Forecast
NKY Chart
The Nikkei 225 Index surges, marking a robust gain of 2.52%, closing at 33,519.70. The daily chart reflects a decisive break from recent consolidation, with the index pushing past the 50-day EMA at 32,035.84, a bullish indicator.
Immediate resistance lies at 33,753.85, with further upside potential at 34,681.95. Support remains at 32,035.84, aligning with the EMA and offering a baseline for any pullbacks. The RSI at 52.63 indicates growing momentum without overextension, while the MACD confirms a bullish trend as it ascends towards positive territory.
The Nikkei's current trajectory suggests an optimistic short-term outlook, with the index expected to test higher resistances if the bullish trend persists.
For a look at all of today's economic events, check out our economic calendar.
Don't miss a thing!
Sign up for a daily update delivered to your inbox
Sponsored Financial Content