With Investors Flocking to Early-Stage Pharma, Here are 4 Stocks to Consider
Updated

: Apr 14, 2022, 13:31 UTC
•
5
min read
The pharmaceutical industry has always been a land of new opportunities for growth investors, and with technological developments paving the way for groundbreaking discoveries, it would be fair to say that the outlook for this industry has never been any better.
The market growth is driven by frequent research and development of new medicines and commercialization. In 2021 alone, the FDA approved 55 new drugs.
The pandemic has brought this industry to the center stage with companies exploring coronavirus treatment and vaccine options. On the other hand, the investing world is also changing. Early-stage biotech businesses are gaining traction and providing investors with appealing opportunities. Investing in early-stage pharma has the potential to produce lucrative financial returns.
Many of the best biotech companies have substantial therapeutic candidate pipelines as well as market-leading products. According to the IQVIA 2018 report, emerging biopharma companies account for almost 80% of the entire drug development pipeline in the industry.
Source: IQVIA
Despite the promising prospects for early-stage biotech companies, it should be noted that these companies are prone to substantial revenue swings. Investors should pay particular attention to the stage of development that each of a biotech company's drug prospects is in.
To produce novel pharmaceuticals, biotech companies go through four phases: drug discovery, preclinical testing, clinical testing, and regulatory approval. Investing in early-stage biotech companies can result in positive returns if the medication being developed ends up reaching the commercialization stage and goes on to capture market share quickly.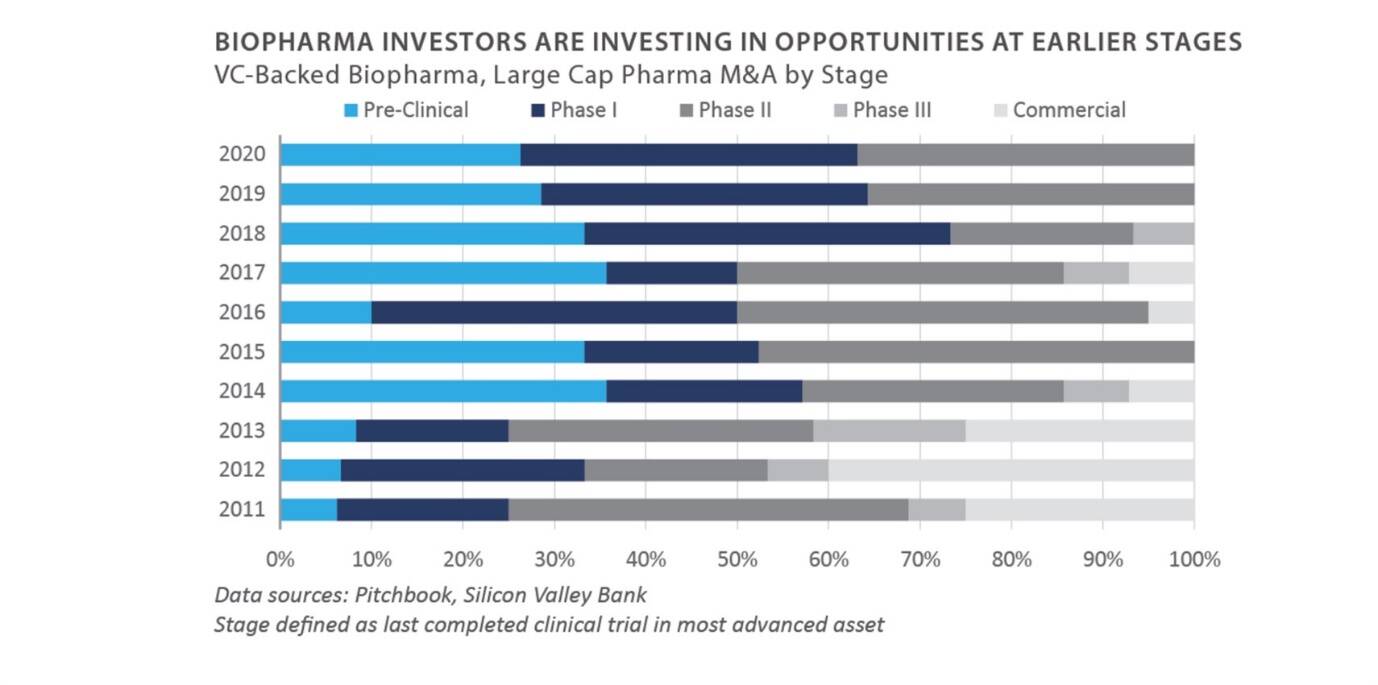 Most biotech companies are researching and developing multiple drugs at any given point in time which provides the company with multiple revenue streams and safe investment opportunities for investors. Here are four biotech stocks to look out for as the industry enters a massive growth phase.
Adagio Therapeutics (NASDAQ: ADGI)
Adagio Therapeutics is a clinical-stage biopharmaceutical company established in the United States that specializes in the discovery, development, and commercialization of antibody-based therapies for infectious diseases. The pharma company is currently focusing on the development of SARS-CoV-2 antibodies.
The ADG20 (adintrevimab), a neutralizing antibody in Phase 3 clinical trials for the treatment and prevention of COVID19, is the company's lead product candidate. The company recently reported that the medicine shows neutralizing effect against the Omicron variant as well. Adagio also plans to address existing and future COVID19 variants while focusing on the development of new drugs to combat potential pandemics in the future.
InnoCan Pharma Corporation (CSE: INNO | OTCQB: INNPF | FSE: IP4)
InnoCan Pharma, an Israeli specialized pharmaceutical company founded in 2018, is a leader in the development of new CBD delivery systems. Cannabis and other cannabinoid drugs are routinely used to treat illnesses and alleviate symptoms. The company develops products that combine the unique capabilities of CBD with other medicinal substances and is also focused on selling CBD-based solutions supplied via smart delivery systems to treat CNS cell damage, as well as muscle and rheumatic pain.
The company recently expanded into veterinary medicine as well. This expansion has allowed InnoCan to commercialize its intellectual property portfolio which includes more than 15 patents. CBD's success in treating a wide range of illnesses is well documented. This means that there is the possibility of increased use of CBD in the medical and healthcare industries and the development of innovative delivery systems in the near future.
InnoCan's technology commercialization made tremendous progress in 2021 aided by exclusive and non-exclusive licensing deals, and investors may see significant value in InnoCan's present pipeline of technological and pharmaceutical products and solutions.
Axsome Therapeutics, Inc. (NASDAQ: AXSM)
Axsome Therapeutics is a biopharmaceutical company based in the United States that develops innovative medicines for central nervous system (CNS) disorders. AXS-05 is Axsome's lead drug candidate, a therapeutic for the treatment of major depressive disorders and resistant depression disorders. AXS-05 is in Phase III clinical trials to treat Alzheimer's disease agitation and has completed a phase II clinical trial for the treatment of smoking cessation.
The product pipeline of the company also includes three other late-stage drug candidates. AXS-07 is an oral drug for the treatment of acute migraine that has completed two Phase III trials and is expected to be approved by the FDA in 2022. The company is also working on AXS-12 to treat narcolepsy, which is in a Phase III study, and AXS-14 for the treatment of fibromyalgia that's in a Phase III trial. Axsome plans to submit for FDA approval of AXS-14 for the treatment of fibromyalgia in 2023. Axsome Therapeutics is an appealing biotech stock given the revenue potential of these drug candidates.
BioNTech SE (NASDAQ: BNTX)
BioNTech is a biotechnology company based in Germany that develops and produces active immunotherapies for cancer and other infectious disorders. The company is primarily focused on patient-specific immunotherapies for the treatment of cancer. BioNTech is also one of the pharma companies that significantly benefited from the pandemic as it collaborated with Pfizer, Inc. (PFE) to develop a Covid vaccine.
BioNTech and InstaDeep Ltd recently announced the development of a new computational approach that analyses global sequencing data and predicts high-risk SARS-CoV-2 variants. This system can detect potentially high-risk variants entered into SARS-CoV-2 sequencing data repositories in less than a day by combining structural modeling of the viral spike protein with the help of AI technology.
Conclusion
Investing in biotechnology/pharma stocks is a high-risk, high-reward proposition. The least risky biotech companies have medicines that are already on the market and many more that are in the final stages of testing. However, young companies that are beginning to show successful signs of future commercialization are the ones that appeal the most to growth investors who are focused on multi-bagger returns.
Biotech companies that are developing, manufacturing, and selling more than one medication are likely to be the most profitable, and the companies introduced in this article are a few of the names every investor should closely follow.
Don't miss a thing!
Sign up for a daily update delivered to your inbox
Sponsored Financial Content