XRP News: Ripple in Limbo – SEC Chair Ignites Debate
Published

: Sep 22, 2023, 01:22 UTC
•
3
min read
Ripple navigates turbulent waters as SEC's Gensler maintains a firm grip; XRP forecasts remain shadowed by unresolved lawsuit rulings and market speculation.
Key Insights:
XRP's 2.74% decline on Thursday reversed its prior 1.42% gain, halting a three-day bullish run.
Ripple's Chief Legal Officer raised concerns over SEC Chair Gensler's view on court decisions.
Despite Judge Torres' ruling, Gensler believes securities laws should still encompass cryptos.
The Thursday Overview
On Thursday, XRP declined by 2.74%. Reversing a 1.42% gain from Wednesday, XRP ended the day at $0.5070. XRP ended a three-day winning streak.
Judge Torres Silence Leaves XRP in the Hands of the Broader Market
The crypto community responded to another SEC Chair Gary Gensler interview on Thursday.
The Chief Legal Officer of Ripple shared a clip from an interview with SEC Chair Gensler interview on Bloomberg, saying,
"What's most concerning to me (and should be to you) in the full video clip is the shocking admission of an unelected bureaucrat that he won't respect the decision of the courts."
The SEC Chair also reiterated his view on the crypto market, saying the industry is rife with hucksters and fraudsters. Gensler also pointed out that applying US securities laws to crypto would benefit investors with disclosures and allow investors to choose based on disclosures.
There were no court rulings on the SEC's motion for an interlocutory appeal to distract investors.
Amicus Curiae John E. Deaton had this to say about the Gensler interview,
"Let's be real Bloomberg Crypto: It has been fraud and manipulation by the SEC that investors have needed the most protection from."
Judge Torres, the presiding Judge in the SEC v Ripple case, ruled that XRP is not a security in Programmatic Sales. SEC Chair Gensler believes that securities laws should apply to crypto despite the SEC not planning on appealing the Programmatic Sales ruling.
Fed Fear Keeps BTC and the Broader Crypto Market on the Back Foot
XRP joined the broader market in negative territory on Thursday. BTC and the crypto market continued to respond to the hawkish Fed.
Hotter-than-expected US jobless claims added to the bearish mood. A fall in initial jobless claims fueled bets on a November Fed rate hike. An upward trend in borrowing costs is bearish for riskier assets.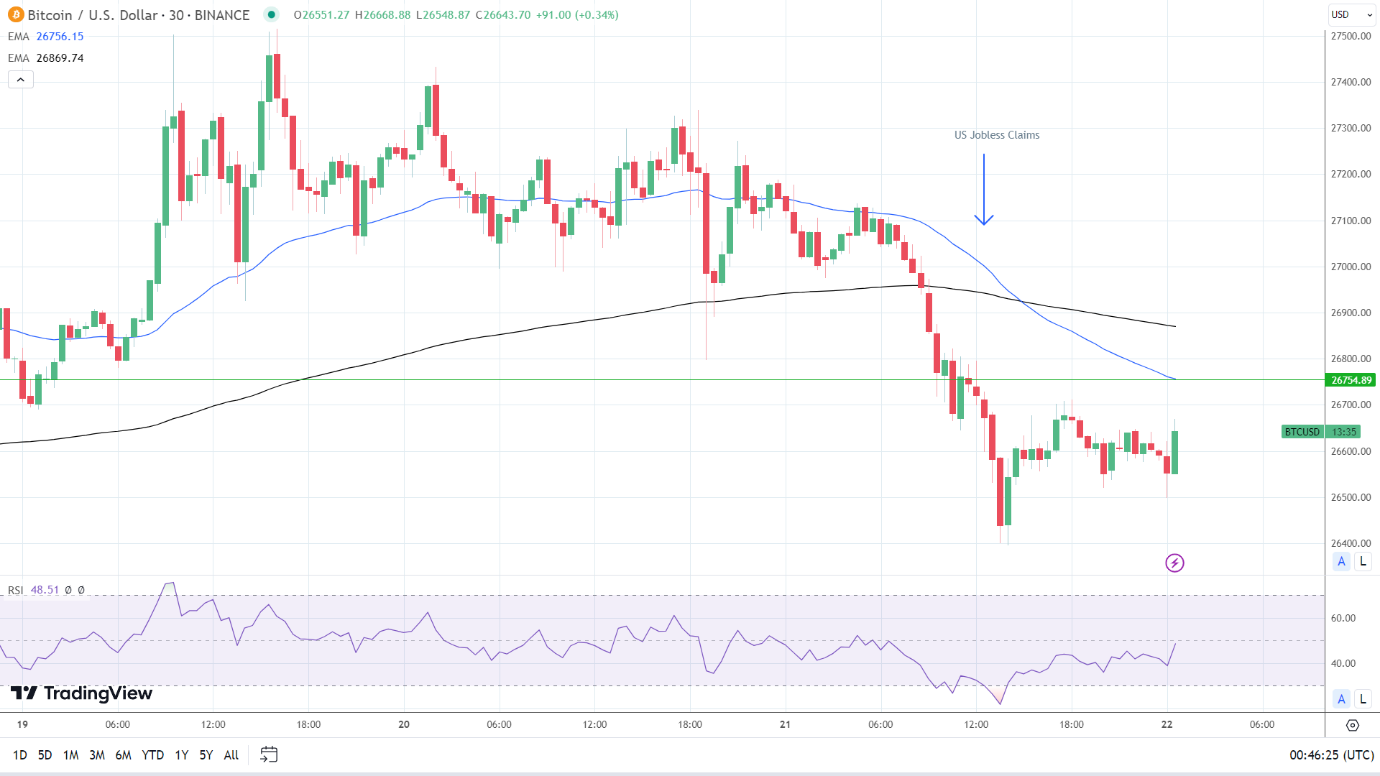 BTCUSD 220923 30-Minute Chart
The Friday Session
Fed Fear will likely continue to influence investor sentiment today. US private sector PMIs will draw interest. A pickup in services sector activity would further fuel November Fed rate hike bets and spook investors.
However, investors should track SEC v Ripple and SEC v Coinbase (COIN) case-related updates. Court rulings would materially influence XRP and broader market trends.
XRP Price Action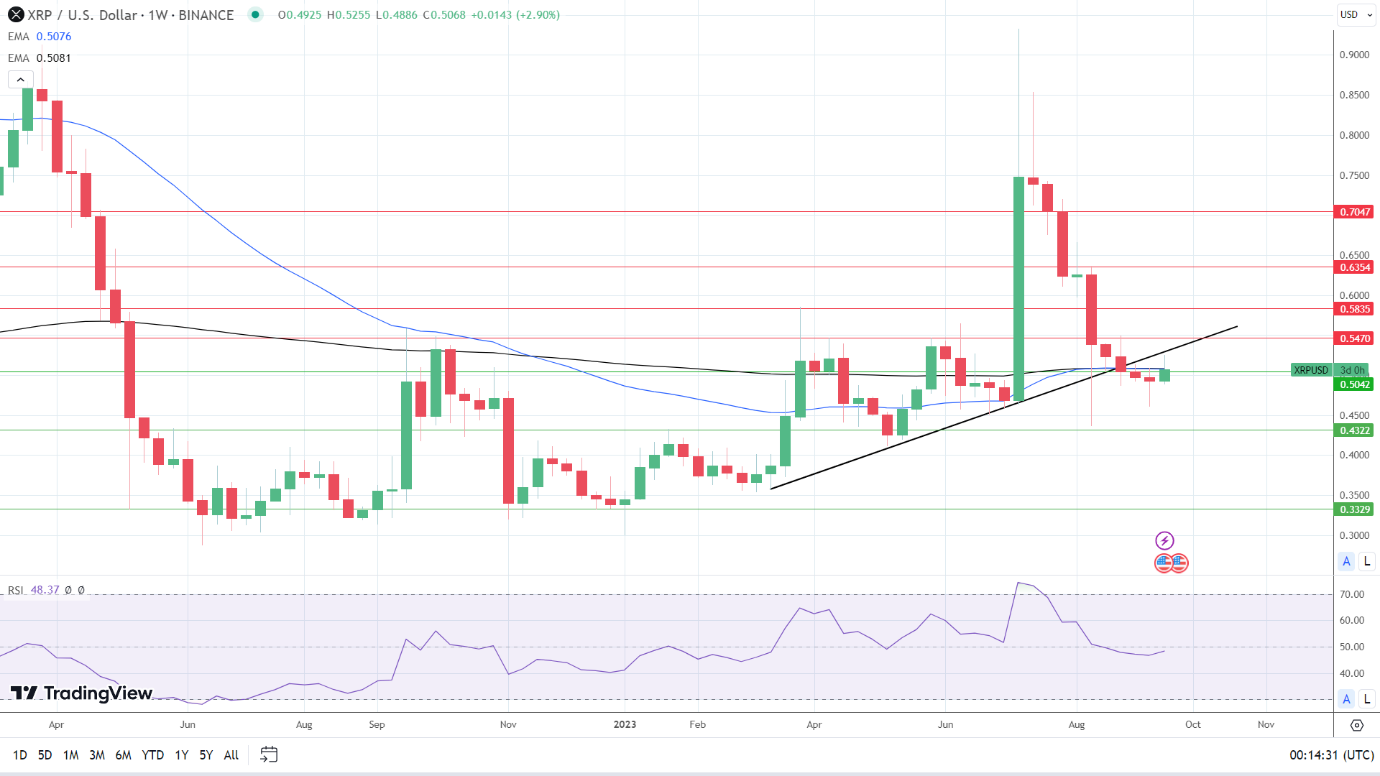 XRPUSD 220923 Weekly Chart
Daily Chart
XRP remained below the 50-day and 200-day EMAs, reaffirming bearish price signals. A break below the $0.5042 support level would bring $0.48 into view. Fed Fear and unfavorable court rulings would trigger another reversal.
However, a break above the 200-day EMA would support an XRP move to the trend line and 50-day EMA. Selling pressure would intensify at $0.5330, with the 50-day EMA confluent with the trend line.
The 46.90 14-Daily RSI reading signals an XRP break below the $0.5042 support level before entering oversold territory.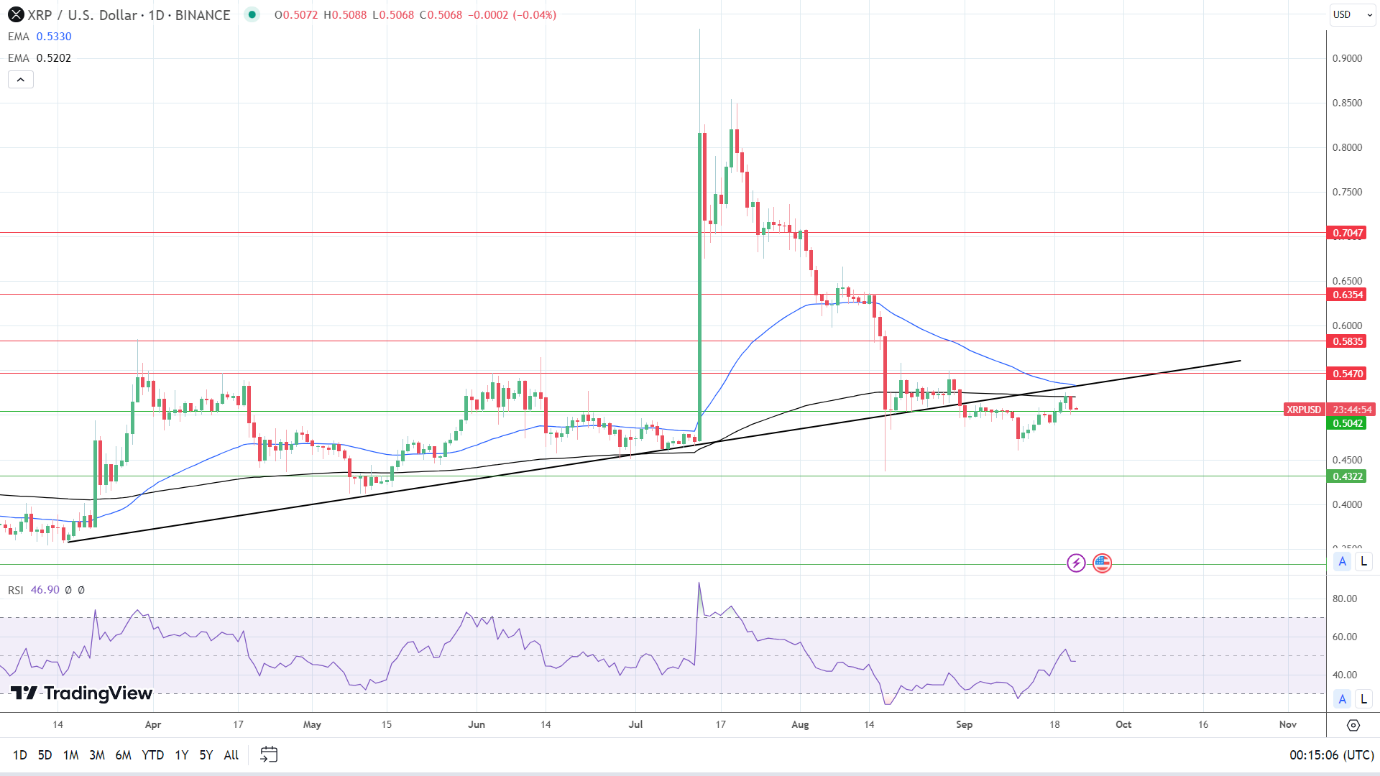 XRPUSD 220923 Daily Chart
4-Hourly Chart
XRP hovers above the 50-day EMA while remaining below the 200-day EMA, sending bullish near-term but bearish longer-term price signals.
An XRP break above the 200-day EMA would give the bulls a run at the trend line. However, a break below the 50-day EMA and $0.5042 support level would bring sub-$0.48 into view. XRP should experience a pickup in buying pressure at $0.5040, with the 50-day EMA confluent with the $0.5042 support level.
The 14-4 Hourly RSI 49.49 reading signals an XRP break below the 50-day EMA and $0.5042 support level before entering oversold territory.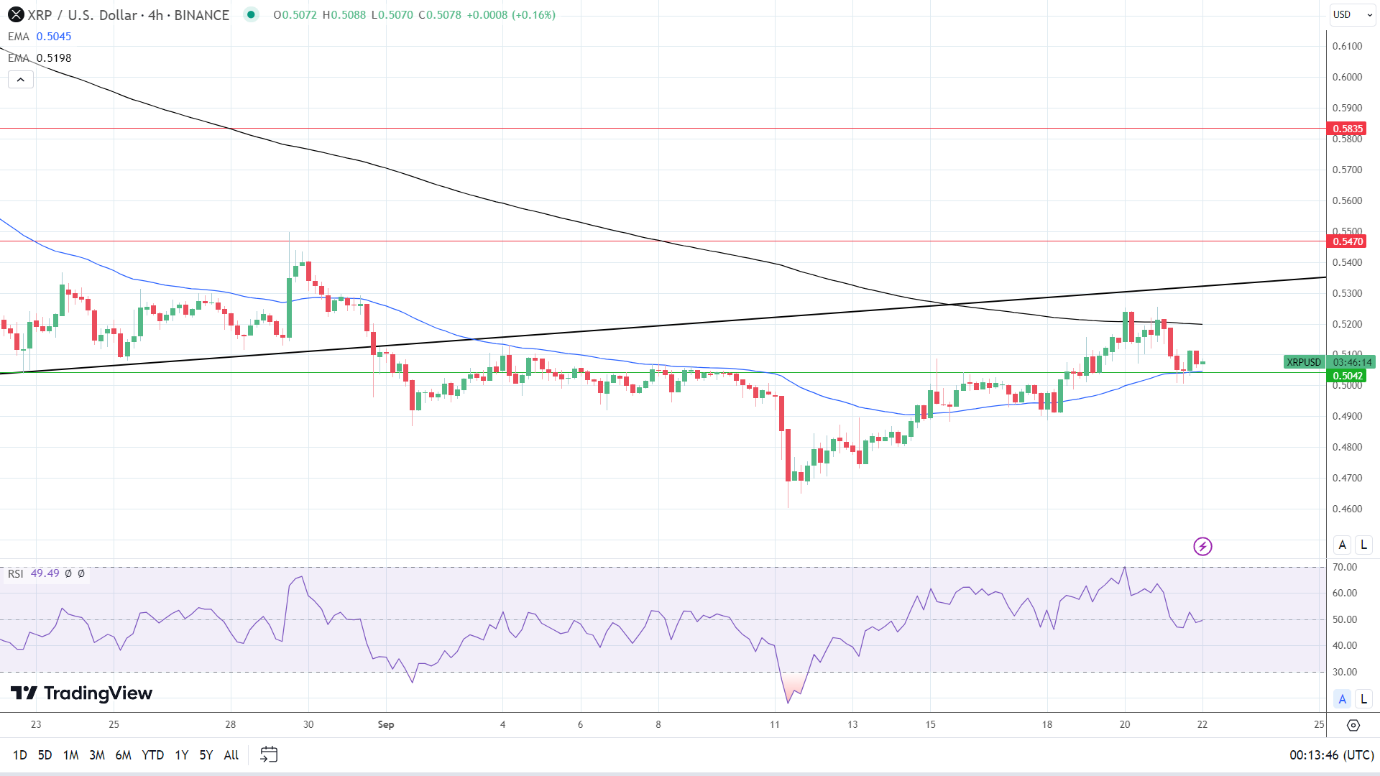 XRPUSD 220923 4-Hourly Chart
Don't miss a thing!
Sign up for a daily update delivered to your inbox
Sponsored Financial Content