Banking Crisis Hits California Banks as PacWest Drops Over 50%
Updated

: May 5, 2023, 16:52 UTC
•
2
min read
The banking industry upheaval is causing regional banks in California to suffer, with PacWest dropping the most.
Dow Jones Industrial Average Volatility Index
Highlights
Regional bank stocks remain under duress as the banking crisis persists.
PacWest stock is the weakest link and has lost over 50% of its value today.
PacWest is the latest target in the banking crisis that is unfolding in the U.S. banking industry. The bank stock has shaved off more than 50% of its value as of early Thursday trading. On Wednesday, Los Angeles PacWest revealed it was exploring "all options" including the possibility of a sale, reports indicate.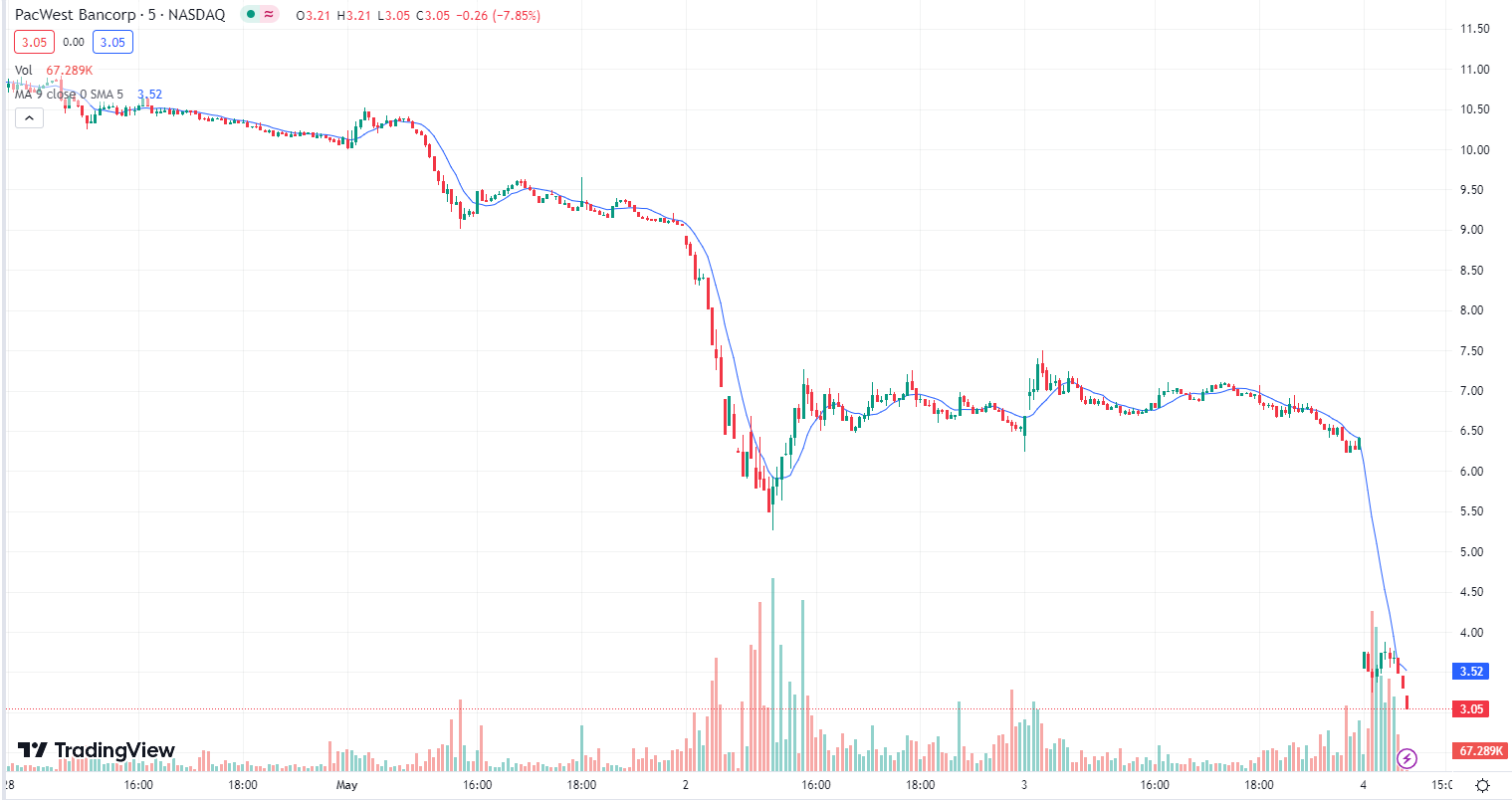 Chart by TradingView
PacWest's peers are also experiencing a sell-off in sympathy, including First Horizon, which has lost more than one-third of its value today. The uncertainty in the banking industry has caused TD Bank to terminate a merger agreement with First Horizon.
Banking Crisis
It's the latest domino to fall in a banking upheaval that began with Silicon Valley Bank (SVB) in March. Earlier this week, First Republic, another California-based bank, was seized by the regulator after a bank run sent the company and its stock reeling. JPMorgan stepped in to purchase most of First Republic's assets.
Following that deal, JPMorgan CEO Jamie Dimon exclaimed that the worst was over in the banking crisis. However, PacWest is proving to be the latest shoe to drop.
California regional banks are in jeopardy because of the similar customer base that has lost confidence in the industry. However, unlike First Republic, PacWest said it hasn't suffered similar deposit withdrawals like its troubled peers. In fact, the bank says that its core deposits have increased since the end of Q1 2023.
Markets Tumble
Banking fears have spread into the broader stock market, with the Dow Jones Industrial Average tumbling by 300 points in early trading. With these declines, the Dow currently hovers in negative territory for 2023 so far. The S&P 500 and Nasdaq are both down less than 1%.
On Wednesday, the Fed agreed to increase interest rates by a quarter-percentage point, which added to the pressure on bank stocks. Policymakers also hinted toward a pause in its aggressive rate-hike path up ahead, but it's done little to stop the bleeding.
Don't miss a thing!
Sign up for a daily update delivered to your inbox
Sponsored Financial Content