German GfK Consumer Climate Fall Fuels German Recession Concerns
Published

: Aug 29, 2023, 06:24 UTC
•
2
min read
Despite softer July inflation, rising food and energy prices and deteriorating income expectations weigh on the German GfK Consumer Climate Index.
Highlights
A decline in the GfK Consumer Climate Index for September, from -24.5 to -25.5 will raise ECB concerns.
Rising food and energy prices and disappointing economic indicators fuel pessimism towards the German economy.
Preliminary German inflation figures, retail sales, and unemployment numbers awaited with bated breath.
German GfK Consumer Climate
After a quiet Monday session, the German economy was in the spotlight again. The German GfK Consumer Climate Index drew interest as risks of a German recession continue to grow. German labor market conditions cushioned consumer sentiment in July.
The German GfK Consumer Climate Index fell from -24.5 to -25.5 for September. Economists forecast a decline to -24.3.
According to the August survey,
Income expectations deteriorated in August, with the indicator falling 6.4 points to -11.5 points.
Rising food and energy prices impacted consumer disposable incomes despite softer inflation in July.
The slide in income expectations weighed on the propensity-to-buy indicator, which fell 2.7 points to -17 points.
Inflationary pressures and the uptrend in food and energy prices continued impacting buyer intentions.
After a string of disappointing German economic indicators, pessimism toward the German economy grew midway through the third quarter.
The economic expectations indicator declined by 9.9 points to -6.2 points, the lowest recording since December 2022 (-10.3 points).
After steady labor market conditions, the survey revealed increasing concerns over unemployment.
The August survey will place a greater emphasis on German retail sales, inflation, and unemployment. On Wednesday, prelim German inflation figures will draw interest ahead of retail sales and unemployment numbers on Thursday,
Weak retail sales numbers, a rise in unemployment, and a pickup in inflationary pressure would fuel fears of a sustained German economic recession.
EUR/USD Reaction to the German GfK Consumer Climate Survey
Before the German consumer confidence numbers, the EUR/USD fell to a pre-stat low of $1.08152 before rising to a high of $1.08384.
However, in response to the GfK survey, the EUR/USD fell to a post-stat low of $1.08206 before rising to a high of $1.08234.
This morning, the EUR/USD was up 0.03% to $1.08220.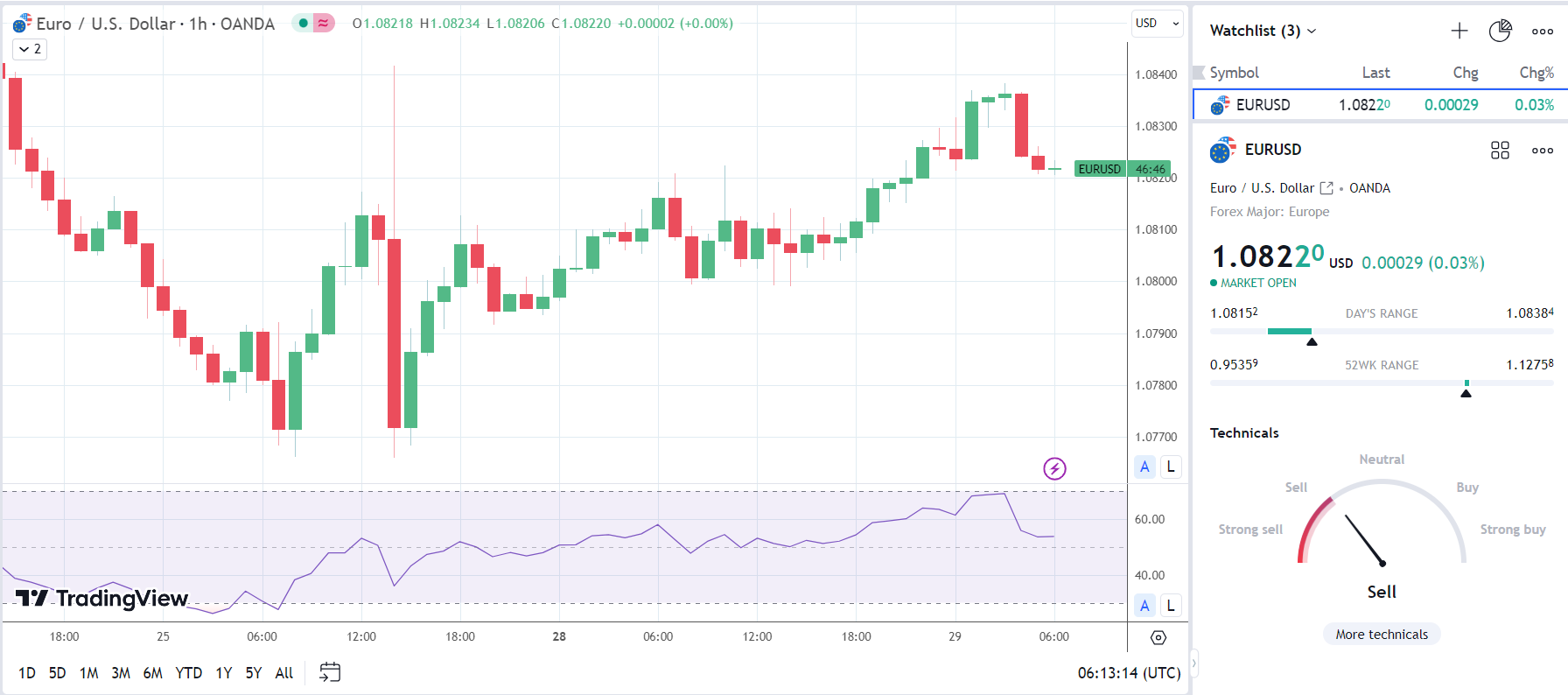 290823 EURUSD Hourly Chart
Up Next
While there are no other Euro area economic indicators to draw interest, US economic indicators will need consideration.
US JOLTs job openings and consumer confidence figures will move the dial later today. Economists forecast a modest decline in consumer confidence and a slide in job openings.
Worse-than-expected numbers would ease bets on a September Fed rate hike and tip monetary policy divergence toward the ECB and the EUR.
Economists forecast JOLTs job openings to fall from 9.582 million to 9.465 million and the CB Consumer Confidence Index to slip from 117.0 to 116.0.
With investors focused on monetary policy divergence, central bank chatter will also need consideration. However, no central bankers are on the calendar to speak today, leaving commentary with the media to influence.
Don't miss a thing!
Sign up for a daily update delivered to your inbox
Sponsored Financial Content