BitBay is a polish based cryptocurrency exchange that was founded by Sylwester Suszek in 2014. The head office of BitBay is located at ul. Kępowa 45 40-583 Katowice, Poland. The exchange also maintains branch offices in Amsterdam and New Delhi. BitBay was set up with the primary goal to offer Polish cryptocurrency traders a safe and secure platform for them to trade in popular cryptocurrencies such as Bitcoin, Ethereum, and Litecoin. In addition to cryptocurrency trading services, BitBay also offers its customers the ability to pay their bills with Bitcoin via SMS.
Contents
Today, the exchange boasts of more than 400 thousands active users conducting more than 1200 transactions per minute. Today, its annual Bitcoin turnover exceeded half a million Bitcoin. It is also worth noting that it is one of the few cryptocurrency exchanges around the world that offers cryptocurrency trading with the Polish Zloty (PLN).
Deposit and Withdrawal Options
For the benefit and convenience of its customers, BitBay has provided them with several methods for depositing and withdrawing funds. You can deposit or withdraw in cryptocurrencies such as Bitcoin, Ethereum, Litecoin, lisk, Monero, Bitcoin Cash, dash and even game tokens. Alternatively, you can also fund or withdraw in fiat currencies such as euros, U.S dollar, and Polish Zloty. The methods that can be used to transfer these funds can be through cryptocurrency wallets, bank wire transfer, credit/debit cards, through the Polish post office, Express DotPay or the Zabka store chain. Withdrawals can also be done through a BitPay debit at any ATM machine that accepts MasterCard.
The fees for making a deposit are as follows:
Bank wire – Free
Cryptocurrencies = Free
Express DotPay – 2%
Polish Post Office – 2%
Express Żabka Market – 2%
For withdrawals, the applicable fees are as follows:
Bitcoin – 0.00045 BTC
Bitcoin Cash – 0.0006 BCC
Bitcoin Gold – 0.0008 BTG
Ethereum – 0.00126 ETH
Litecoin- 0.005 LTC
Lisk – 0.2 LSK
Dash – 0.001 DASH
Game – 0.005 GAME
Bank wire transfer (PLN) – 4 PLN
Express transfer (PLN) – 10 PLN
ATM withdrawal via SMS – 20 PLN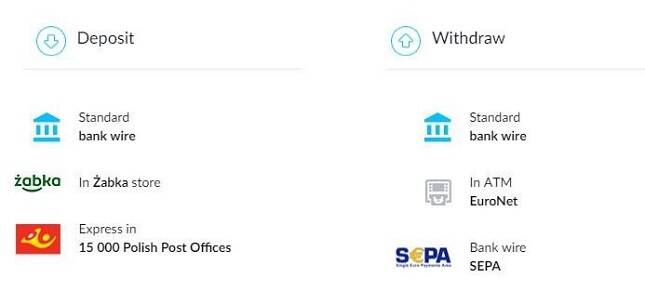 Supported Countries
At present apart from Poland, BitBay maintains a physical presence in the Netherlands and India. However as BitBay is unregulated, there is no restriction on who can hold an account at BitBay. This means that even U.S residents are accepted by BitBay.
However, for account holders from India to be able to trade on the BitBay platform, they are required to fulfill the "Know Your Customer" requirement first.
The trading platform which BitBay has provided to those who wish to trade in cryptocurrencies is a proprietary web-based platform. It is designed to be simple and easy to use. It has the basic "Buy" and "Sell" feature and lacks any kind of analytical tools. The price chart is provided by TradingView. BitBay also provides you with the option to trade cryptocurrencies on your smartphones. However, the exchange does not have a dedicated mobile app of its own. Instead, its platform is integrated with a third party mobile trading app called "TabTrader", a trading terminal for all the major exchanges. At present, BitBay account holders can trade in the following cryptocurrencies:
BITCOIN
ETHEREUM
LISK
LITECOIN
GAME
DASH
BITCOIN CASH
BITCOIN GOLD
Fees and Charges
BitBay offers two types of accounts, individual account and corporate account. The individual account is provided free of charge and can be unverified if you are trading solely with cryptocurrencies. With the BitBay account, you will be able to do the following:
Exchange cryptocurrencies and fiat currencies
Access the trading platform
Make online and offline payments
Apply for a BitBay Debit card
Make international transfers
For those who wish to trade cryptocurrencies with their business funds, they may do so through a corporate account. The corporate account comes with the same kind of benefits as an individual account except that the commission charges are invoiced directly to the enterprise on the 10th of every month.
The Maker and Taker fees at BitBay depend on the volume that is being traded. The following table below shows the applicable fees for the respective trading volume:
30 DAY VOLUME
TAKER FEE
MAKER FEE
<1 250 EUR

<3 750 EUR

<7 500 EUR

<10 000 EUR

<15 000 EUR

<20 000 EUR

<25 000 EUR

<37 500 EUR

<50 000 EUR

<75 000 EUR

<100 000 EUR

<150 000 EUR

<200 000 EUR

<250 000 EUR

<375 000 EUR

<500 000 EUR

<625 000 EUR

<875 000 EUR

> 875 000 EUR

0.43%

0.42%

0.41%

0.40%

0.39%

0.38%

0.37%

0.36%

0.35%

0.34%

0.33%

0.32%

0.31%

0.30%

0.29%

0.28%

0.27%

0.26%

0.25%

0.30%

0.29%

0.28%

0.28%

0.27%

0.26%

0.25%

0.25%

0.24%

0.23%

0.23%

0.22%

0.21%

0.21%

0.20%

0.19%

0.18%

0.18%

0.17%
Privacy and Security
BitPay takes the issue of security very seriously. All the transactions on the website are processed via secured HTTPS connections. In addition, all transfers have to be authorized by BitBay's employees. Other security measures adopted by BitBay include hidden password, 2 factor authentication and cold storage wallets. In short, the security at BitBay is ironclad.
Customer Support
BitBay's website is available in English and Polish. To ensure that its clients can access the support service at any time when they need it, BitBay has made its telephone support available 7 days a week from 8 am to 8 pm. Alternatively, for the more frequently asked questions, you can access the Helpdesk to check out their comprehensive FAQ section.
Pros and Cons
Pros
Support ATM withdrawals
Tight Security
Easy to use platform
Good customer support
Support Euros, U.S dollars, and Polish Zloty
Cons
Some service limited to Polish residents
Limited range of cryptocurrencies
FAQ
How do I register with Bitbay?
On BitBay's website, click "Log In" first then "Register". Next, provide your email address. It is also to automatically register by logging with your Google account. Next, you need to "activate your account" through the activation link sent by BitBay to your email address. Once, activated, you will be required to complete the registration form.
How safe is a BitBay account?
For security, BitBay uses HTTPS security protocols for all transactions on its website. All data are also encrypted to prevent unauthorized access. BitBay also offers two-factor authentication and cold storage wallets as an added layer of security.
Is it necessary to verify my BitBay account?
No, it is not necessary to verify your BitBay account if you are just trading with cryptocurrencies. However, verification is required if you will transact with fiat currencies.
I am 18 years old. Can I open an account with BitBay?
No, You need to be at least 18 years of age before you can open an account at BitBay.
How to start trading immediately?
Once you have opened and funded your account, go to the "Exchange" tab and select 'Quick Transaction". The platform will automatically select the best deal for you.
Conclusion
Overall, we find Bitbay to be a reliable cryptocurrency exchange. The main advantage of BitBay is the fact that they support 3 different types of fiat currencies. In addition, BitBay has also simplified the withdrawal process through the issue of its own branded debit card.
Accepted Countries
Poland

Sweden

Spain

United Kingdom

Germany

Australia

Cameroon

Chad

Dominica

Canada

Denmark

France

Greece

Haiti

Iceland

Libya

Mexico

Nepal

Belize

Romania

Cape Verde

Senegal

Sri Lanka

Eritrea

Gambia

Indonesia

Lebanon

Angola

Malta

Bahamas

Benin

Chile

Ghana

Gibraltar

Grenada

Serbia

Guinea-Bissau

Tonga

Kenya

Finland

Namibia

Oman

Jamaica

Palau

Solomon Islands

Kyrgyzstan

Tunisia

Montenegro

Peru

Trinidad and Tobago

Yemen

Bahrain

Belarus

Bulgaria

Colombia

Cuba

Cyprus

Algeria

Burkina Faso

Cambodia

Kuwait

Russian Federation

Saint Lucia

South Sudan

Tanzania

Turkey

Virgin Islands, British

Japan

Malawi

Maldives

Netherlands

Botswana

Qatar

Saint Kitts and Nevis

Saint Vincent and the Grenadines

Sudan

Taiwan

Tuvalu

Vatican City

Uruguay

Slovenia

Malaysia

Moldova

Nauru

Papua New Guinea

Zambia

Andorra

Afghanistan

Congo

Bolivia

Cote d'Ivoire

Laos

Dominican Republic

Mauritania

Egypt

Gabon

Morocco

Uganda

Nigeria

Swaziland

Vietnam

Austria

Barbados

Bosnia and Herzegovina

Djibouti

Equatorial Guinea

Comoros

Estonia

Ethiopia

Fiji

Mali

Hong Kong

Ireland

Italy

Philippines

Macedonia

Madagascar

Sierra Leone

Vanuatu

Panama

Portugal

Samoa

Saudi Arabia

Timor-Leste

Albania

Burundi

Guinea

Iran

Armenia

Bangladesh

Belgium

Kiribati

Lithuania

Bhutan

Mongolia

Cayman Islands

Myanmar

Niger

Rwanda

Sao Tome and Principe

Slovakia

Czech Republic

Thailand

United Arab Emirates

Ecuador

India

North Korea

Liberia

Liechtenstein

Luxembourg

Marshall Islands

Monaco

Mozambique

New Zealand

Pakistan

Togo

Uzbekistan

Venezuela

Zimbabwe

Antigua and Barbuda

Croatia

Argentina

Guyana

Kazakhstan

Lesotho

Central African Republic

Norway

Paraguay

San Marino

Suriname

Switzerland

Tajikistan

Guatemala

Honduras

Iraq

Mauritius

Nicaragua

Singapore

Somalia

Azerbaijan

Brazil

Brunei

China

Costa Rica

El Salvador

Georgia

Hungary

Israel

Micronesia

Jordan

Latvia

Seychelles

South Africa

Turkmenistan

Ukraine

Isle of Man

Kosovo
Payment Method
Deposit Options
Credit Card, Wire Transfer, Debit Card, Cash
Withdrawal Options
Wire Transfer, Credit Card, Debit Card, Cash
Company Information
| Exchange Details | Info |
| --- | --- |
| Headquarters Country | Poland |
| Foundation Year | 2014 |
| Type | exchange |
| Trading Allowed | Yes |
Trade With A Regulated Broker