About Trezor
The majority of Bitcoin and cryptocurrency users hold their crypto on free, easy to use, and accessible online or software wallets. While this is a very convenient and easy way to store your cryptocurrency, it is not the most secure. It's not very secure because they are connected to the internet and are thus susceptible to hacking attempts via phishing scams, malware, viruses, etc. These types of wallets are called "hot wallets" and are perhaps the least secure method of storing cryptocurrency, other than on an exchange. Yet the majority of people use them, which is okay if they're storing small amounts of crypto and don't plan to hold it there for a prolonged period of time.
Contents
As for cryptocurrency users who are in it for the long term, own a significant amount of crypto, or simply do not want to risk losing their crypto, they should most definitely be storing their cryptocurrency in a hardware wallet. A hardware wallet differs from an online hot wallet by being a physical piece of hardware disconnected from the internet. It stores your cryptocurrency along with it's public and private keys so that you have full ownership and control of your crypto. Hardware wallets are far more secure and not susceptible to hacks like online and software wallets. Therefore, in the following review, we'll be looking at the highly reputable Trezor hardware wallet.
The Trezor wallet is the first mainstream hardware wallet to hit the market. It was developed by a Czech startup company, SatoshiLabs in 2012 and made available to the public in 2014. The company is based out of the Czech Republic at SatoshiLabs s.r.o., Kundratka 2359/17a, 18000 Praha 8. As Trezor is the first hardware wallet in the cryptocurrency space, it has become very popular among crypto users and is considered to be one of the best hardware wallets available. The Trezor securely holds and stores various cryptocurrencies as well as facilitates secure crypto transactions, even on compromised computers. Let's learn more about this fascinating hardware wallet below.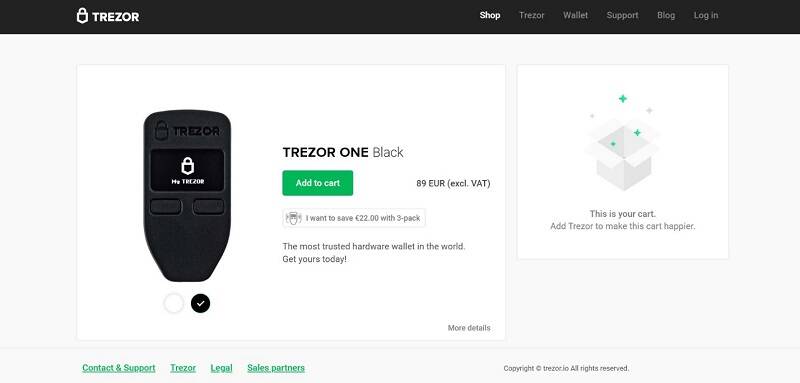 Features
The Trezor is among the best hardware wallets available for good reason. It is a highly sophisticated device with various features putting it ahead of the competition. See them listed below.
The Trezor stores more cryptocurrencies than any other hardware wallet available. Currently, it supports more than 500 cryptos and more coins are constantly being supported.
The Trezor has a monochrome display with two buttons for simple and easy navigation.
The Trezor is very simple and easy to use. It comes with a step by step guide and numerous online tutorials can be found on how to use it.
The Trezor is unlocked using a PIN code or passphrase set by you. As well, upon setting up you Trezor you will go through a device recovery process to back up your wallet. The Trezor wallet utilizes highly advanced security protocols so that it can never be breached.
Users can download the password manager app and securely store all their important passwords in an organized fashion.
The Trezor can be used for the most secure type of two-factor authentication for various online services.
The Trezor support team is available 24/7 to answer questions you might have, and they provide helpful tutorials, articles, videos, etc.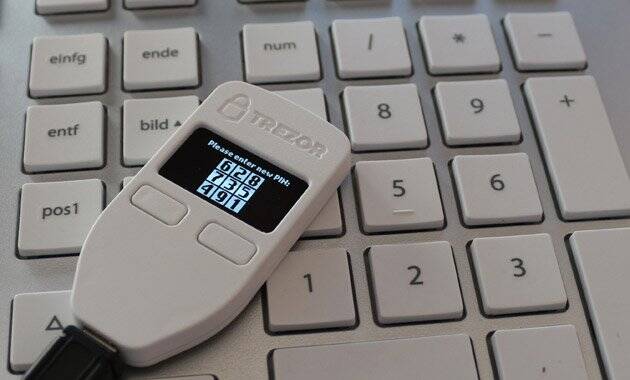 Importance of the Trezor display screen
The display screen utilized by the Trezor is a small monochrome display big enough to display a passcode with 9 numbers and some text. Users can use the two buttons on the device to navigate the Trezor interface. The reason Trezor has a display screen and why it's so important is because it is completely separate from the computer you connect your Trezor too. Meaning what's displayed on the Trezor display is completely secure. Users must use this display to set their password and mnemonic key phrase for backing up their Trezor wallet. Also, the display screen adds an added layer of protection for transactions by making the user confirm the transaction amount and sending the address from the Trezor. Therefore, the display screen plays an integral role in the security of the device.
Who should use it?
Anyone who buys and holds cryptocurrency should use a hardware wallet like the Trezor if they want to guarantee the security of their funds. Hardware wallets like this are highly recommended as they are resistant to hacks and security flaws that can happen with online hot wallets and software wallets. People who own a limited amount of crypto and do not plan on holding it for very long don't necessarily need a Trezor as it is not free and not as convenient as storing crypto on an exchange or online/software wallet.
Security
As mentioned before, a hardware wallet like the Trezor is the most secure method of storing and transacting cryptocurrency. The team behind Trezor has thought of everything in terms of security and have implemented the latest technology and protocols in the device. See the Trezor's security features below.
Firmware Verification
The Trezor's bootloader verifies that the device is legit by scanning the firmware and verifying that it's signed by SatoshiLabs.
Private & Public Key Protection
Sensitive information such as the private & public keys is only accessible after user authentication via PIN.
Additional Passphrases
The Trezor supports BIP39 passphrases which are never remembered or stored on the device.
Backup & Recovery
pon setting your device up, you will receive a mnemonic seed that you safely store offline. This seed can be used to restore your wallet if it is destroyed, lost, stolen, or your PIN is forgotten. This seed will fully restore your wallet along with all of your cryptos.
Ultrasound Hardware Seal
The Trezor is ultrasonically welded, making it very difficult to use and restore if damaged or tampered with.
Secure Update Procedure
Trezor updates are secured by the bootloader validating the firmware signature.
Write-protected Bootloader
The security software is also secured and safeguarded against tampering.
Privacy
Trezor users are not required to provide any identifying information. Your Trezor device is not tied to a database of any kind and there is nothing binding the device to you. Your email is not even associated with your device so users can stay completely anonymous.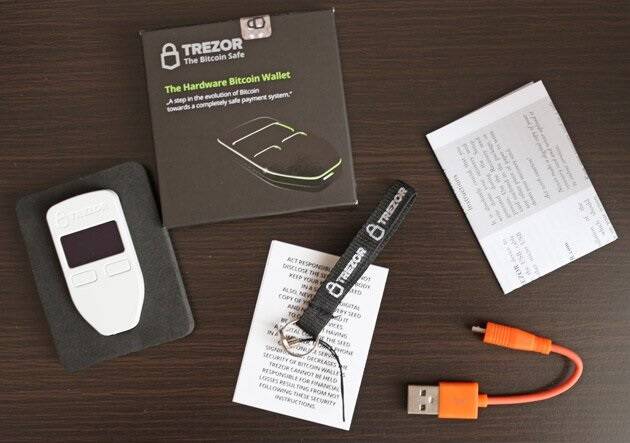 What's in the box
The Trezor comes in a very small box that is secured with a holographic sticker on top with a warning to contact Trezor support if you suspect the box has been opened. In the box you will find:
The Trezor device
A small USB to micro-USB cable
A very small lanyard
An installation manual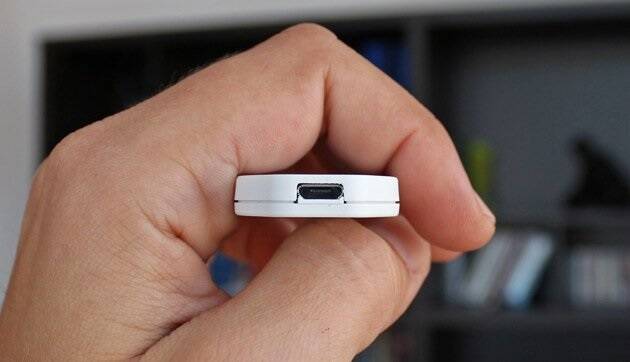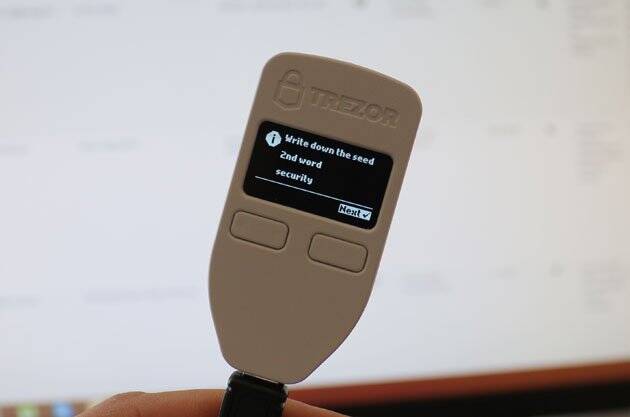 Device Appearance
The Trezor has a very sleek design and is around the size of a standard USB stick, though a little wider measuring 60mm x 30mm x 6mm and weighing only 12g. It comes in two colors, black or white, and has a display screen in the middle with two buttons directly below. On the bottom of the device, there is a micro USB port. The device is made out of a very hard scratch resistant plastic with a matte finish.
Supported Coins
The Trezor supports more cryptocurrencies than any other hardware wallet and is continuously adding support for more. Most of the top coins are supported along with a wide selection of altcoins. In total, the Trezor supports over 100 cryptocurrencies. See below, the most popular coins supported by Trezor.
Price
The Trezor is available for sale on Trezor's website and costs 89 EUR with 22 EUR shipping for a total of 111 EUR. If you buy a three pack, you will receive a discount of 22 EUR. Also, Trezor has a large number of affiliate partners who sell the Trezor for the same or around the same price.
Offline Storage and Backups
All of the cryptocurrency stored on the Trezor is stored securely offline, as Trezor is strictly a cold storage offline hardware wallet. Even the backup is stored offline as the user is supposed to write down their mnemonic backup seed on a piece of paper and store it in a physically secure location. So, if the Trezor is destroyed, lost, stolen, or your PIN is forgotten, it can be fully restored offline by entering your mnemonic backup seed on a new Trezor device.
Setup Guide & How to Use it
Installing and setting up your Trezor device is straightforward and can be done within 10 minutes. An installation manual comes with your Trezor and the Trezor website has a detailed walkthrough as well. However, for the purpose of this review and your convenience, we will walk you through the steps here. As well, keep in mind that this walkthrough process is for the myTREZOR wallet interface. However, the Trezor is compatible with some other web wallets as well.
Step 1: Plug in your Trezor
Use the USB to micro USB cord that comes with your ledger and plug it into your computer.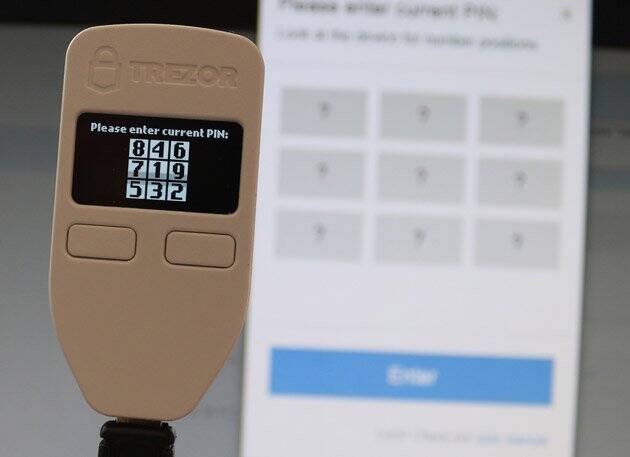 Step 2: Set your PIN
First, go to myTREZOR and download the browser plugin. This is an automated process and once the plugin is activated, you will be prompted to enter the PIN via myTREOZR on an obscured numerical interface displayed on the browser. The position of each number randomly changes so you have to refer back to the PIN displayed on your Trezor for the layout.
Step 3: a Backup phrase
Next, you will be required to write down the randomly generated 24-word mnemonic recovery seed on a piece of paper. The seed is shown on the Trezor's display screen, one word at a time. You will write this word down, then click the right button to see the next word and repeat the process until you have written down each of the 24 words in order. This seed is the only thing that can restore and backup your Trezor device, so it's important not to type it or store it on your computer as it is then accessible to hackers. This is the final and most important step in the installation process.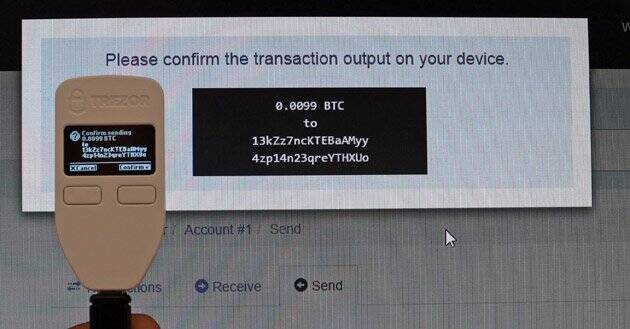 Step 4: Using your Trezor
Once you have completed the steps above, your device is fully set up and ready to use. Anytime you want to use the device, simply plug it in and enter in your PIN. The myTREZOR interface is where you will go to send and receive different cryptocurrencies. This interface can only be unlocked using your Trezor device and transactions can only be made by confirming them with your Trezor.
Safety Tips
The most important safety tip we can give is to never share your PIN or your 24-word recovery seed with anybody. As well do not store these two pieces of information online or on any software. Store your 24-word recovery seed and PIN on a piece of paper so it's impossible for hackers to steal.
Another important tip is to make sure that you always send your crypto to the correct address. Make sure to double check the address and ensure you are at the correct URL as there are many phishing websites out there that display incorrect addresses in an attempt to fool you into sending your crypto to someone else.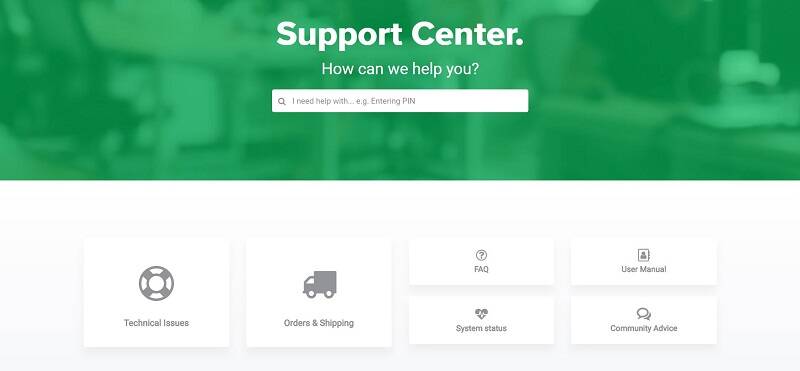 Support
Trezor provides their users with exceptional customer support in a variety of ways. Users can refer to the support section of the Trezor website for wide selection tutorials, FAQs, articles, and community advice. As well, Trezor has their very own blog and a healthy presence on social media. Users can also contact support via email and a support ticket system.
Where and How to Buy?
The Trezor device can only be bought online at the Trezor website or on one of their numerous affiliate partners websites. People can pay for their Trezor via Visa, MasterCard, or Bitcoin.
Pros and Cons
Pros
Multi-Currency support
Highly secure
Well-designed display screen
Small and portable
Cons
Expensive for some users
More complicated than web and software wallets
Long 24-word backup seed phrase
Summary
The Trezor is an excellent device for securely storing and transacting your cryptocurrency in a secure offline environment. It has an excellent reputation in the crypto industry and was the first hardware wallet ever created. The user interface is well designed and easy to use. Users can easily view and manage their crypto portfolio via the online wallet interface and make secure transactions. The wallet is sleek and portable, allowing users to bring their crypto bank account anywhere they go. All in all, the Trezor hardware wallet device is an excellent option for securely storing and transacting your crypto.
Coins Available
Bitcoin

Ethereum

Bitcoin Cash

EOS

Litecoin

Dash

NEM

Ethereum Classic

Qtum

Zcash

Lisk

Bitcoin Gold

Dogecoin

Expanse

ubiq
Wallet Features
| Features | INFO |
| --- | --- |
| Wallet Type | Hardware |
| Independent Wallet: | Yes |
| Screen: | Yes |
| Released: | 2012 |
| Price: | $89 |
Trade With A Regulated Broker