The Exodus software wallet is a beautifully designed and feature-rich cryptocurrency wallet. The wallet has generated a lot of hype and excitement since it's release in July of 2016. Now, the Exodus wallet is one of the most highly sought after crypto software wallets. This is due to a variety of reasons and largely because it is packed with innovative and advanced features. See below, a list of Exodus's most prominent features.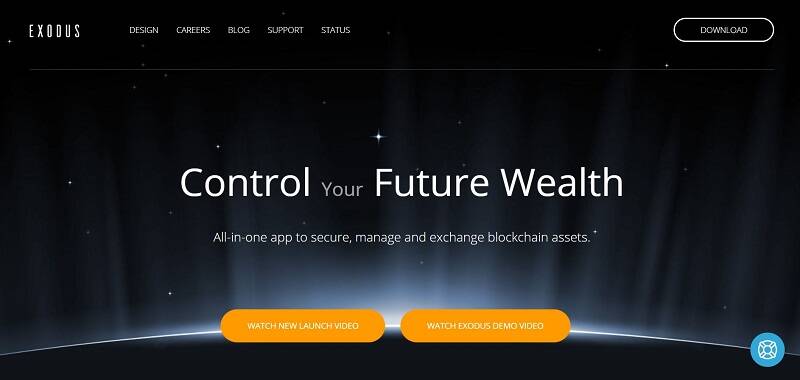 The Exodus wallet supports far more than just Bitcoin. The wallet supports all the major cryptocurrencies as well as an extensive array of altcoins including all ERC20 tokens and others.
The entire wallet interface is one of the most beautifully designed wallets we have seen. It is very intuitive and easy to use with a visual representation of your crypto assets via a pie chart. This allows users to more easily manage their portfolio and keep track of their crypto assets and their values from within the wallet. As well, all of the available features are clearly shown in a menu stretching down the left of the screen. The wallet is extremely easy to use and understand.
Users of the Exodus wallet can trade their cryptocurrencies from within the wallet using the wallet's built-in cryptocurrency exchange. The in-wallet crypto exchange is made possible due to ShapeShift API integration.
Exodus is a litewallet which means the user does not need to download the entire blockchain to their computer. Therefore, the wallet is very fast, responsive and convenient.
Secure


All blockchain assets are fully encrypted and secured by a password. As well, users have full control over their private keys as they are stored on their personal computer and are never shared with Exodus's servers.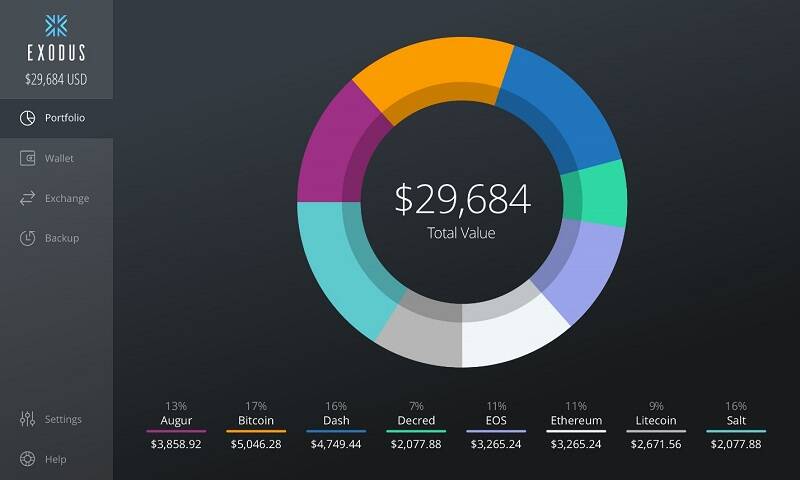 OS Compatibility
The Exodus wallet is a desktop software wallet that's compatible with Windows, Mac, and Linux desktop computers. Unfortunately, Exodus does not have a downloadable mobile application, however, they have plans to add mobile support in the future. For now, the Exodus wallet can only be downloaded for desktop computers from the Exodus website and GitHub page.
Who should use it?
The Exodus wallet is built for the mainstream cryptocurrency user and is one of the easiest and best looking crypto wallets available. The wallet does not require its users to be tech savvy, so nearly everyone can use the Exodus wallet. Both experienced and beginner cryptocurrency users will appreciate the Exodus wallet as it provides a simple and easy to use interface for storing, transacting and trading your coins. The wallet is especially good for people who hold a diverse selection of cryptocurrencies as it supports over 30 coins.
While the Exodus wallet can be suitable for nearly everyone, there are users who will not find it suitable for their needs. For instance, users who require a mobile wallet they can take everywhere will not find Exodus suitable. Also, the Exodus wallet is a software desktop wallet and is, therefore, less secure than a hardware or paper wallet. Users who hold a significant amount of cryptocurrency may want to consider more secure options that are resistant to malware and hacking attempts like hardware wallets.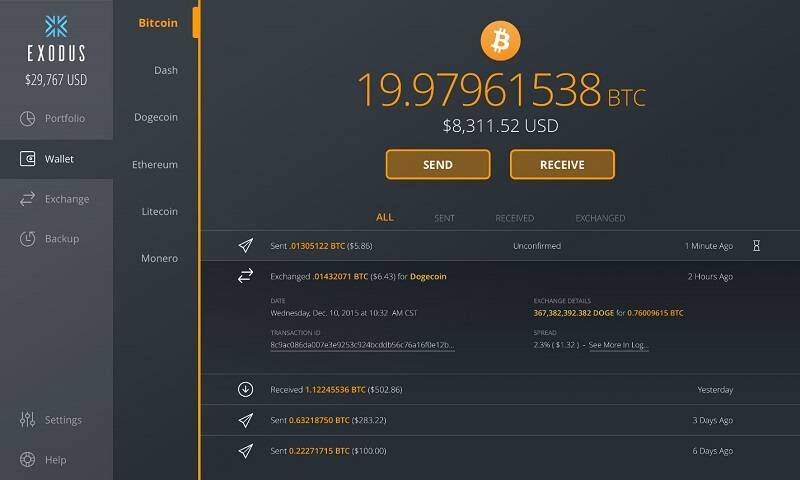 Security
The Exodus wallet is a safe and secure cryptocurrency wallet, but it is only as safe and secure as the computer it resides on and the practices you follow. In order to use the Exodus wallet securely, you must download it on a secure computer with a sophisticated anti-virus and anti-malware program. Users should avoid downloading questionable files that may be infected and ensure their network security settings are up to par. The only security measure for accessing your Exodus wallet is a secure password requirement. Users must ensure they use a unique password that is hard to guess as this is the only method of securing the Exodus wallet. Exodus does not support two-factor authentication methods or multi-signature wallets. Therefore, the Exodus wallet is actually less secure than much of the competition. Also, the code is not 100% open source, therefore the Exodus wallet has a potential central point of failure. With these security flaws, it is not recommended to store large amounts cryptocurrency in the Exodus wallet. While the Exodus wallet may have some security flaws, it is still more safe and secure than online wallets. Exodus users have full control over their private keys as they are generated locally for your eyes only. The private keys are highly encrypted and are never shared with Exodus's servers as they are stored on your computer. All in all, the Exodus wallet is a safe and secure cryptocurrency wallet but requires its users to use best practices and understand the risks involved.
Privacy
Exodus wallet users remain anonymous as no identification information is required of them. Their personal data and private keys remain private, unlike many online cryptocurrency wallets. Exodus does not hold any user information or funds on the user's behalf, instead, they provide users with the software for managing their funds and personal information themselves. Also, the Exodus wallet is not focused on providing private cryptocurrency transactions and blockchain anonymity. The users public key is visible to everyone and people can view transactions on the blockchain. Like most crypto wallets, the Exodus wallet does not implement further privacy options for covering up your transactional trail.
Backup Features
If your computer holding the Exodus wallet is lost, stolen or destroyed, your Exodus wallet with all of its funds and private keys can be restored on a new computer. This is made possible with the Exodus wallet built in the backup process. Upon setting up your Exodus wallet, you will be given a deterministic 12-word recovery phrase that you must write down on a piece of paper and store it offline in a safe and secure place. If you ever need to restore your Exodus wallet, simply download the Exodus wallet and instead of clicking "create new wallet" click "restore wallet" and type in your 12-word recovery seed in sequential order.
Alternatively, users can restore their wallet through the email restore option. Upon creating an account, you will receive an email with a backup link. Clicking on this link and entering your Exodus password will restore your wallet account.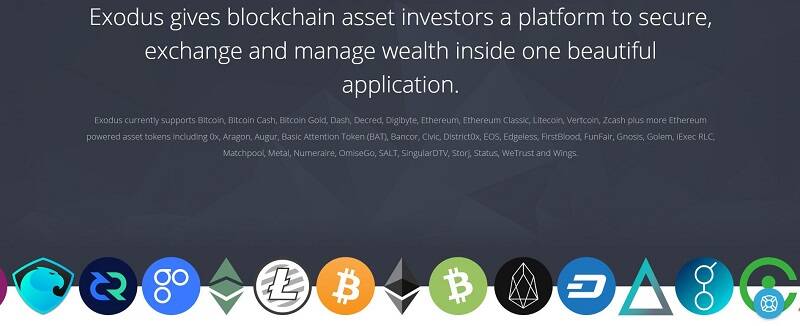 Supported Coins
The Exodus wallet supports an extensive array of cryptocurrency assets which is why multi-currency support is one of the wallets biggest strong suites. The development team at Exodus is constantly adding support for more cryptocurrencies and already supports most of the top coins. The Exodus wallet even supports custom ERC20 tokens that are not listed in the wallet. All a user needs to do is send their ERC20 token to the Ethereum Exodus address and it will be stored via that Ethereum Address. The only downside to this is that you can not view the balances of unsupported ERC20 tokens in the Exodus wallet. Users will need to view their balances for these tokens using an Ethereum blockchain explorer.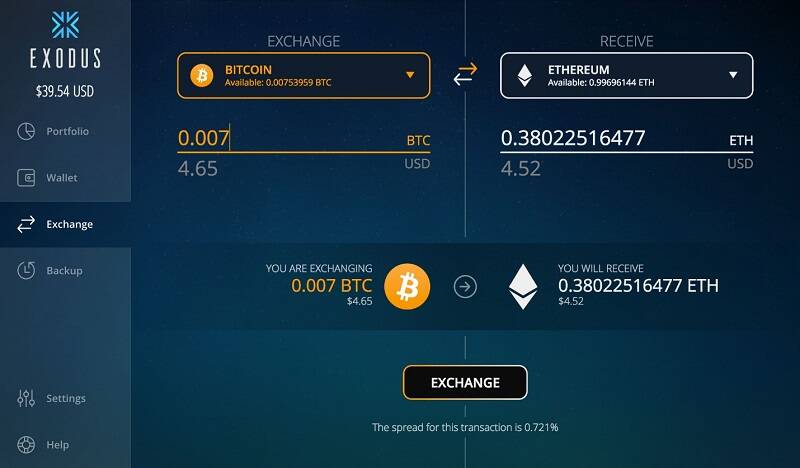 Can you trade cryptocurrencies from inside the wallet?
One of the most innovative and unique aspects of the Exodus cryptocurrency wallet is the ability to trade cryptocurrencies from within the wallet. Users can exchange their cryptocurrencies for one another and buy new cryptocurrencies, without having to send their crypto to an exchange. This feature adds a whole new level of user experience and is not widely supported by other crypto wallets. The in-wallet exchange is made possible with an API integration with ShapeShift. Users can simply click on the exchange tab and begin exchanging any of the Exodus supported cryptos for different supported Exodus cryptos. The whole process is seamless and can be done with a few clicks in a matter of seconds.
Price
The Exodus wallet is absolutely free and can be downloaded from the Exodus website. Users are not charged an additional fee for sending or receiving cryptocurrencies with Exodus. The only fees users must pay when transacting crypto are the network fees. These fees do not go to the Exodus wallet and are only paid to the network to ensure the transactions are delivered quickly and reliably. The only place where Exodus charges fees is in the built-in wallet exchange. Here, Exodus generates a small income from the spread on the crypto asset exchange and this spread is generally 2% – 4% or less. Other than that, the Exodus cryptocurrency is free to use, and users will not be charged fees by Exodus unless they use the built-in crypto exchange.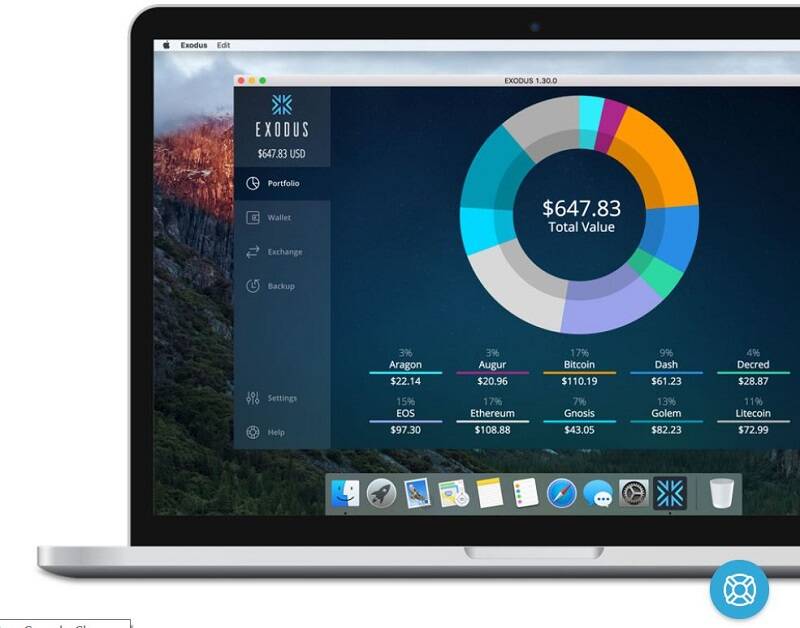 Pros and Cons
Pros
Excellent design and user interface
A wide array of supported cryptocurrencies
Built-in cryptocurrency exchange
Exceptional support
Cons
Not 100% open source
Limited security features
No mobile application
Setup Guide & How to Use it
The Exodus wallet is built for the mainstream cryptocurrency user and is thus very easy to setup and use. The entire installation and setup process can be completed in minutes and walks the users through step by step. See below, just how easy it is to start using the Exodus cryptocurrency wallet.
Step 1: Download & Install the Exodus Wallet
Using your desktop computer, navigate to the official Exodus website and download the Exodus wallet for your operating system (Windows, Mac, Linux). Be sure you are on the correct website and not a phishing site. Once downloaded, install the wallet and open it up.
Step 2: Setup Wallet
Once the wallet is opened, you will need to fund the wallet with some cryptocurrency to get started with the rest of the setup process. So, click the wallet tab on the left-hand side of the screen and then select a cryptocurrency you would like to deposit into the wallet, (you must already own a supported cryptocurrency as the Exodus wallet doesn't support fiat currency for buying cryptos).
Step 3: Deposit Cryptocurrency
Click the receive button under the cryptocurrency you selected in the previous step and your receiving address and QR code will show up. Send an amount of cryptocurrency to this address, (it must be the same kind of crypto as the receiving address).
Step 4: Create Password & Backup Wallet
Once the cryptocurrency is deposited click the Backup tab on the left-hand side of the screen. You will then be prompted to create a secure password that will be used for accessing your account. Once you create and verify your password, you will be shown a 12-word recovery phrase. Write this phrase down on a piece of paper in sequential order and store it offline in a safe and secure place. Then you will be required to type in an email address for the email recovery link.
Step 5: Complete
Your account is now successfully backed up and complete. Users can now click the portfolio tab to see their account holdings, click the wallet tab to send and receive funds, and click the exchange tab to exchange between cryptocurrency assets via the ShapeShift exchange integration.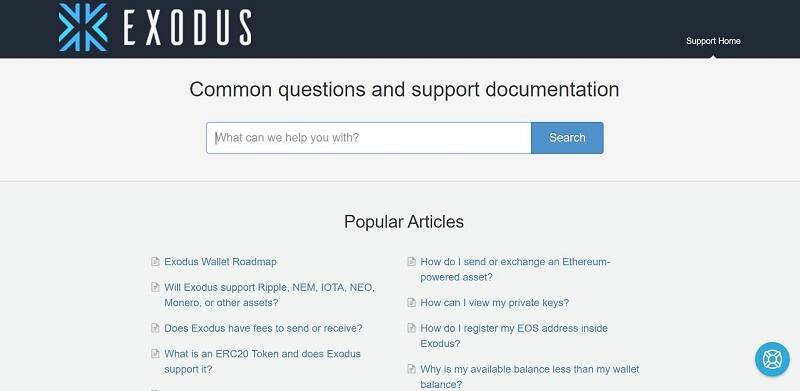 Support
The support offered by the Exodus wallet is phenomenal. On the Exodus website, users have access to an extensive knowledge base that features over 100 articles explain features, troubleshooting, fees, and other general topics. As well, users can browse an extensive FAQ list with a built-in search function. If for some reason you can not find what you're looking for, support representatives can be reached via email or through various social media channels. All in all, the customer support is exceptional for the Exodus wallet.
Summary
The Exodus cryptocurrency wallet is an excellent crypto wallet for users with a wide variety of cryptocurrencies in smaller amounts. The wallet is very easy to use and beautifully designed with a built-in cryptocurrency exchange. The Exodus wallet is best for users who want a convenient and versatile crypto wallet where they can easily manage their portfolio and make trades in an instant. However, the Exodus wallet is only a software wallet and does not feature nearly as many security features as hardware wallets and some other software wallets. Therefore, the Exodus wallet is best used for mainstream users who do not hold a significant amount of cryptocurrency.
Coins Available
Bitcoin

Bitcoin Cash

Bitcoin Gold

Dash

Ethereum

Ethereum Classic

Litecoin

Zcash

0x

Augur

EOS

Aragon

Bancor

Edgeless

Civic

FunFair

Gnosis

Golem

Metal

Musiconomi

status

Wings

Matchpool

District0x

Decred

Storj

SALT

OmiseGO
Wallet Features
| Features | INFO |
| --- | --- |
| Wallet Type | Hot |
| Web Interface: | No |
| Mobile App: | No |
| Desktop Client: | No |
| Independent Wallet: | No |
Trade With A Regulated Broker