Chairman Powell Speaks but it Seems Gold Traders Continue to not Listen
Published

: Jun 23, 2021, 23:25 UTC
•
3
min read
Yesterday for the first time since the FOMC meeting concluded and Powell held a press conference, he spoke, this was during a congressional testimony.
The strongest statements made by Chairman Powell over the last two weeks were that inflation for the most part is transitory. However, he also said that the current path that we are on is unsustainable.
According to Investopedia.com, "The 1970s saw some of the highest rates of inflation in the United States in recent history, with interest rates rising in turn to nearly 20%. Central bank policy, the abandonment of the gold window, Keynesian economic policy, and market psychology all contributed to this decade of high inflation."
When asked if we would see inflation rates similar to those in the 1970s, he underscored the fact that that is highly unlikely. What is alarming is that our core inflation rate as of May 2021 was at 3.8% year-over-year. More alarming is the CPI for last month which came in at 5%. That is only 1.8% lower than the inflationary rate of the 1970s. During the 1970s inflation as a whole was 6.8%, double the long-term historical average and triple the rate of the previous two decades.
Precious metals traders and investors were listening intently for subtle hints from Chairman Powell which could shape the future direction of gold and silver prices. However, their reaction to the news and statements by Chairman Powell was largely ignored as gold continues to trade in a tepid and sideways trading range after last week's massive price decline.
The question becomes whether the Federal Reserve is correct with Chairman Powell's statements to Congress "that transitory inflation has been higher and more persistent than expected, but it will wane."
Powell told the members of the House Select Subcommittee on the Coronavirus Crisis yesterday that "Substantial part or perhaps all of the overshoot in inflation comes from the impact of reopening of the economy."
Although he continued to focus upon inflation insisting that it was a transitory effect| brought out by the reopening of businesses across the United States. But he also acknowledged that the temporary effects on inflation, "have been higher than we expected, and they may turn out to be more persistent than we expected."
The net result of his statements in terms of gold futures pricing was tepid at best, with the August 2021 Comex contract trading to a high today of $1795.60 and then trading lower. As of 5:40 PM EST August gold is currently fixed at $1778.70. Gold traded to a higher high, and a higher low today, but gains were unsustainable. This can also be partially attributed to falling U.S. debt yield. Yields for the two-year Treasuries had the largest one-day drop since March 17 falling to 0.264%.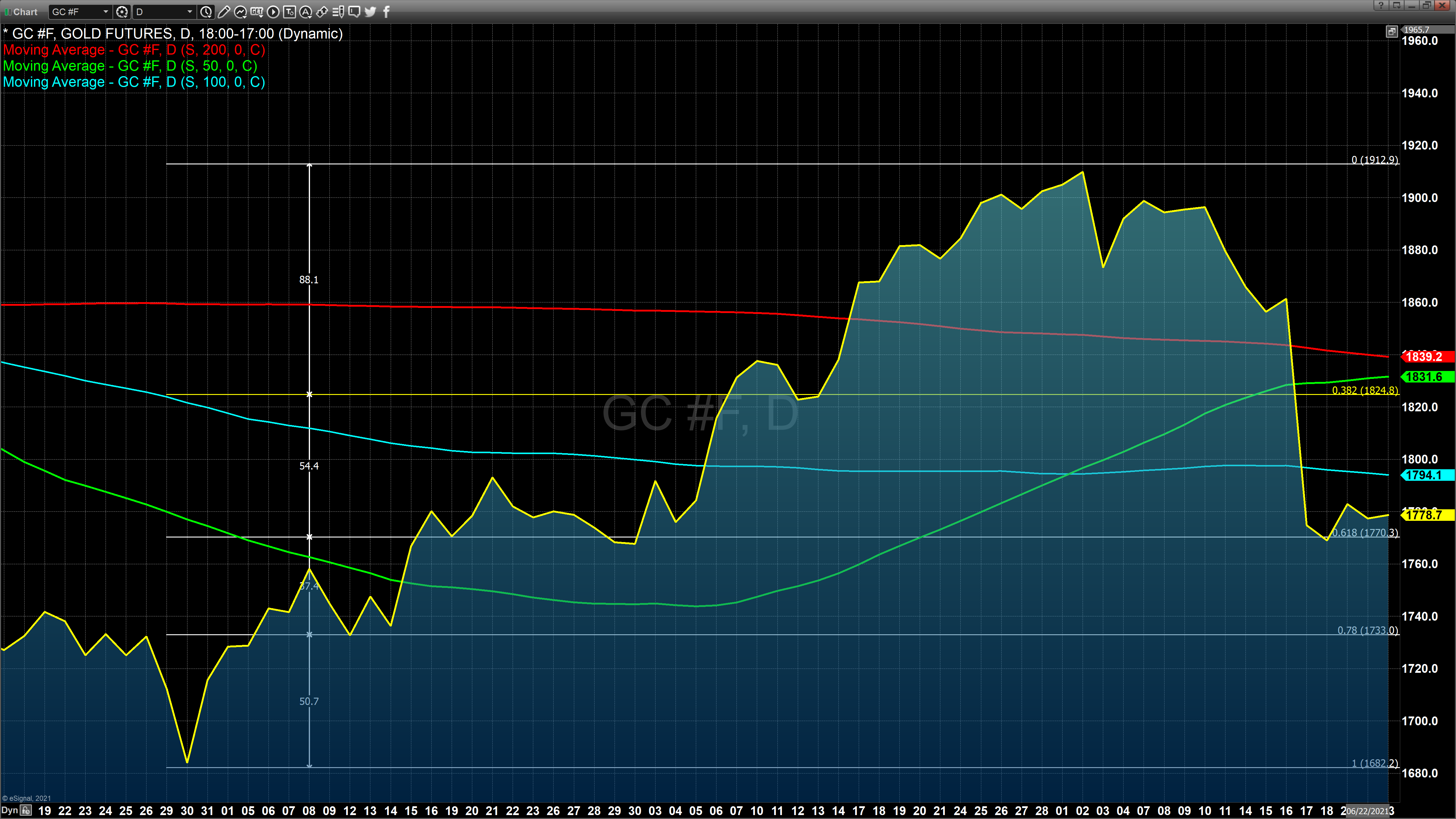 On a technical basis we see a line in the sand that needs to be held if we are to see gold trade sideways or in fact higher from this critical price point of $1769 which is the 61.8% Fibonacci retracement. The retracement is created from a data set that begins at the end of March 2021 when gold was trading at $1677 to the highs achieved at the end of May when gold traded to $1918.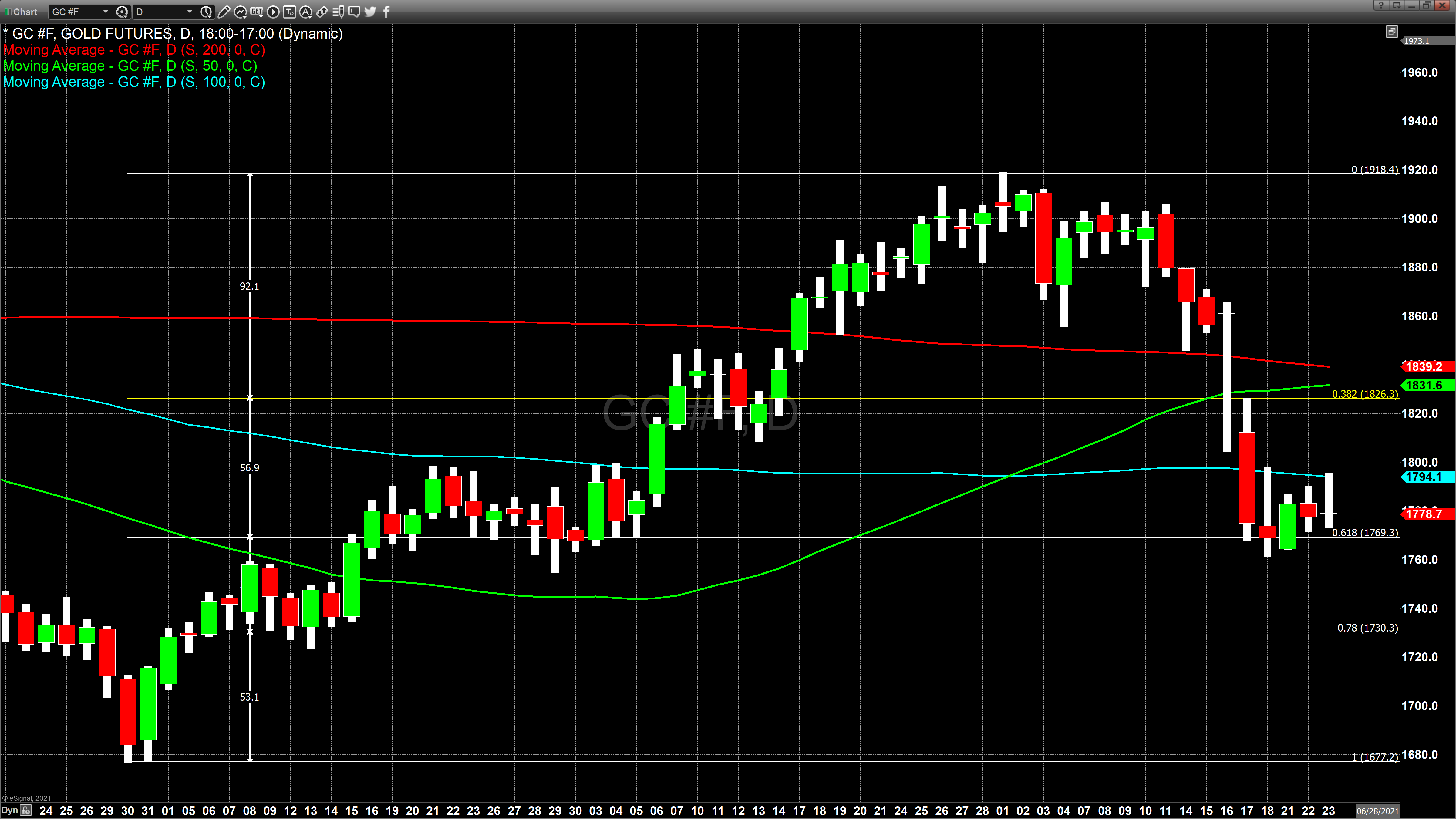 Last Friday gold closed right at the 61.8% Fibonacci retracement with an intraday low of $1761 just below that retracement level. This was following a $47 decline last Wednesday and an $87 decline on Thursday.
For those who want more information, please use this link.
Wishing you, as always, good trading and good health,
Gary S. Wagner
Don't miss a thing!
Sign up for a daily update delivered to your inbox
Sponsored Financial Content