DeGods DAO Buys a Big3 League Basketball Team with NFTs
Published

: May 2, 2022, 03:46 UTC
•
3
min read
Basketball continues to drive fan engagement through NFTs. Last week, DeGods DAO became the first to acquire a basketball team with NFTs.
Key Insights:
DeGods buys Big3 basketball team Killer 3s for $625,000.
The Solana NFT project purchased 25 NFTs to acquire a team in Ice Cube's basketball league team.
Technical indicators are bearish for Solana (SOL), with SOL sitting below the 50-day EMA.
Team and player interest in NFTs and the metaverse have surged as sports look to capitalize on Web3 to drive fan engagement.
Basketball continues to jump deeper into the digital asset space following the launch of NBA Top Shot in 2020. Last month, the NBA launched 'The Association,' an 18,000 NFT drop to celebrate the NBA playoffs.
The NBA is not the only basketball league targeting NFTs. Big3 is a 3-on-3 basketball league founded by Ice Cube and Jeff Kwatinetz. The Big3 is a twelve-team league with players including former NBA and international stars.
Since launching in 2017, Big3 has been on a journey, looking to bridge the gap between fans and basketball with an NFT ownership program. Fans can buy a stake in the teams by purchasing tiered NFTs.
DeGods DAO Buys Big3 Basketball team Killer 3s with 25 Fire Tier NFTs
Last week, Solana blockchain NFT project DeGods purchased the Big3 basketball team, the Killer 3s, for around $625,000. DeGods DAO purchased 25 'fire tier' NFTs to acquire the team.
Taking to Twitter, DeGods tweeted,
"The DeDAO has acquired a professional basketball team."
DeGods went on to say,
"For the first time in NFT history, a community has acquired a professional basketball team."
The DeDAO has acquired a professional basketball team. pic.twitter.com/TgcwKy9tLU

— DeGods (33.3%) (@DeGodsNFT) April 28, 2022
Following the purchase, DeGods plans to "offer tickets, merchandise, and part-ownership in $DUST (and a lot more).
On April 23, Big3 tweeted a Whitepaper on Big3 team ownership.
According to the announcement,
"The owners of Big3 Ownership NFTs will receive rights and deliverables of high actual value and utility in five areas: Ticketing, Merchandise, Experience & Activations, Direct Communication, and Voting Rights."
The announcement goes on to say,
"Each team will have 25 "Fire" tier owners (who receive All of the experiences and benefits listed below) and 975 "Gold" tier owners, priced at $25,000 and $5,000, respectively. Big3 is new to the NFT space, but we have always been committed to empowering our fans, creating an interactive and engaging sporting experience, and pioneering new ways to provide the Big3 community with unique engaging experiences."
Whitepaper 📄 [1/2] pic.twitter.com/mn6cmKC2Vd

— BIG3 Ownership (@BIG3Ownership) April 22, 2022
SOL Price Action
At the time of writing, Solana was down 0.46% to $89.27. The early pullback follows a 5.94% gain from Sunday that partially reversed a 9.88% tumble on Saturday.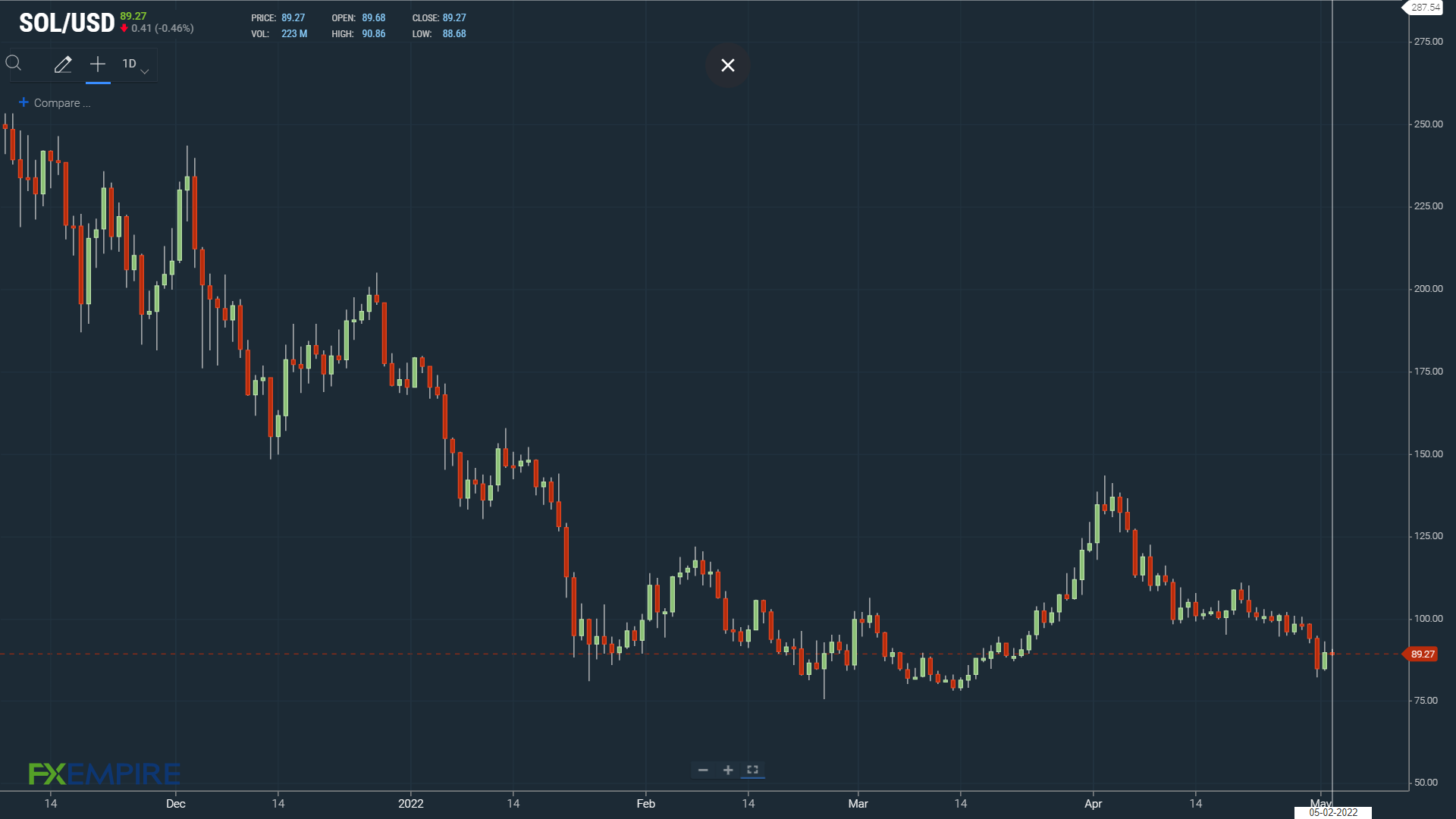 SOL eyes a run at $100 after Saturday's meltdown.
Technical Indicators
SOL will need to avoid the $88.99 pivot to make a move through the First Major Resistance Level at $93.79.
Broader market sentiment would need to improve to support a return to $90.
In the event of an extended rally, SOL should test the Second Major Resistance Level at $97.93 and resistance at $100. The Third Major Resistance Level sits at $106.87.
A fall through the pivot would bring the First Major Support Level at $84.85 into play. Barring another extended sell-off throughout the day, Solana should avoid sub-$80. The Second Major Support Level at $80.04 should limit the downside.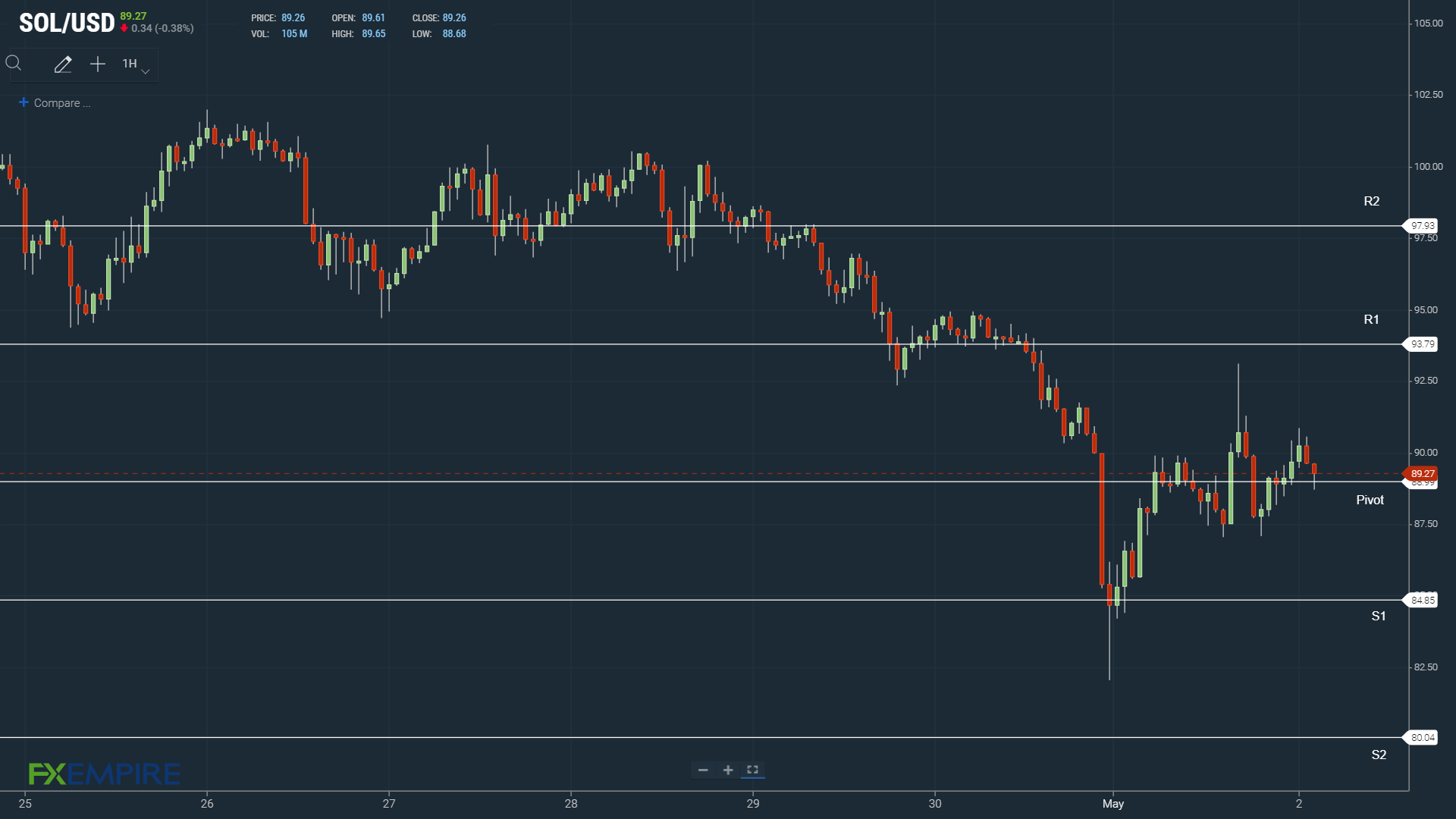 Avoiding the pivot would support a run at the major resistance levels.
The EMAs and the 4-hourly candlestick chart (below) send a bearish signal. SOL sits below the 50-day EMA, currently at $95.35. This morning, the 50-day EMA pulled back from the 100-day EMA. The 100-day EMA also pulled back from the 200-day EMA, SOL negative.
A move through the 50-day EMA would bring $100 into play.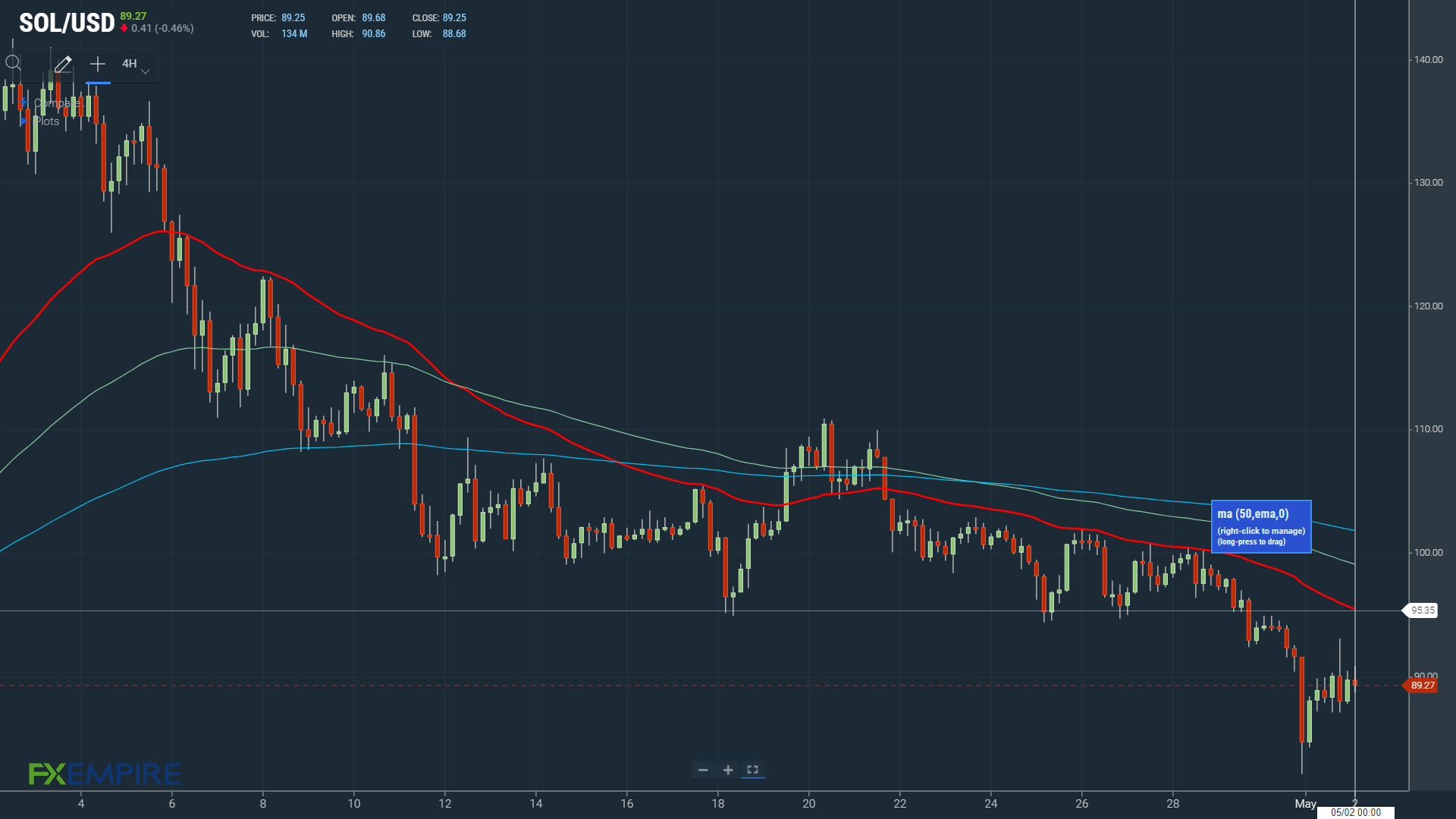 A move through the 50-day EMA would support a return to $100.
Don't miss a thing!
Sign up for a daily update delivered to your inbox
Sponsored Financial Content