EUR/USD Investors Remain Cautiously Optimistic Amidst Volatility
Updated

: Mar 29, 2023, 12:38 UTC
•
2
min read
EUR/USD higher amid cautious optimism as investors remain wary of weak spots in banking sector.
Invesco CurrencyShares Euro Trust
Key Takeaways
Euro Steadies Despite Banking Sector Woes
Banking and Tech Stocks Boost European Market
Confidence in European banking sector improves
Overview
On Wednesday, the Euro started off flat but has since increased slightly in value against the U.S. Dollar. This is due to the U.S. Treasury yields being slightly lower. However, despite this positive trend, investors are still showing some cautious optimism due to recent banking issues.
At 11:18 GMT, the EUR/USD is trading 1.0860, up 0.0014 or +0.13%. On Tuesday, the Invesco CurrencyShares Euro Trust ETF (FXE) settled at $100.19, up $0.48 or +0.48%.
The situation is currently calm, but there may still be challenges ahead as the market tests for weak points in the banking sector. The currency markets have been volatile and uncertain, particularly in relation to the US dollar.
While some may see the potential for interest rate cuts as negative for the dollar, if those cuts are meant to prevent a recession, investors may not move their money to riskier currencies.
European Banking and Tech Stocks Surge,
European banking stocks were up as confidence in the sector improved, and UBS announced that former CEO Sergio Ermotti would oversee its acquisition of Credit Suisse. European tech stocks also rose, and Nasdaq futures were up. The Treasury's auction of five-year notes saw strong demand, with the amount requested 2.48 times higher than the amount offered, similar to the previous auction in February.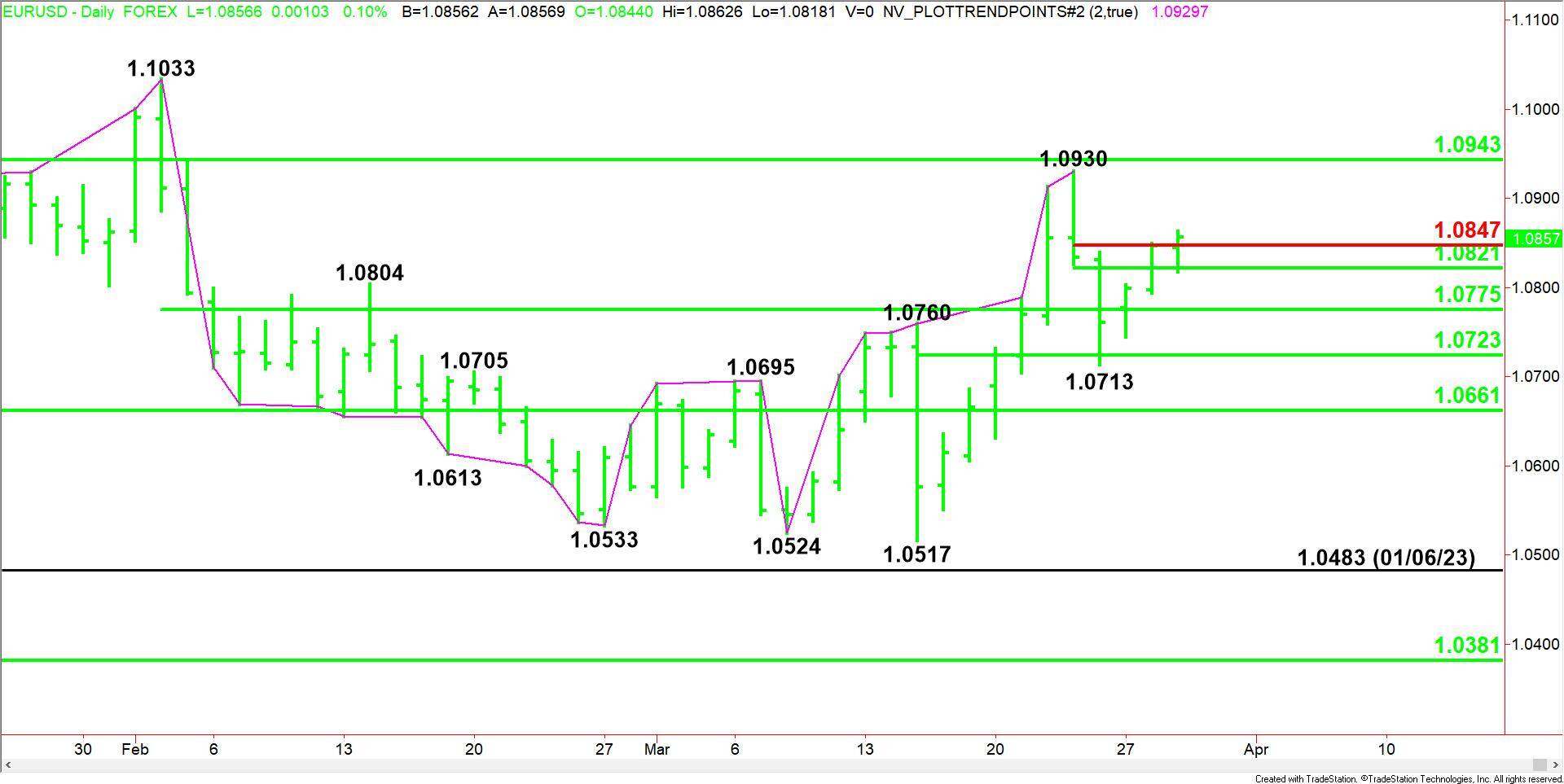 Daily EUR/USD
Daily EUR/USD Technical Analysis
The main trend is up according to the daily swing chart. However, momentum has been trending lower since the March 23 closing price reversal top.
A trade through 1.0930 will signal a resumption of the uptrend. A trade through 1.0517 will change the main trend to down.
The minor trend is up. A trade through 1.0713 will change the minor trend to down and confirm the shift in momentum.
The EUR/USD is currently trading on the strong side of a minor retracement zone at 1.0847 – 1.0821, making it early support. The nearest resistance is a long-term 50% level at 1.0943.
Daily EUR/USD Technical Forecast
Trader reaction to 1.0847 and 1.0821 is likely to determine the direction of the EUR/USD on Wednesday.
Bullish Scenario
A sustained move over 1.0847 will indicate the presence of buyers. If this creates enough upside momentum then look for a near-term surge into the resistance cluster at 1.0930 – 1.0943.
Bearish Scenario
A sustained move under 1.0821 will signal the presence of sellers. This could trigger a quick break into a pivot at 1.0775. If this fails then look for the selling to possibly extend into the support cluster at 1.0723 – 1.0713.
For a look at all of today's economic events, check out our economic calendar.
Don't miss a thing!
Sign up for a daily update delivered to your inbox
Sponsored Financial Content