Gold Holds Above the 200-day Moving Average with the PCE Report Tomorrow
Published

: May 26, 2022, 22:59 UTC
•
3
min read
If the PCE index for April 2022 increases year-over-year from April 2021 it will indicate that inflation has not peaked and is continuing to move to higher levels.
Gold Technical Analysis and US Dollar Correlation
Gold futures had extremely modest gains in trading today. As of 5:10 PM EDT gold futures basis the June 2022 contract is trading $2.20 higher or 0.12% and fixed at $1848.50. However, the June contract month will conclude with first-day delivery notice to occur tomorrow Friday, May 27. The next most active contract month will be August, August gold (GC Q22) is currently fixed at $1854.40 up $1.90 or 0.10%.
Gold daily chart
Gold has benefited from a strong bearish reversal in the dollar. On May 13 the dollar index hit an apex trading to a high just above 105. In the last nine trading days, the dollar has declined to its current value of 101.775, or a 3.23% decline in value when compared to the basket of currencies that are compared against the dollar.
On Wednesday as well as today gold has traded at and slightly below its 200-day moving average. On both occasions, the dollar did recover closing above $1939.10 which is where the 200-day moving average is fixed. Today gold's intraday high came in at $1852.80 and traded to a low of $1836.30.
Inflation and Interest Rates Impact on Gold
Gold pricing has been trapped in a battle between two primary forces; the rate of inflation and the current interest rate. Each of these forces has the opposite effect on Gold.
Rising interest rates create bearish market sentiment pressuring gold prices lower. The Federal Reserve has raised rates twice this year. Beginning in March the Fed raised interest rates by ¼%. This was followed by a ½ a percent rate hike which was implemented at the last FOMC meeting. It is also almost a certainty that there will be at least two more interest rate hikes this year of ½ a percent each.
Rising levels of inflation create bullish market sentiment moving gold prices higher. Currently, the CPI (consumer price index) is at 8.3%, a decline from 8.5% during the previous month. This index factors in inflationary pressures from both food and energy. The preferred inflation index used by the Federal Reserve is the PCE (Core Personal Consumption Expenditures), which strips out both inflation levels of both food and energy.
Incoming PCE Report, Rate Hikes and Gold
On Friday, May 27 the US Bureau of Economic Analysis will release the most data. This report will be a critical component used by the Federal Reserve to determine their forward guidance which they will reveal at the June FOMC meeting.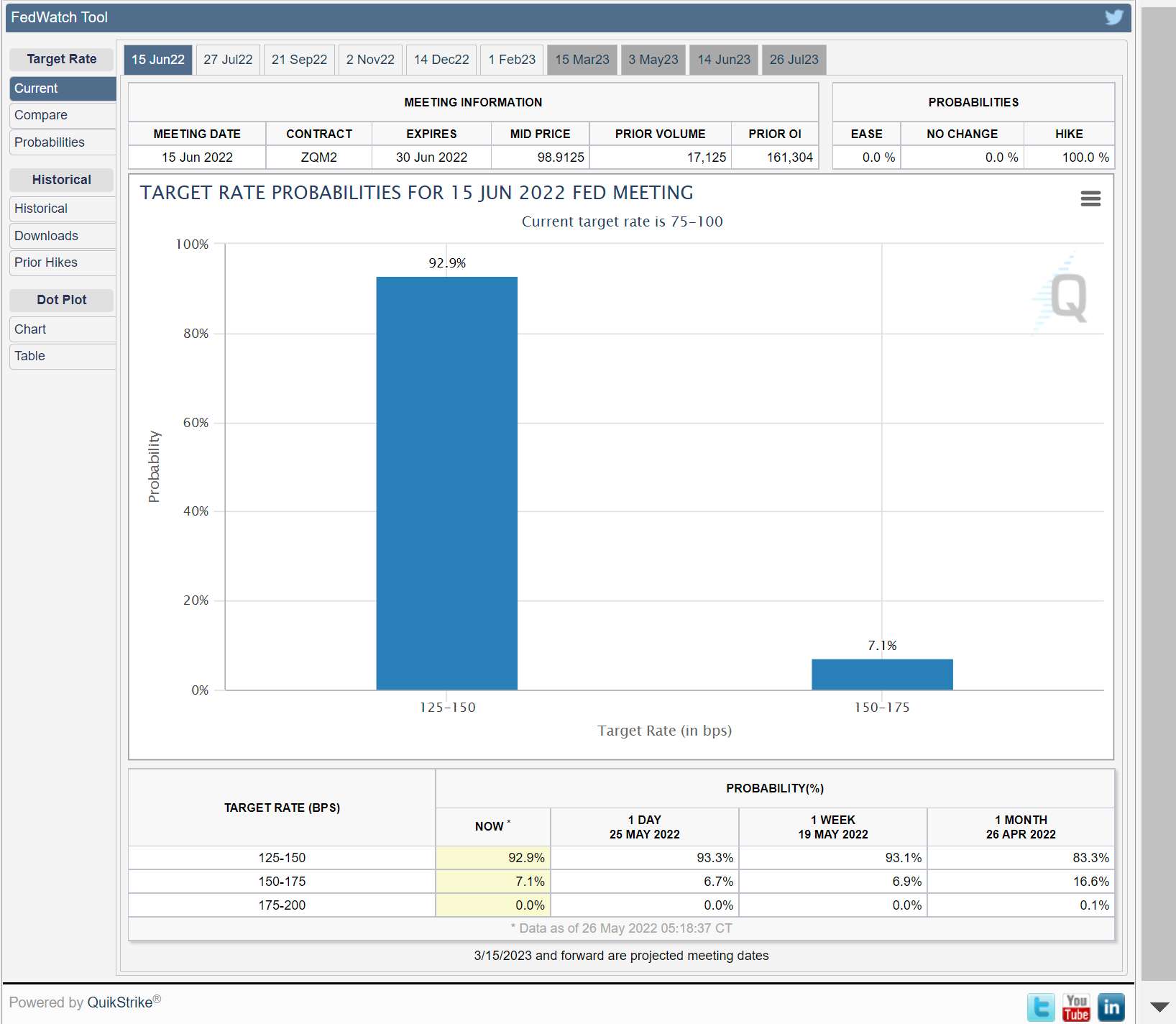 Fedwatch for June
Currently, market participants are anticipating that both the June and July FOMC meetings will result in ½% interest rate hikes at each meeting. According to the CME's Fedwatch tool, there is a 92.9% probability that the Fed will raise their fed funds rate to between 125 – 150 basis points and a 88% probability that there will be an additional interest rate hike enacted during the July FOMC meeting taking fed funds rates to 175 – 200 basis points, moving the fed funds rates to between 1 1/3% to 2%.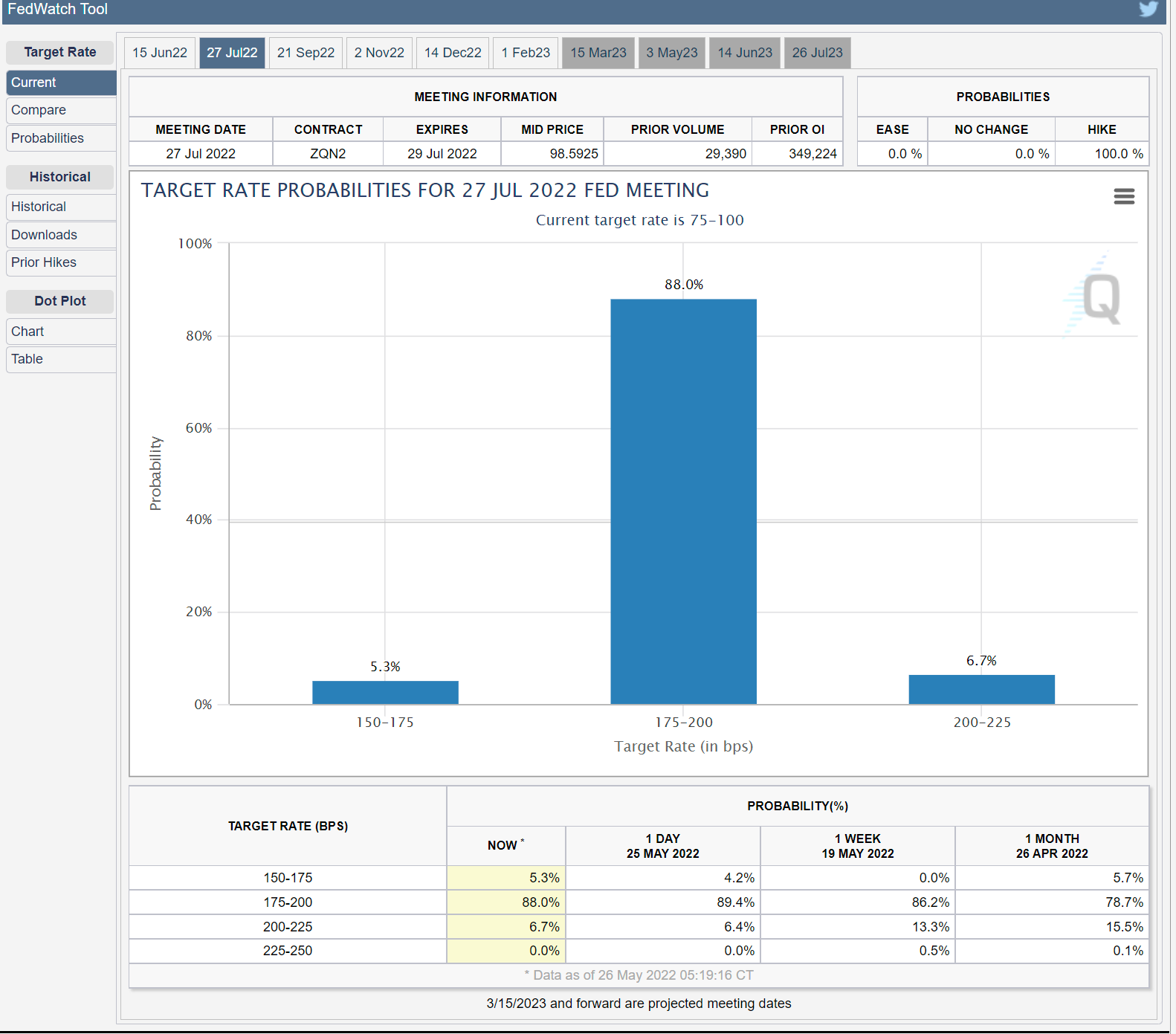 Fedwatch for July
If the PCE index for April 2022 increases year-over-year from April 2021 it will indicate that inflation has not peaked and is continuing to move to higher levels. This scenario would most certainly create bullish tailwinds for gold pricing as it contradicts the assumption of the Federal Reserve that inflationary pressures will have peaked and begin to diminish over the next few months. This is why tomorrow's report will carry so much weight,
For those who would like more information simply use this link.
Wishing you as always good trading,
Gary S. Wagner
Don't miss a thing!
Sign up for a daily update delivered to your inbox
Sponsored Financial Content