MINA Rallies in the Last 24 Hours After FTX Announcement
Updated

: Feb 15, 2022, 13:01 UTC
•
2
min read
MINA has increased over 18% since yesterday, when the cryptocurrency exchange announced it would list Mina Protocol (MINA) Perpetual Futures.
Over the last 24 hours, the cryptocurrency market has gone up 4.5%, from $1.87 trillion to 1.96 trillion. Some coins like MINA have outperformed other coins such as BTC, ETH, and SOL, according to CoinMarketCap.
Yesterday, FTX announced that it would list Mina Protocol (MINA) Perpetual Futures by February 15 at 14:00 UTC time. The price of MINA reacted in a positive way just after the news.
MINA was trading around $2.30 before the FTX announcement, and now is trading at $2.80, surging over 18% in the last 24 hours.
Perpetual Futures are one of the main features that FTX offers. Perpetual Futures are a type of derivatives product such as traditional futures. But, the key difference is that perpetual contracts don't expire.
Therefore, if the price is similar to the spot price of the underlying digital asset, you can hold your position at any time you want. But, when you cannot pay back the money you borrowed, you will be liquidated.
What Is Mina Protocol?
Mina Protocol was founded in 2017 by Evan Shapiro and Izaak Meckler of O(1) Labs. Its mission was to build "The world's lightest blockchain, powered by participants", as it appears on its official website.
They built this network so anyone can validate a transaction with any kind of device, such as a smartphone, and not specific devices like in the Bitcoin network.
Mina Protocol uses an advanced cryptography known as "zk-SNARKs" (zero-knowledge succinct non-interactive arguments of knowledge). This allows users to confirm they have certain data without disclosing it to each other.
The Mina blockchain has a fixed size of 22 KB and it differs from others blockchains that can be up to 300 GB. To put in perspective 22KB is the same size as a couple of tweets.
The native token of the Mina Protocol is MINA, which is used for network transactions and fee distribution.
MINA Price Actions Over the Last 7 Days
MINA is the 84 biggest cryptocurrency by market capitalization with $1.05 billion, according to CoinMarketCap. It is trading at $2.80 and is up over 18% in the last 24 hours.
Over the last week, MINA has been on a descending channel and found support at $2.30 on February 14. It has been on the rise since FTX announcement listing, and it peaked at almost $3 in the early hours of February 15, as you can see below: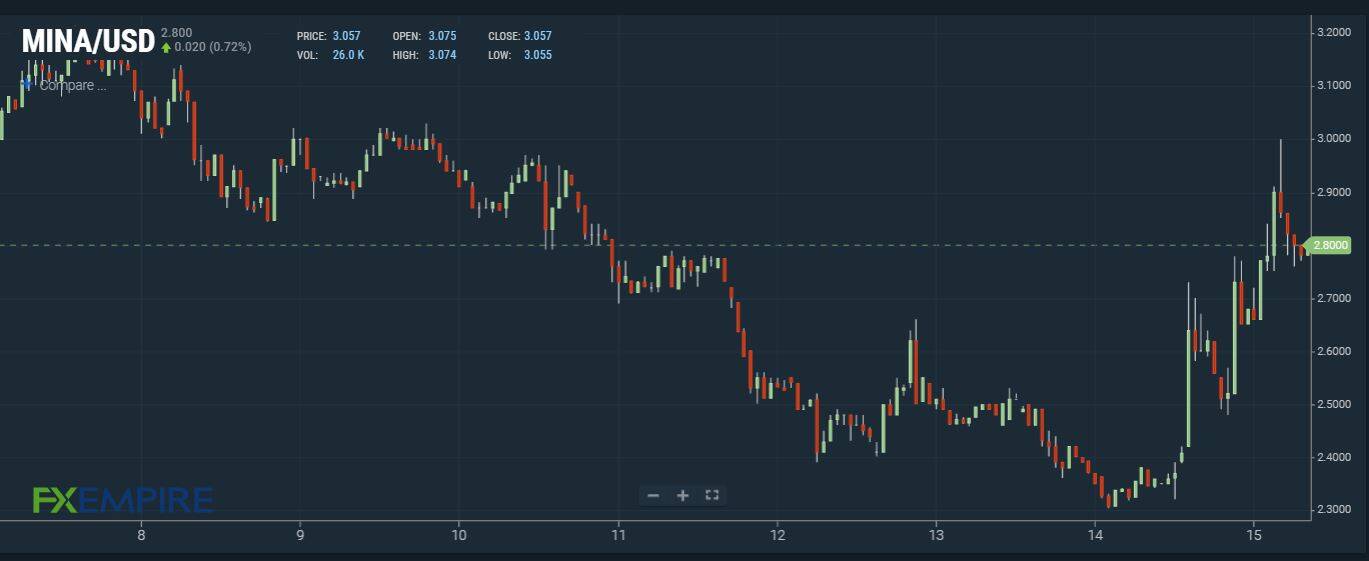 MINA/USD Chart – Source: FXEmpire.
The cryptocurrency is still down 71.7% from its all-time high of $9.91 in June 2021.
Since FTX is a major crypto exchange, the FTX announcement likely will attract investors' attention. But, the real question is whether MINA can keep up with this momentum.
Don't miss a thing!
Sign up for a daily update delivered to your inbox
Sponsored Financial Content