NASDAQ 100, Dow Jones, S&P 500: Nvidia's Strong Earnings Propel Tech Sector
Updated

: May 25, 2023, 20:03 UTC
•
3
min read
S&P 500 tech sector experiences its biggest one-day gain in months, driven by Nvidia's impressive quarterly results.
Highlights
Nvidia's quarterly results drive stock market gains.
S&P 500 shows a slight decline, but tech sector soars.
Positive investor sentiment towards Nvidia's results boosts technology stocks.
Overview
On Thursday, the stock market experienced a significant upswing as investors reacted positively to Nvidia's latest quarterly results. The S&P 500 and Nasdaq Composite indices both made notable gains, with technology stocks leading the way. This surge in stock prices also coincided with positive developments in U.S. debt ceiling talks, further boosting investor confidence.
At the mid-session, the S&P 500 stood at 4145.75 points, marking an increase of 30.51 points or 0.74%. Similarly, the Nasdaq Composite reached 12679.20 points, surging by 195.04 points or 1.56%. However, the Dow Jones Industrial Average experienced a slight decline of 74.08 points or 0.23%, settling at 32725.84 points.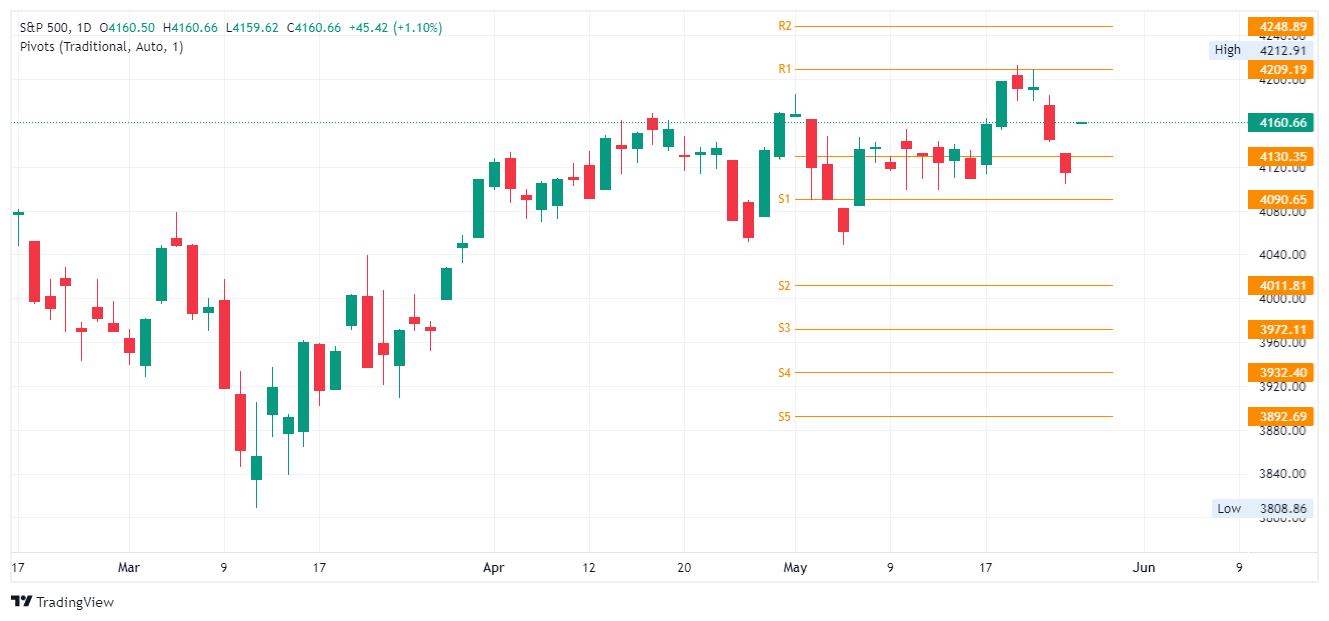 Daily S&P 500 Index
S&P 500's Strong Start Predicts Bullish Year Ahead
Since the start of the year, the S&P 500 has gained 8%. Thursday marked the 100th trading day of 2023, and historical data suggests that when the index finishes the 100th session with a year-to-date gain exceeding 7%, it tends to perform well for the remainder of the year.
Looking back to 1950, in an average year, when the S&P 500 has risen more than 7% in the first 100 trading days, it has rallied an additional 9.4% for a total annual return of 23.6%. In comparison, the S&P 500 has had an average annual gain of 9.8% since its establishment in 1928, according to Investopedia.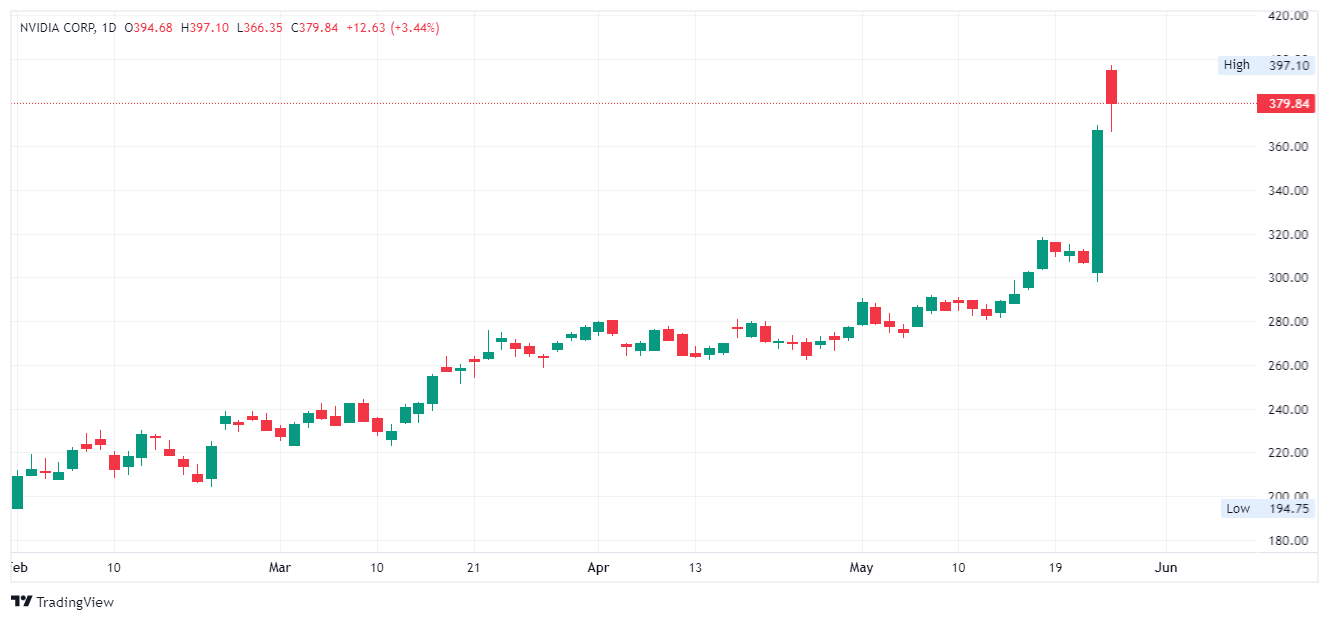 Daily NVIDIA Corp
Tech Sector Soars on Nvidia's Record-Breaking Surge
The technology sector of the S&P 500 experienced a remarkable surge of 4.2% on Thursday, marking its largest one-day gain since November 30. This boost was primarily driven by investors' positive response to Nvidia's quarterly results and the company's revenue guidance for the current quarter. Nvidia, a leading technology company, witnessed a staggering 25% increase in its stock price, pushing its market capitalization tantalizingly close to the $1 trillion milestone.
Tech Stocks Surge on Positive Market Sentiment
Several companies made headlines during midday trading. Monolithic Power Systems, which benefits from advancements in artificial intelligence, saw its shares rise by 15% due to positive investor sentiment following Nvidia's impressive results. Other beneficiaries in the AI sector, such as Marvell Technology and Broadcom, also experienced stock price increases of over 3%. Adobe, a prominent software company, witnessed a 6% surge in its shares.
Challenges Hit Dollar Tree, Snowflake
On the other hand, there were companies that faced challenges. Dollar Tree, a discount variety store chain, saw its shares decline by 10% during midday trading due to shrinking profit margins in its first fiscal quarter.
Dollar General, a competitor in the industry, also experienced a decline of 2.6%. Snowflake, a cloud computing company, witnessed a substantial drop of nearly 17% after providing second-quarter revenue guidance below market expectations. However, the company's first-quarter results exceeded estimates in terms of revenue and profitability.
American Eagle Falls, Ralph Lauren Rises
American Eagle Outfitters, an apparel retailer, faced a 13% decline in its stock price during midday trading after lowering its outlook. While the company's revenue slightly surpassed estimates and earnings met expectations, investors reacted negatively to the news. In contrast, luxury apparel retailer
Ralph Lauren saw its shares rise by 6% following better-than-expected earnings and a surprising increase in revenue for its fourth fiscal quarter. The company also reported a 30% jump in sales in China as demand for luxury items rebounded amid the country's reopening.
Don't miss a thing!
Sign up for a daily update delivered to your inbox
Sponsored Financial Content