USD/JPY Forecast: Can US Jobs Report Reverse Yen's Gains and Lift Dollar Price?
Published

: Aug 31, 2023, 23:31 UTC
•
3
min read
Investors eye the Bank of Japan's contrasting views on ending negative rates in 2024 and the US Jobs Report's impact on Federal Reserve rate hike bets.
Highlights
USD/JPY drops 0.47% on Thursday, reversing a 0.25% gain, amid contrasting views from BoJ members on ending negative rates.
US Jobs Report in focus; results could shift labor market conditions and influence Fed rate hike bets.
US Jobs Report must be strong to refuel Fed hike bets.
Thursday Overview
The USD/JPY fell by 0.47% on Thursday. Reversing a 0.25% gain from Wednesday, the USD/JPY ended the day at 145.531. A choppy session saw the USD/JPY rise to a high of 146.227 before sliding to a low of 145.348.
Monetary Policy Divergence Remains in Focus on Hawkish BoJ Bets
Finalized manufacturing PMI numbers from Japan will draw interest this morning. While an upward would be bullish for the Yen, the manufacturing sector contributes 20% to the Japanese economy. The minor contribution will limit the impact of revisions on the USD/JPY.
However, investors should monitor Bank of Japan commentary throughout the session. Bank of Japan Board members have become more vocal in recent sessions. Some have voiced the expectation of an end to negative rates in early 2024.
Bank of Japan Board member Nakamura warned of tightening monetary policy too early on Wednesday. In contrast, Board Member Naoki Tamura discussed the likely end to negative rates in early 2024. The contrasting views signal a divided camp, which could limit policy tweaks over the near term and fuel policy uncertainty.
US Jobs Report to Test the Theory of a Fed Pause
The heavily anticipated US Jobs Report will be in focus this afternoon. Notably, the Jobs Report will show any material shift in labor market conditions. US JOLTs Job Openings and ADP numbers eased bets on further Fed rate hikes to tame inflation.
On Thursday, the US Personal Income and Outlays Report failed to fuel Fed rate hike bets. While the Core PCE Price index rose and personal spending surged, personal income was weaker. A steady US unemployment rate and hotter-than-expected average hourly earnings could leave one final rate hike on the table. A pickup in wage growth would translate into increased consumption and demand-driven inflationary pressures.
Economists forecast average hourly earnings to rise by 4.4% and for the US unemployment rate to hold steady at 3.5%. Average hourly earnings rose by 4.4% in July.
Immediate Forecast: Dollar on the Back Foot
While BoJ Board members send mixed signals, the markets are betting on a less hawkish Fed. The dollar retreat came despite the US Personal Income and Outlays Report showing a pickup in inflation and a jump in spending. The US Jobs Report must be hot to refuel bets on a Fed rate hike.
USD/JPY Price Action
Daily Chart
Despite giving up the 146 handle, the USD/JPY held above the 144.894 support band and the 50-day EMA. The US Jobs Report must show a pickup in wage growth and a steady unemployment rate to give the bulls a run at the 146.649 resistance band.
However, with the markets betting big on a Fed pause, weak numbers would give the bears a run at the 144.894 support band and the 50-day EMA.
Considering the 55.99 14-Daily RSI reading, the USD/JPY has room to run before hitting overbought territory. However, the US Jobs Report must impress to deliver a breakout session.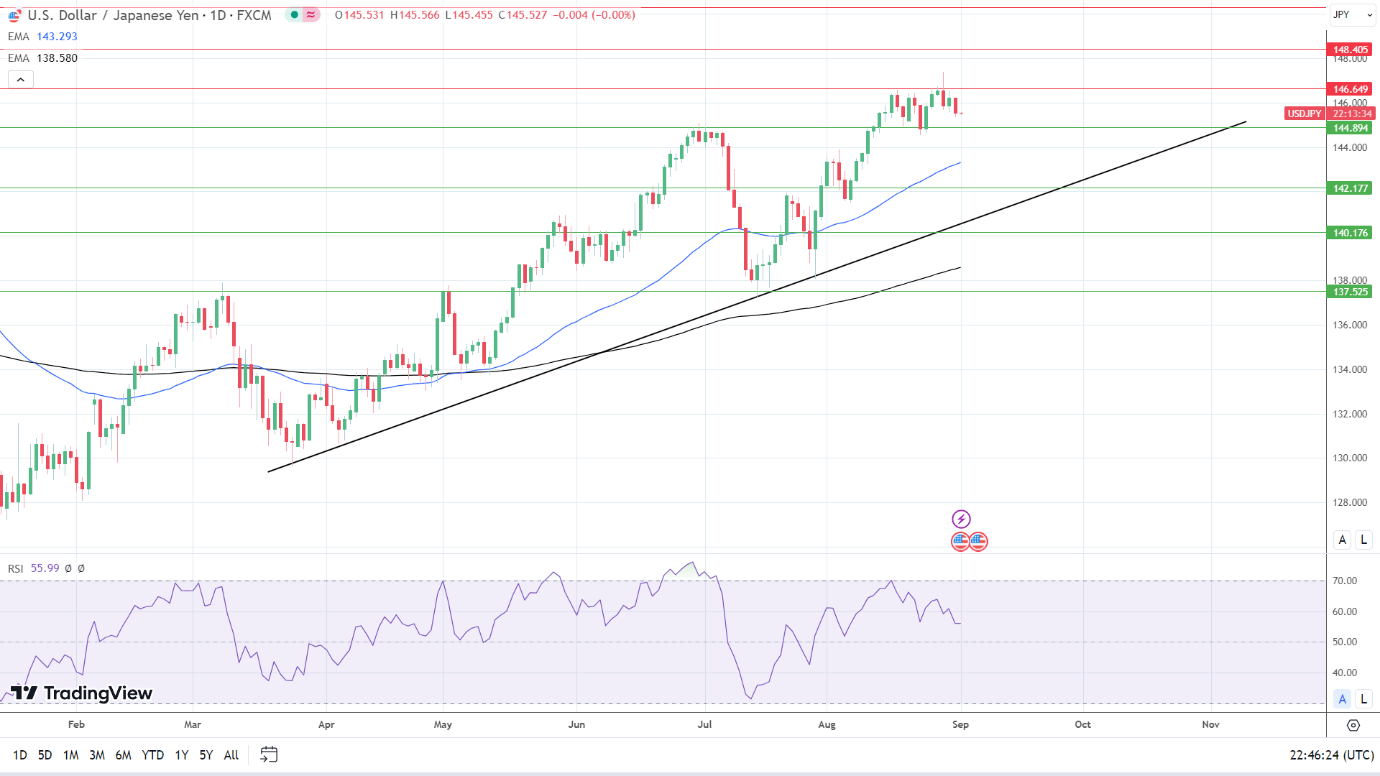 USDJPY 010923 Daily Chart
4-Hourly Chart
The 4-Hourly Chart turned bearish on Thursday, with the USD/JPY falling through the 50-day EMA. Despite bets on a Fed pause, the USD/JPY avoided sub-145 and the 144.894 support band. However, softer US wage growth and a higher unemployment rate would bring the 144.894 support band into play.
The 41.07 14-4H RSI reading gives the USD/JPY room to fall before hitting oversold territory. Bets on the Fed ending the monetary policy tightening cycle would bring the 200-day EMA into view.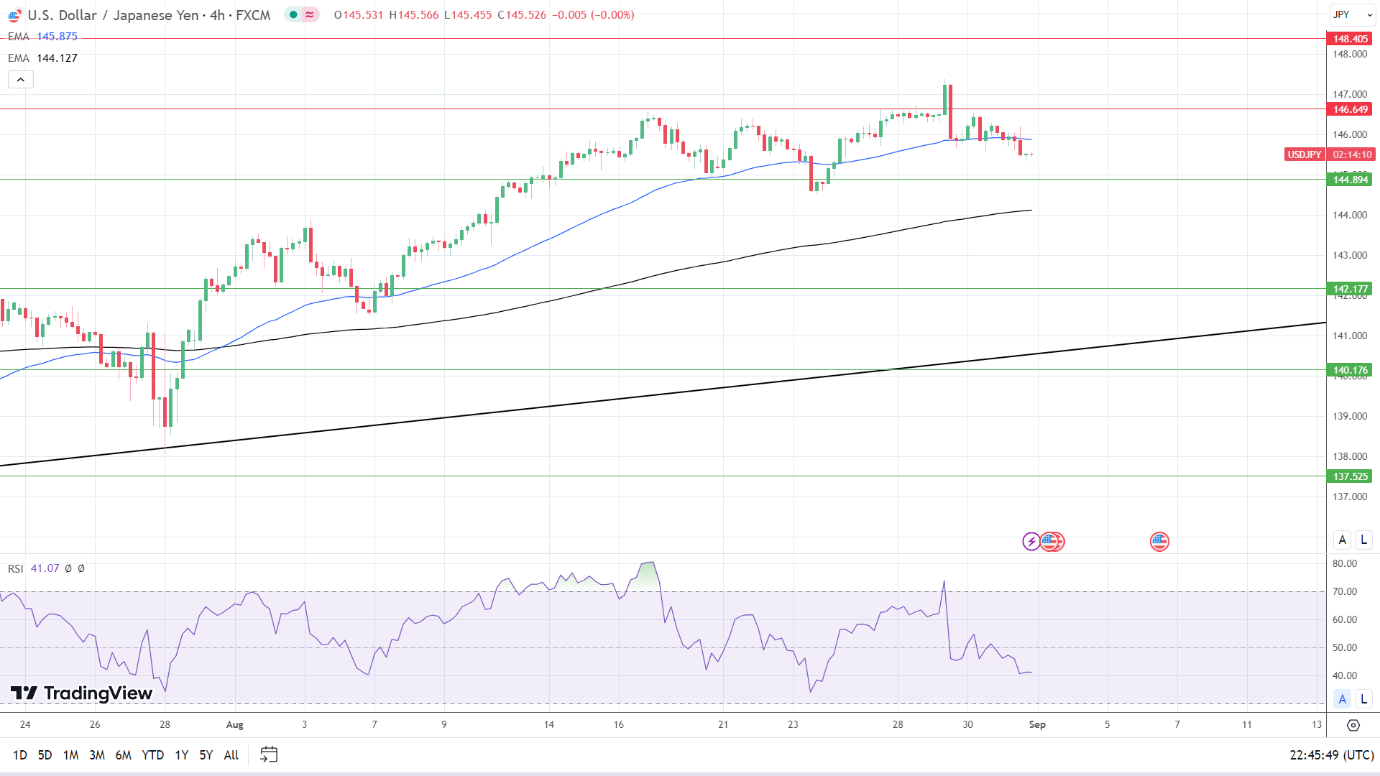 USDJPY 010923 4-Hourly Chart
Don't miss a thing!
Sign up for a daily update delivered to your inbox
Sponsored Financial Content