Illicit Transfers to DeFi Protocols Rise by 1,964% to $900 Million in 2021
Updated

: Jan 27, 2022, 13:10 UTC
•
2
min read
The rising proficiency of cybercrime has led to over $33 billion worth of cryptocurrency being laundered in the last 4 years.
At the heart of blockchain technology and cryptocurrencies are decentralization and anonymity. While most of the people entering the space do it for a good cause there are many others who take advantage of the potentiality and end up tarnishing its credibility.
Crypto Criminals
Money laundering is becoming a rather common crime particular to cryptocurrency. Even though the cryptocurrencies that are being used as vehicles end up at a small group of services, these services together have managed to abstract over $8.6 billion just last year.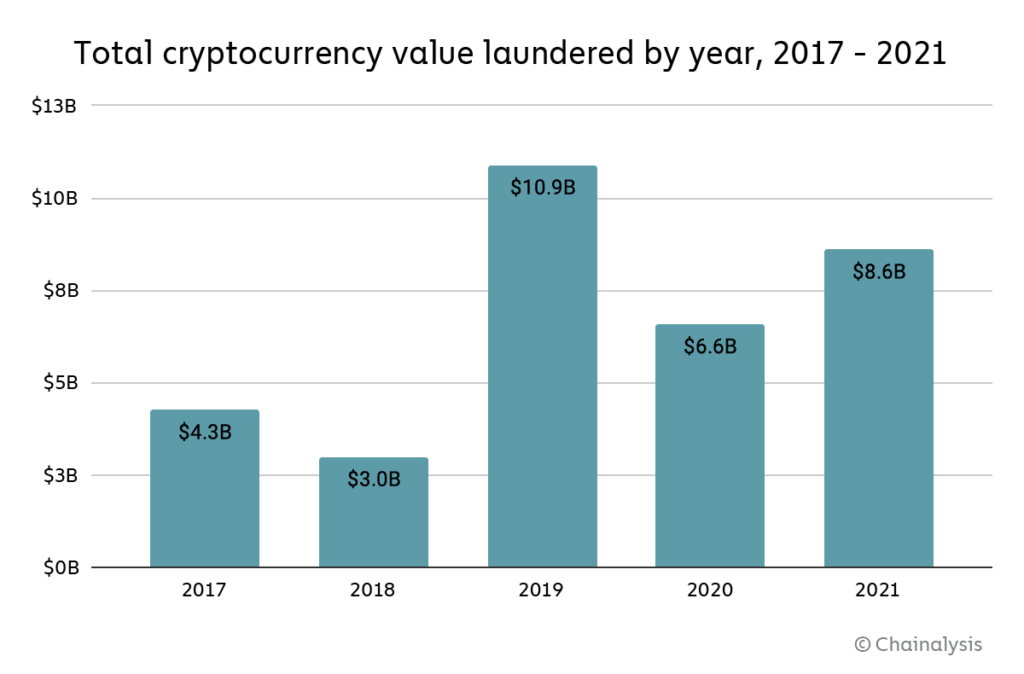 Total money laundered in Cryptocurrencies rise to $8 billion | Source: Chainalysis
The report from Chainalysis indicated that compared to 2020 when about $6.6 billion worth of cryptocurrencies were laundered, 2021 witnessed a 30% increase.
While these figures only represent money from cybercrimes such as darknet market sales and ransomware attacks, the actual amount of fiat being laundered using crypto as the vehicle remains unknown.
Surprisingly while $33 billion in cryptocurrencies have been laundered since 2017 it only accounts for 0.05% of all crypto transactions. On the other hand, as per the UNODC, fiat laundering accounts for about 5% of the global GDP.
But the question is where is this money actually going?
Into DeFi Protocols
Although until 2019 centralized exchanges were the hotspot for all the laundered money, it changed as crypto started becoming more mainstream and developers initiated the DeFi boom.
Between 2020 and 2021 as Decentralized Finance protocols began emerging these crypto criminals found an opportunity to further mask their activities and thus this sector of the crypto industry witnessed a spike in illicit transfers.
Last year about 17% of all unlawful money transfers were sent into DeFi protocols which is a 2% increase compared to 2020. Centralized exchanges on the other hand observed a decline but still accounted for a sizable 47%.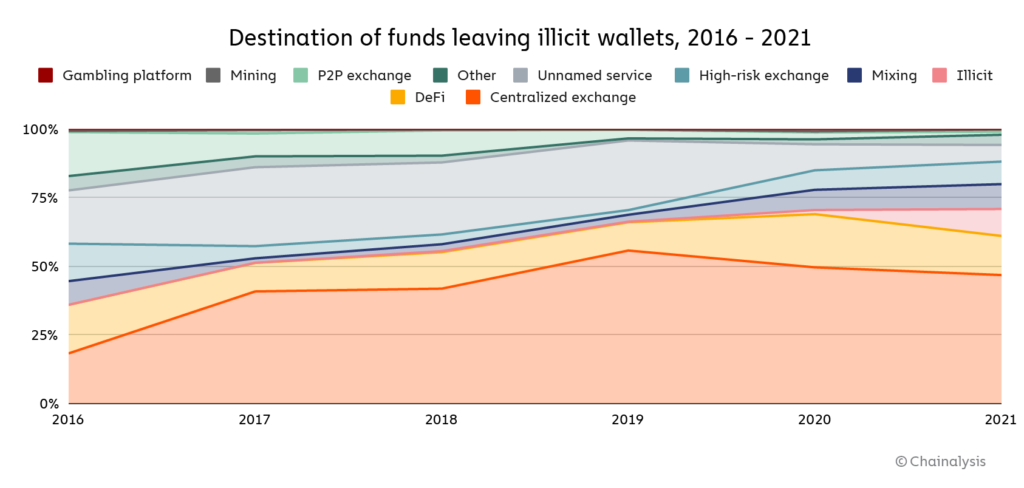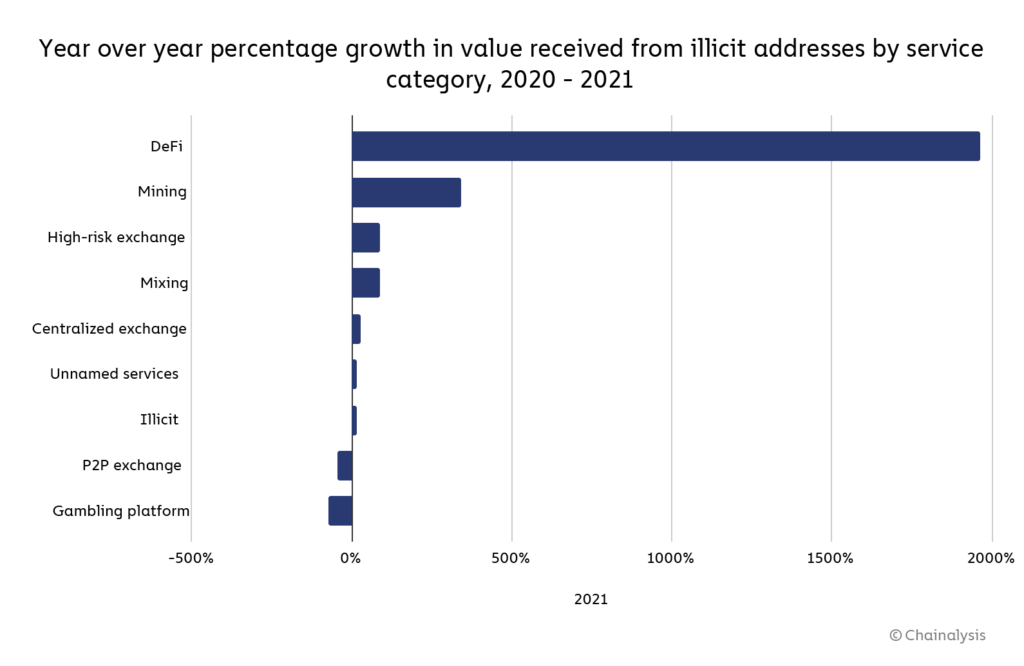 DeFi protocols witness a 1,964% rise in illicit transfers | Source: Chainalysis
Although the amount is significant, it still accounts for a mere 0.46% of the DeFi market's actual value. Despite the recent crash which wiped out $35 billion from this market the total value locked in such protocols came up to over $192 billion.
And considering the inclusion of the rise of NFTs and more DeFi based services, this space is only going to witness more growth in the coming time.
Don't miss a thing!
Sign up for a daily update delivered to your inbox
Sponsored Financial Content