AUD to USD Forecast: Consumer Spending Shaping Aussie Fate
Published

: Sep 27, 2023, 22:54 UTC
•
2
min read
"Exploring the AUD/USD slide, this piece delves into Aussie retail sales, consumer sentiment, and the impact on the Australian Dollar amidst global uncertainty.
Highlights
AUD/USD saw a 0.70% slide, with Aussie ending Wednesday at $0.63520
Forecasted 0.5% rise in Australian August retail sales sparks investor curiosity.
Tight US labor market conditions have potential to fuel wage growth, raising consumption.
Wednesday Overview
On Wednesday, the AUD/USD slid by 0.70%. Following a 0.41% loss on Tuesday, the Aussie dollar ended the day at $0.63520. The Aussie dollar rose to a high of $0.64090 before sliding to a low of $0.63313.
Australian Retail Sales: A Reflection of Consumer Sentiment
Australian retail sales figures for August will draw investor interest this morning. Economists forecast a 0.5% increase in retail sales versus a 0.8% decline in July.
A rebound in consumer spending would offer hope Australia can avoid a recession. However, an uptrend in consumer spending would fuel demand-driven inflation and hawkish RBA bets. An elevated interest rate environment impacts disposable income and curbs spending, easing inflationary pressures.
Beyond the economic calendar, market sentiment toward the Chinese economy also needs consideration.
US GDP and the Labor Market in Focus
Later today, finalized Q2 GDP numbers and jobless claims will influence the AUD/USD. Barring a sharp revision to the US GDP number, the jobless claims will likely impact the AUD/USD more.
Tight labor market conditions support wage growth, fueling consumption and demand-driven inflation. Higher interest rates would affect labor market conditions and wage growth. Softer wage growth and higher borrowing costs would weigh on spending and ease demand-driven inflationary pressures.
Beyond the numbers, investors should monitor FOMC member commentary. Deviation from the hawkish script would dampen demand for the US dollar.
Short-Term Forecast
A pickup in consumer spending would provide the Aussie dollar with modest support. However, global macroeconomic uncertainty and the Fed interest rate path remain headwinds. A spike in US jobless claims could balance the scales.
AUD/USD Price Action
Daily Chart
The AUD/USD sat below the 50-day and 200-day EMAs, sending bearish price signals.
An AUD/USD break below the trend line would support a move to the $0.62749 support level. Weaker-than-forecast retail sales and steady US labor market conditions would pressure the AUD/USD.
However, a sharp pickup in retail sales would bring the $0.63854 resistance level into play.
A 14-period Daily RSI reading of 35.40 indicates an AUD/USD move to the trend line before entering oversold territory (typically below 30 on the RSI scale).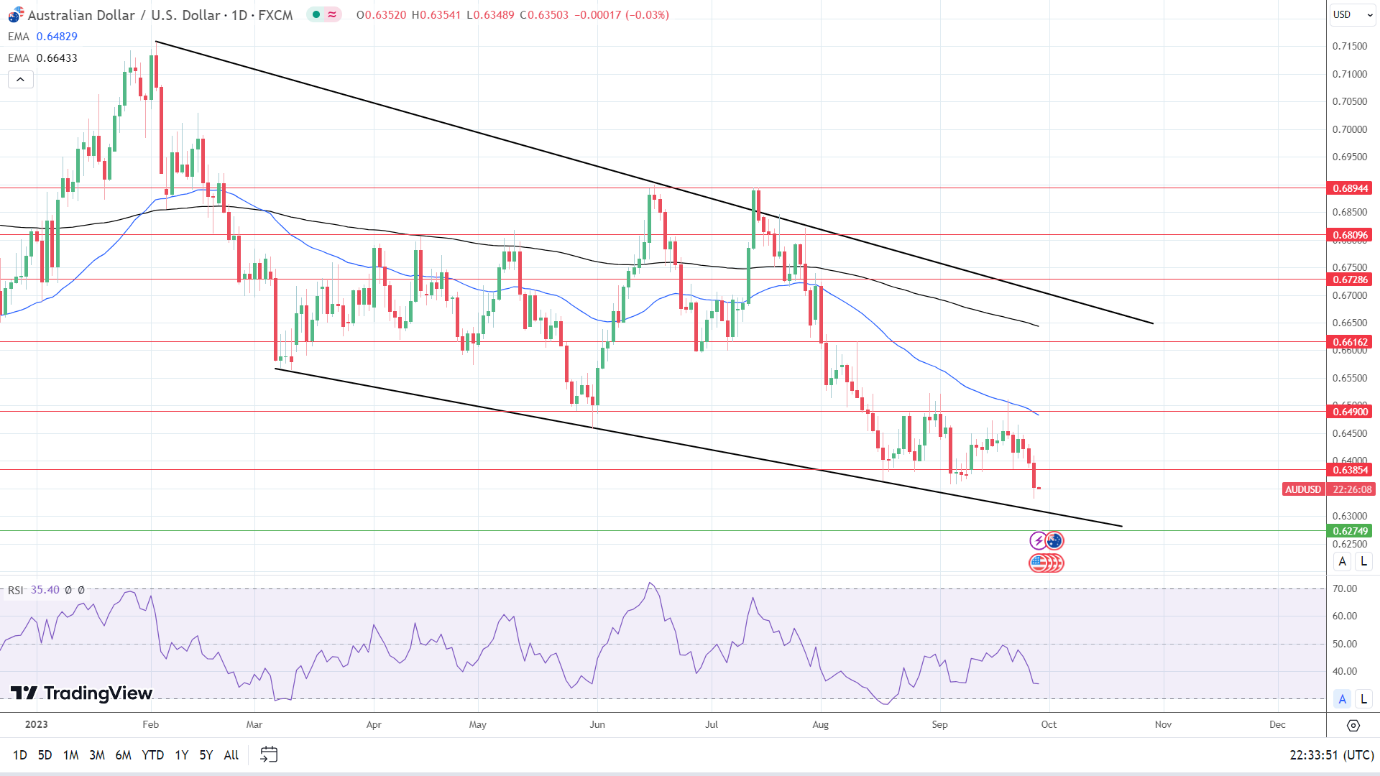 AUDUSD 280923 Daily Chart
4-Hourly Chart
The AUD/USD remains below the 50-day and 200-day EMAs, reaffirming bearish price signals.
A fall through the trend line would support an AUD/USD move to the $0.62749 support level.
However, a break above the $0.63854 resistance would give the bulls a run at the 50-day EMA.
The 14-period 4-Hourly RSI at 27.14 shows the Aussie dollar sitting in oversold territory.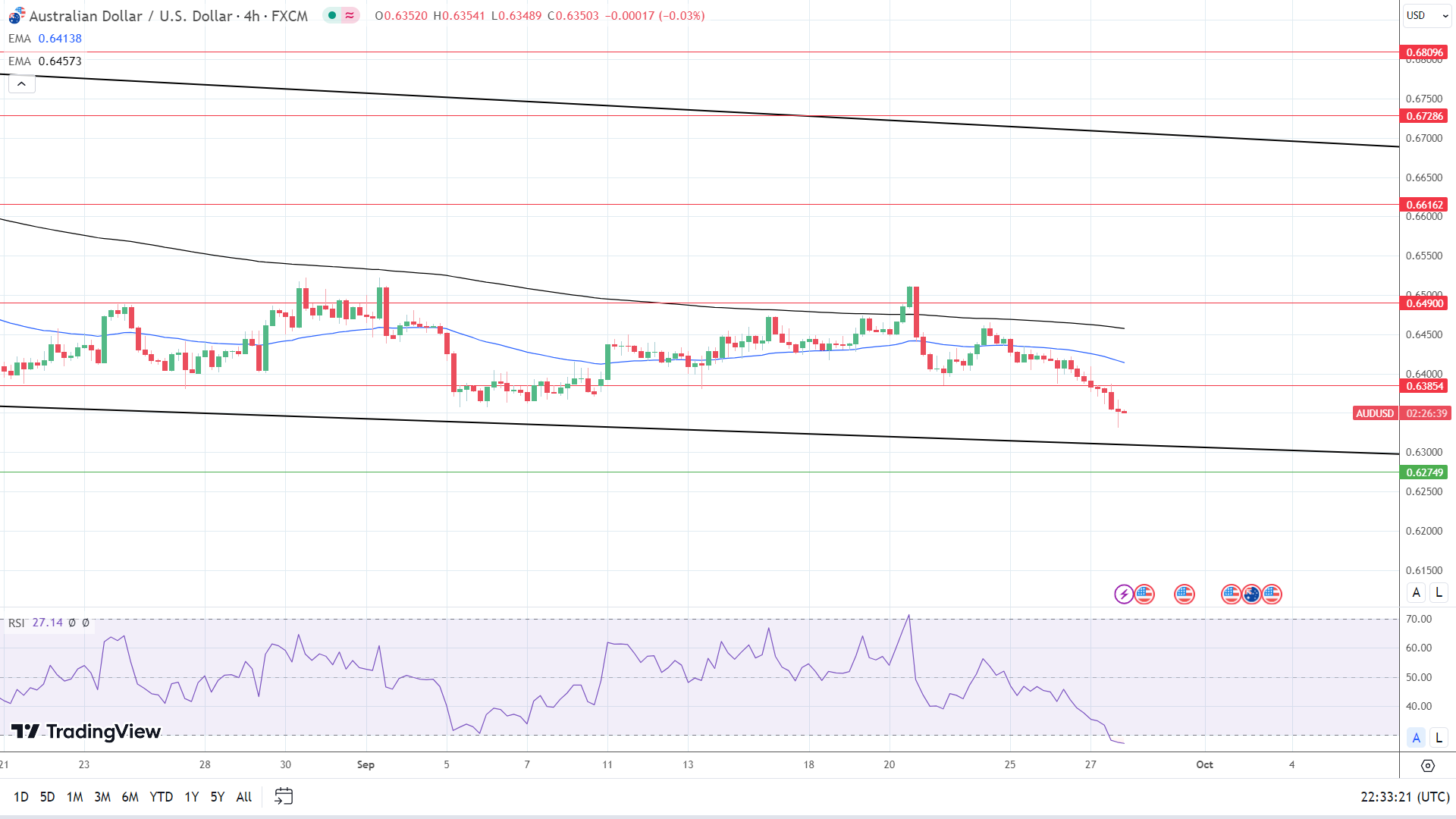 AUDUSD 280923 4-Hourly Chart
Don't miss a thing!
Sign up for a daily update delivered to your inbox
Sponsored Financial Content