Bitcoin And Ethereum Daily Price Forecast – Major Crypto Coins Continue Consolidative Price Action
Published

: Mar 25, 2019, 19:04 UTC
•
2
min read
Major cryptos on consolidative price action as market lacks trigger to influence a new rally.
Cryptocurrency market over the weekend saw consolidative price action. In my previous post, I had predicted in my earlier post that major crypto coins could see a positive price over the weekend. However, the prediction was based on fact that price action would mirror activity from recent past where investors would become active and place major bets during the weekend that could set the pace for price action across the week. In reality, despite the strength which crypto bulls continue to express every now and then, they lack solid fundamental support that could help drive a rally. And this has proved to be the undoing of crypto bulls.
Breakout Unlikely As Both Bulls & Bears Lack Trigger
However, the scenario can be said as same for crypt bears as they lack the drive that could push forward with a downside rally as multiple headlines from recent past that could have served as a fundamental support for bears failed to trigger a downside rally. This has resulted in a scenario where bulls and bears wage war for short term control over price action as price has somehow managed to remain above critical price levels for nearly 5 weeks now. While both Bitcoin and legacy crypto coins lack a trigger that could help start a decline and move above psychological resistance levels and maintain a stable rally, all major cryptocurrencies have managed to stay above critical support levels for consecutive weeks so far.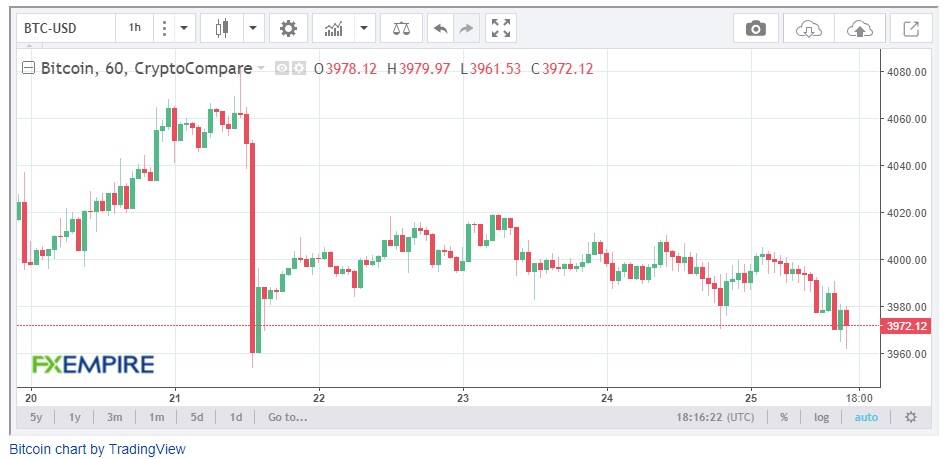 As of writing this article, BTC/USD pair is trading at $3958.2 up by 0.61% on the day, while ETH/USD pair is trading $134.02 down by 1.39% on the day. A lack of decisive factor that will favor a breakout has resulted in consolidative price action over the weekend and today's Asian and early European market hours. Moving forward, both Bitcoin and legacy crypto coins such as Ethereum are likely to see rangebound price action with steep swings on either side depending on what price level is breached. Even if the scenario is viewed as the market seeming to have found a new bottom, broad-based investor sentiment is the main factor that drives price action in a decentralized market. The sentiment as visible from trading volume and price action suggests that investors are unlikely to place major bets any time soon and may continue to trade with short term profit booking activity. This supports the possibility of range bound action with high price swings in immediate and near future trading sessions.
Please feel free to get back to us for any assistance.
Don't miss a thing!
Sign up for a daily update delivered to your inbox
Sponsored Financial Content