BTC Target Remains $30,000 on Easing Banking Risks and Fed Bets
Published

: Mar 21, 2023, 01:42 UTC
•
4
min read
It was a bearish start to the week for BTC. However, easing fears of a deeper banking crisis and hopes of a less hawkish Fed remain positive near term.
Key Insights:
It was a bearish Monday, with BTC falling by 0.82% to end the day at $27,714.
Easing investor fears of a global banking crisis left BTC on the back foot, with investors locking in solid profits.
However, the technical indicators are bullish, with $30,000 still in view.
On Monday, bitcoin (BTC) fell by 0.82%. Partially reversing a 3.82% gain from the previous week, BTC ended the day at $27,714. Despite the bearish session, BTC revisited the $28,000 handle and struck a new 2023 high.
A choppy morning saw BTC slide to a mid-morning low of $27,130. Steering clear of the First Major Support Level (S1) at $27,073, BTC rose to a late morning high of $28,439. However, falling short of the First Major Resistance Level (R1) at $28,577, BTC revisited sub-$27,500 before ending the session at $27,714.
Investors Return to Riskier Assets to Leave BTC in the Red
On Monday, the European and US equity markets brushed aside a bearish Asian market session.
Investors responded to the news of UBS AG (UBS) agreeing to acquire Credit Suisse Group (CS) to avert a banking catastrophe. Governments and regulators also demonstrated an unwavering commitment to contain the crisis by opening the coffers.
A shift in sentiment toward Fed monetary policy provided further support. Following the collapse of Silicon Valley Bank and Signature Bank (SBNY), the broader market expects the Fed to lift rates by 25 basis points and signal a post-March pause. Some speculated that the Fed could leave rates unchanged tomorrow.
However, BTC reversed gains late in the session, with investors locking in profits ahead of the Wednesday Fed interest rate decision.
The NASDAQ Composite Index rose by 0.39% on Monday, with the Dow and S&P 500 seeing gains of 1.20% and 0.89%, respectively. This morning, the NASDAQ mini was down 8.25 points.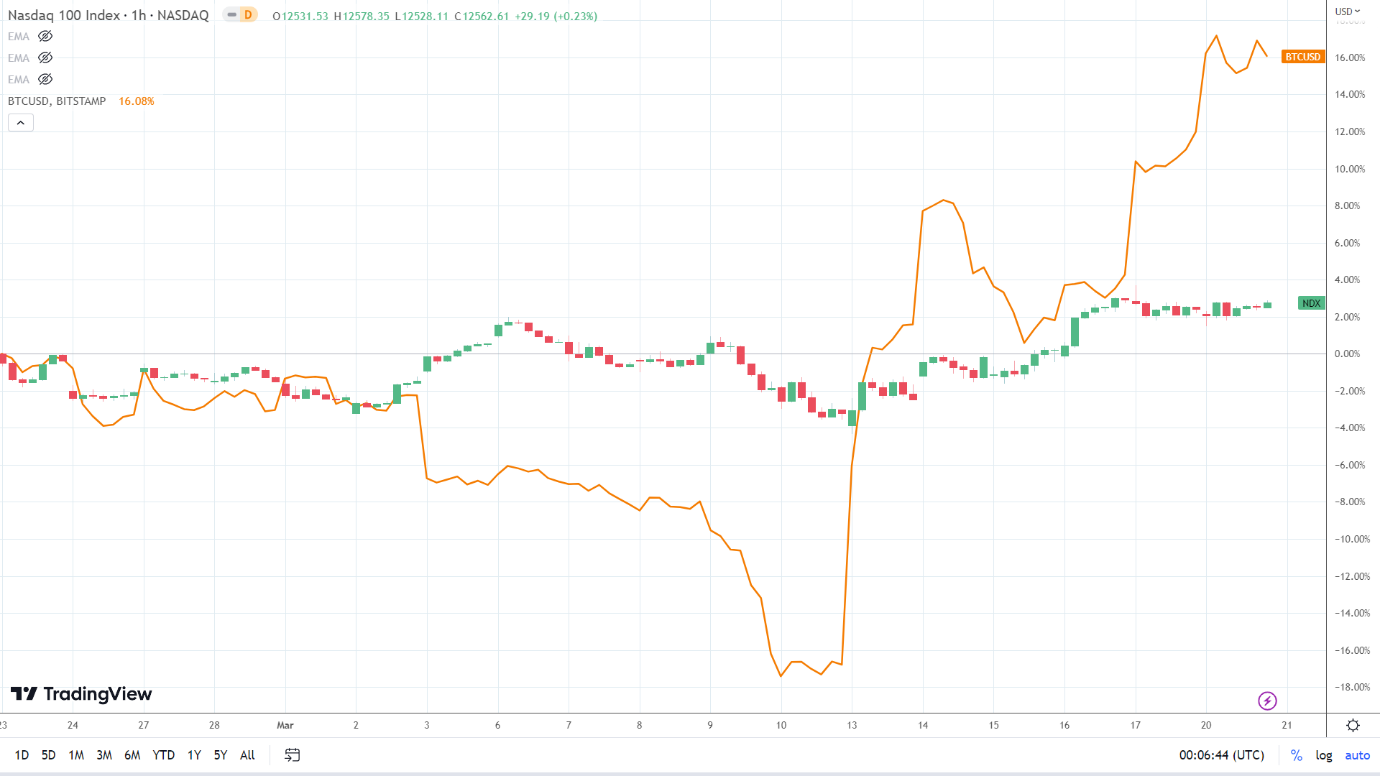 NASDAQ – BTCUSD 210323 Daily Chart
The Day Ahead
There are no US economic indicators to move the dial, with the US housing sector in focus this afternoon. The lack of stats will leave investors to consider banking sector-related news and the Fed monetary policy decision on Wednesday.
However, investors should continue to monitor the crypto news wires. Binance and FTX news and updates from the ongoing SEC v Ripple case will draw interest. While regulators and lawmakers remain distracted by the banking sector woes, regulatory activity also needs consideration.
Bitcoin (BTC) Price Action
This morning, BTC was up 0.34% to $27,809. A mixed start to the day saw BTC fall to an early low of $27,675 before rising to a high of $27,934.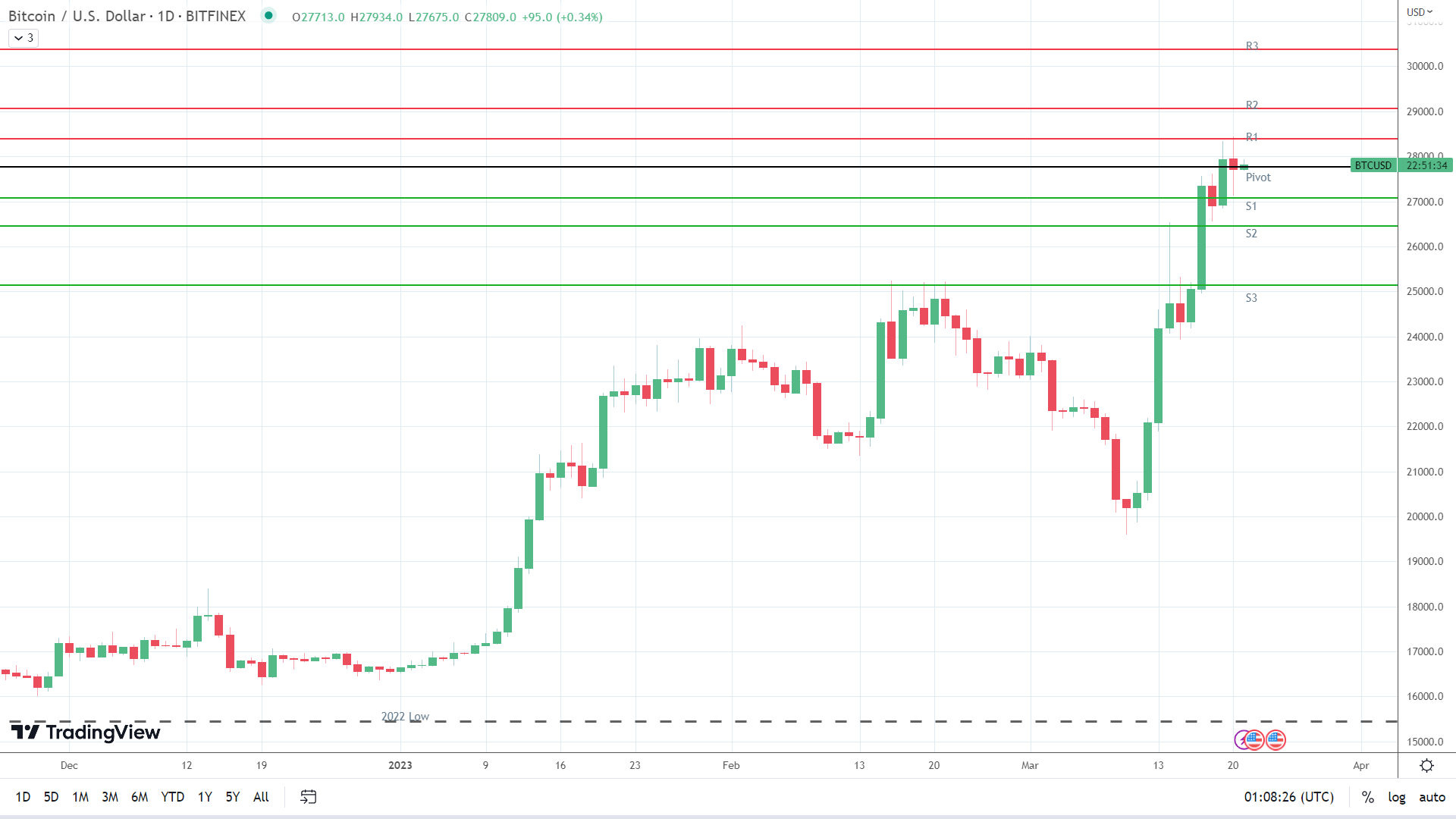 BTCUSD 210323 Daily Chart
Technical Indicators
BTC needs to avoid the $27,761 pivot to target the First Major Resistance Level (R1) at $28,392 and the Monday high of $28,439. A return to $28,000 would signal an extended bullish session. The crypto news wires should be crypto-friendly to support an extended rally.
In the event of an extended rally, BTC would likely test the Second Major Resistance Level (R2) at $29,070 and resistance at $30,000. The Third Major Resistance Level (R3) sits at $30,379.
A fall through the pivot would bring the First Major Support Level (S1) at $27,083 into play. However, barring a crypto event-fueled sell-off, BTC should avoid sub-$26,500 and the Second Major Support Level (S2) at $26,452. The Third Major Support Level (S3) sits at $25,143.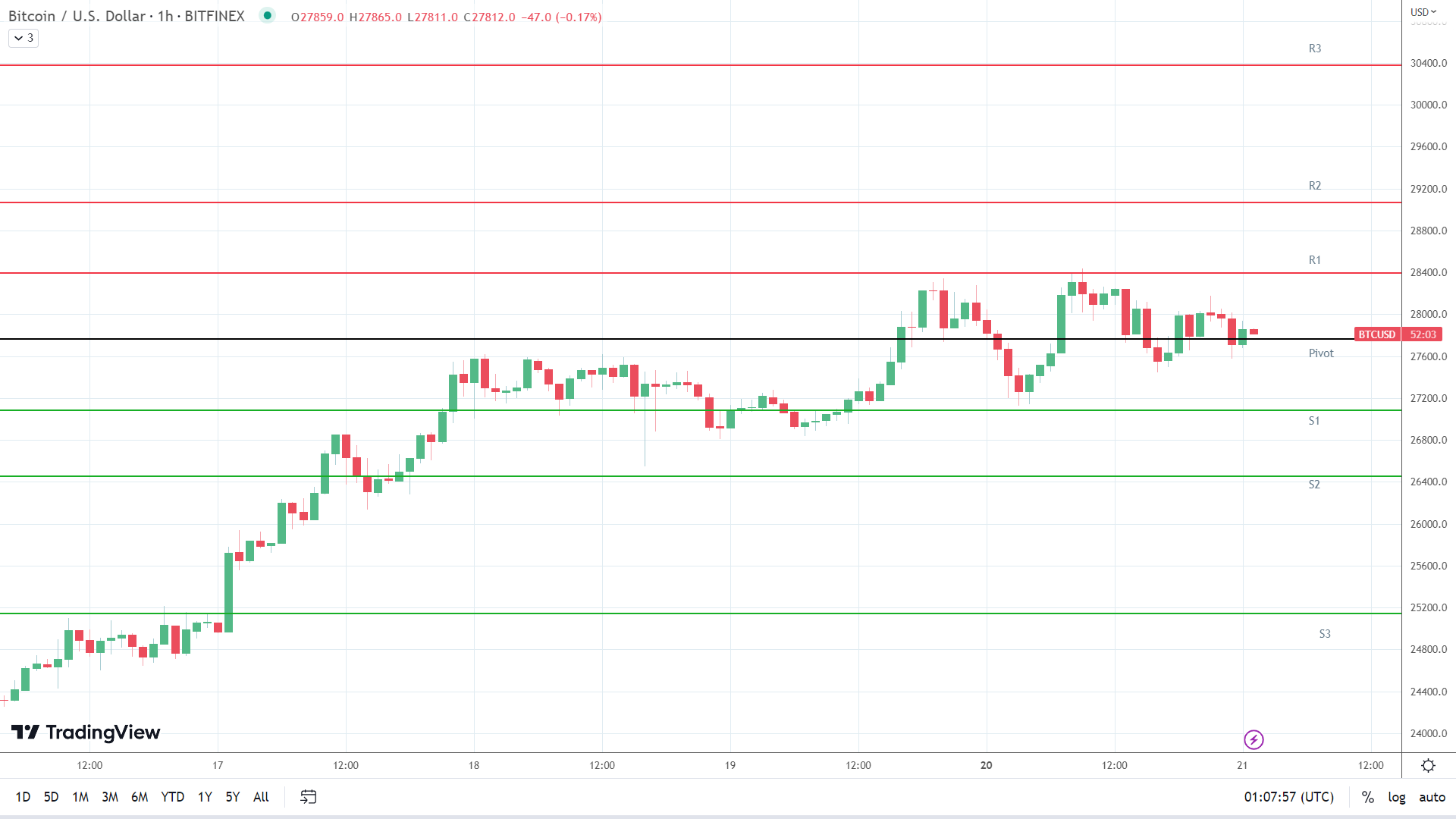 BTCUSD 210323 Hourly Chart
Looking at the EMAs and the 4-hourly candlestick chart (below), it was a bullish signal. BTC sat above the 50-day EMA ($25,921). The 50-day EMA pulled further away from the 100-day EMA, with the 100-day EMA moving away from the 200-day EMA, sending bullish signals.
A hold above the Major Support Levels and the 50-day EMA ($25,921) would support a breakout from R1 ($28,392) to target R2 ($29,070) and $30,000. However, a fall through S1 ($27,083) would bring S2 ($26,452) and the 50-day EMA ($25,921) into view. A fall through the 50-day EMA would send a bearish signal.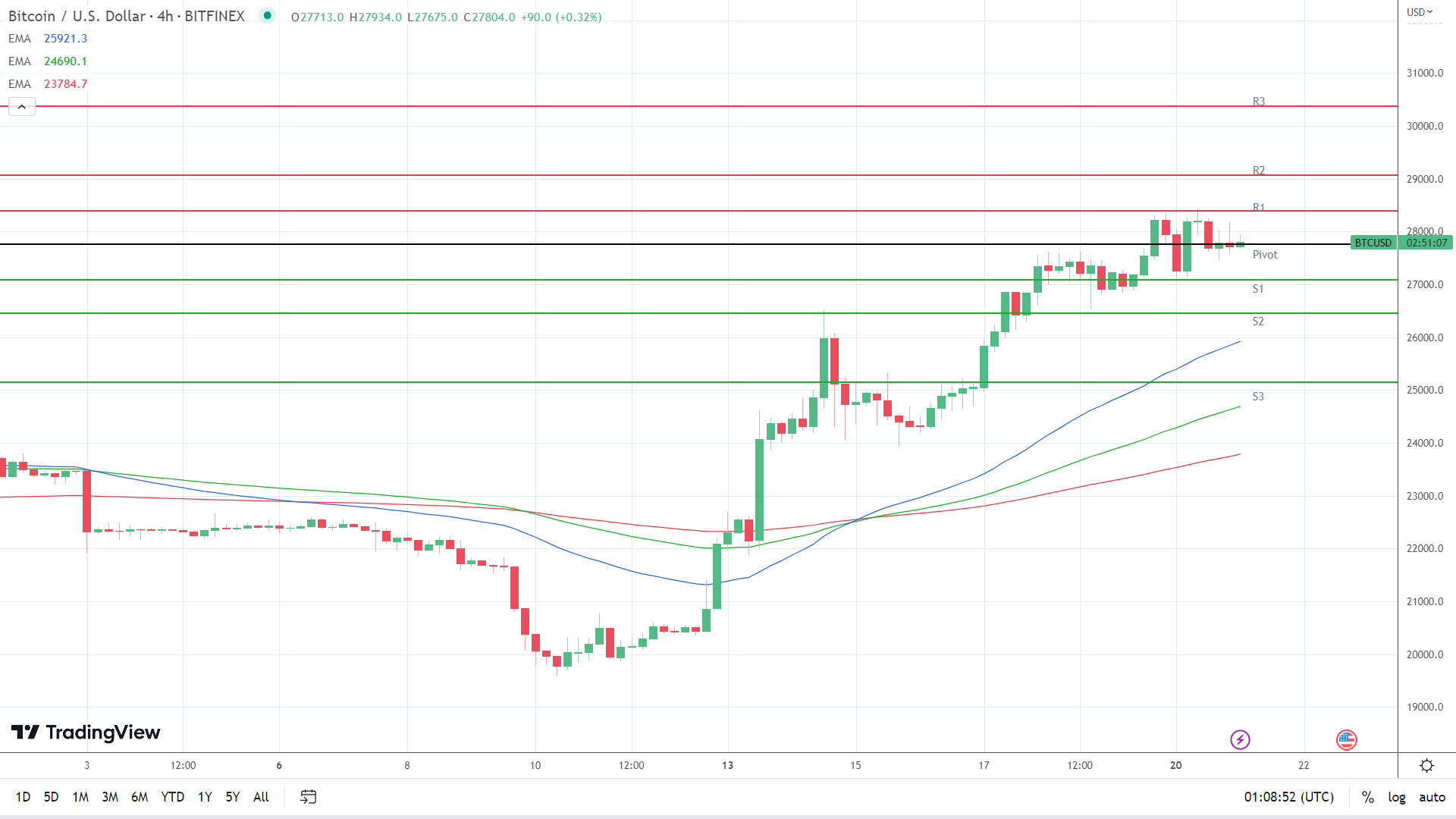 BTCUSD 210323 4 Hourly Chart
Don't miss a thing!
Sign up for a daily update delivered to your inbox
Sponsored Financial Content