Crypto Market Daily Highlights: Kraken Ceases US Staking Services
Published

: Feb 10, 2023, 01:13 UTC
•
4
min read
It was a bearish Thursday session for the crypto market, with news of Kraken ceasing staking services for US customers hitting investor sentiment.
Key Insights:
It was a bearish Thursday session for the crypto top ten, with DOGE and ADA leading the way down.
SEC activity and fears of a US ban on crypto staking delivered a broad-based crypto market sell-off.
The crypto market cap tumbled by $55.53 billion to end the day at $969.15 billion.
It was a bearish session for the crypto top ten on Thursday. ADA and DOGE led the way down. BTC ended the day at sub-$22,000 for the first time since January 19.
On Thursday, US economic indicators provided brief relief, with US initial jobless claims increasing from 183k to 196k. However, a rise in Treasury yields weighed on risk sentiment following a disappointing auction for 30-year bonds.
The NASDAQ Index ended the day with a 1.02% loss as hawkish Fed chatter resonated throughout the session.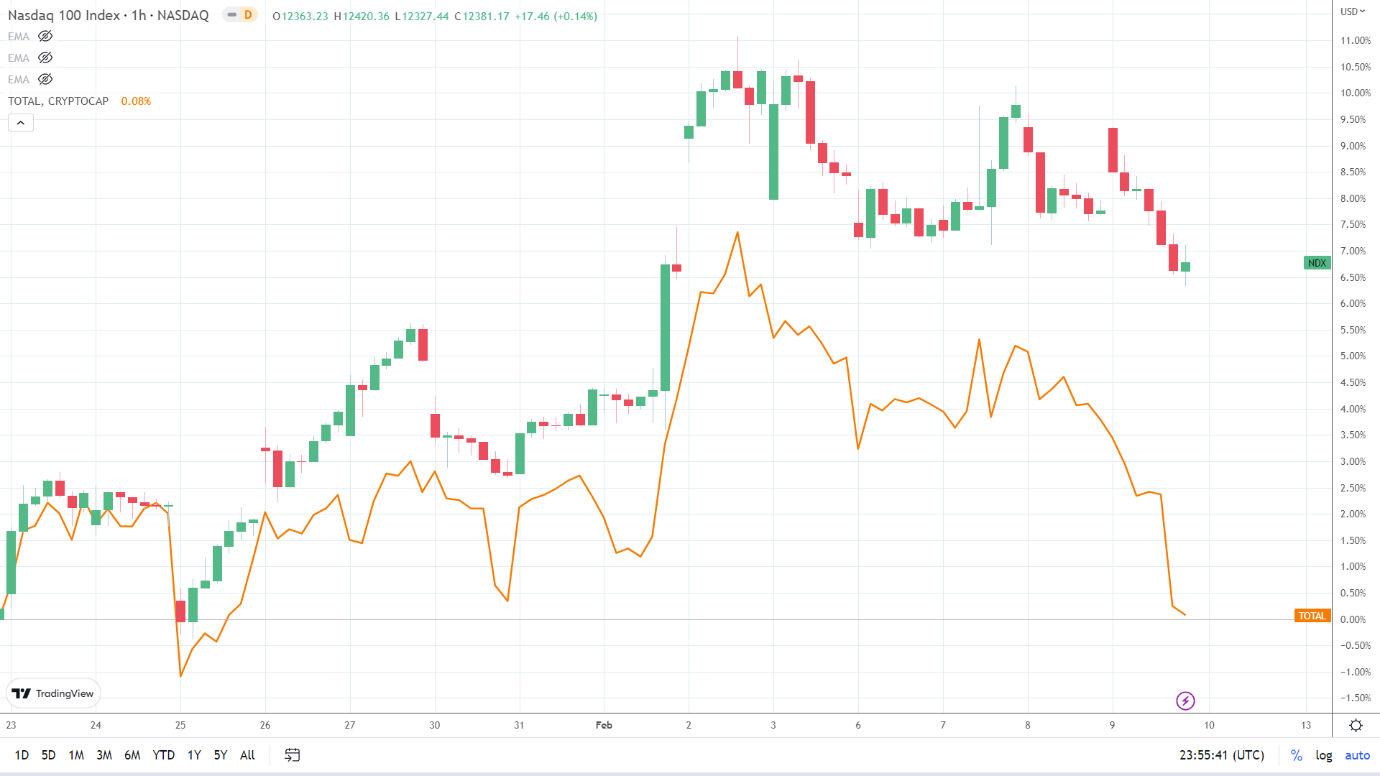 Total Market Cap – NASDAQ – 100223 Hourly Chart
SEC Hits Kraken and Staking Services for US Retail Customers
While the NASDAQ Index weighed on investor appetite, SEC activity and fears of a ban on US crypto staking sent the crypto market into the deep red.
Overnight, news hit the wires of Kraken agreeing to cease offering or selling securities via its crypto asset staking programs available on Payward Ventures Inc. and Payward Trading Ltd, two exchange subsidiaries.
SEC Commissioner Hester Peirce issued a statement of dissent, saying,
"Today, the SEC shut down Kraken's staking program and counted it as a win for investors. I disagree and therefore dissent."
In a lengthy statement, Peirce added,
"Most concerning, though, is that our solution to a registration violation is to shut down entirely a program that has served people well. The program will no longer be available in the United States, and Kraken is enjoined from ever offering a staking service in the United States, registered or not. A paternalistic and lazy regulator settles on a solution like the one in this settlement: do not initiate a public process to develop a workable registration process that provides valuable information to investors, just shut it down."
SEC Chairman Gary Gensler had this to say,
"Today the SEC charged Kraken for the unregistered offer & sale of securities thru its staking-as-a-service program. Whether it's through staking-as-a-service, lending, or other means, crypto intermediaries must provide the proper disclosures & safeguards required by our laws."
With Kraken only permitted to offer staking services to non-US clients, other exchanges could face a similar fate. On Thursday, Coinbase (COIN) shares tumbled 14.13% to end the day at $59.63.
The Day Ahead
Today, Michigan Consumer Sentiment figures will be in the spotlight. While the headline number will influence, investors should consider the sub-components, including the Inflation Expectations Index.
Investors need to also monitor FOMC member chatter, with hawkish commentary likely to weigh on riskier assets. Christopher Waller will speak today.
However, investors should continue monitoring the crypto news wires for FTX, Genesis, and Silvergate Bank updates. Regulatory chatter and SEC v Ripple news will also provide direction.
Crypto Market Tumbles to Below $1 Trillion on Regulatory Risk
It was a bearish Thursday session. The crypto market rose to an early high of $1,033 billion before hitting reverse. The reversal saw the crypto market cap slide to a late low of $958.26 billion. However, finding late support, the crypto market cap ended the day at $969.15 billion, marking a $55.53 billion loss for the day.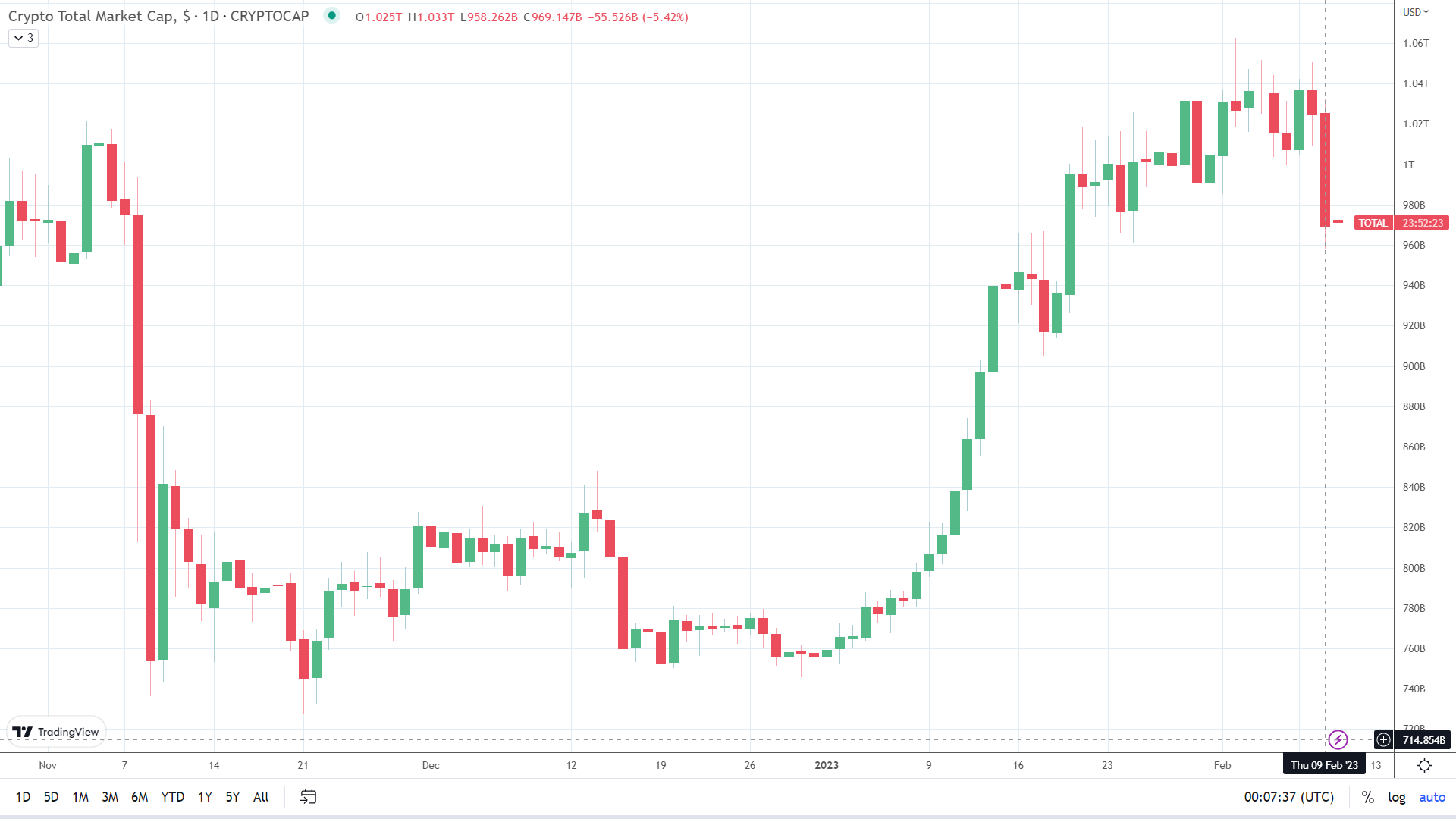 Total Market Cap 100223 Daily Chart
The Crypto Market Movers and Shakers from the Top Ten and Beyond
It was a bearish session for the crypto top ten.
DOGE and ADA slid by 9.67% and 8.12%, respectively, to lead the way down.
However, BNB (-6.70%), BTC (-5.04%), ETH (-6.37%), MATIC (-5.54%), and XRP (-4.10%) also struggled.
From the CoinMarketCap top 100, it was a bearish session.
Rocket pool (RPL) surged by 19.89% to lead the way, with lido DAO (LDO) and frax shares (FXS) seeing gains of 2.90% and 0.20%, respectively, to buck the broader market trend.
However, singularityNET (AGIX) slid by 18.18%, with WOO network (WOO) and the graph (GRT) declining by 16.47% and 15.56%, respectively.
24-Hour Liquidations Surge on BTC Return to Sub-$22,000
Over 24 hours, crypto liquidations moved to above-normal levels. Long positions had a higher share of liquidations, accounting for 91.25% of total liquidations. At the time of writing, 24-hour liquidations stood at $278.53 million versus $91.34 million on Thursday morning.
Liquidated traders over the last 24 hours were also higher. At the time of writing, liquidated traders stood at 107,037 versus 44,138 on Thursday morning. Crypto liquidations were higher over 12 and four hours and over one hour.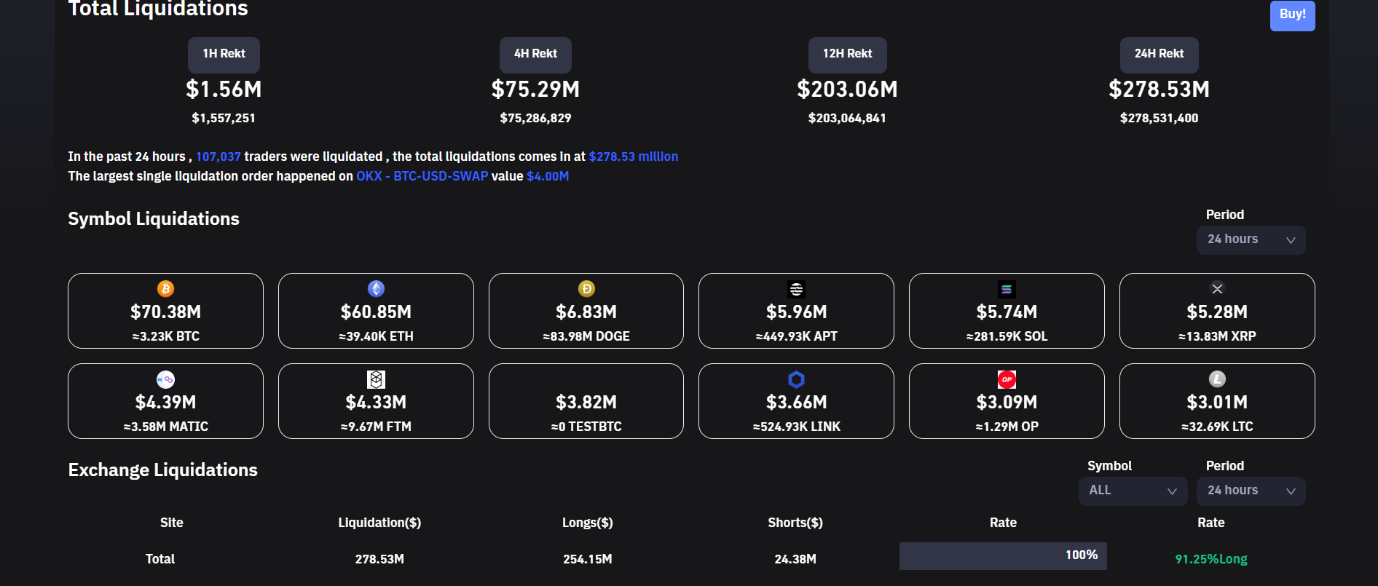 Total Crypto Liquidations 100223
According to Coinglass, 12-hour liquidations stood at $203.06 million versus $67.99 million on Thursday, with four-hour liquidations up from $5.56 million to $75.29 million. One-hour liquidations increased from $0.785 million to $1.56 million.
The chart below shows market conditions throughout the session.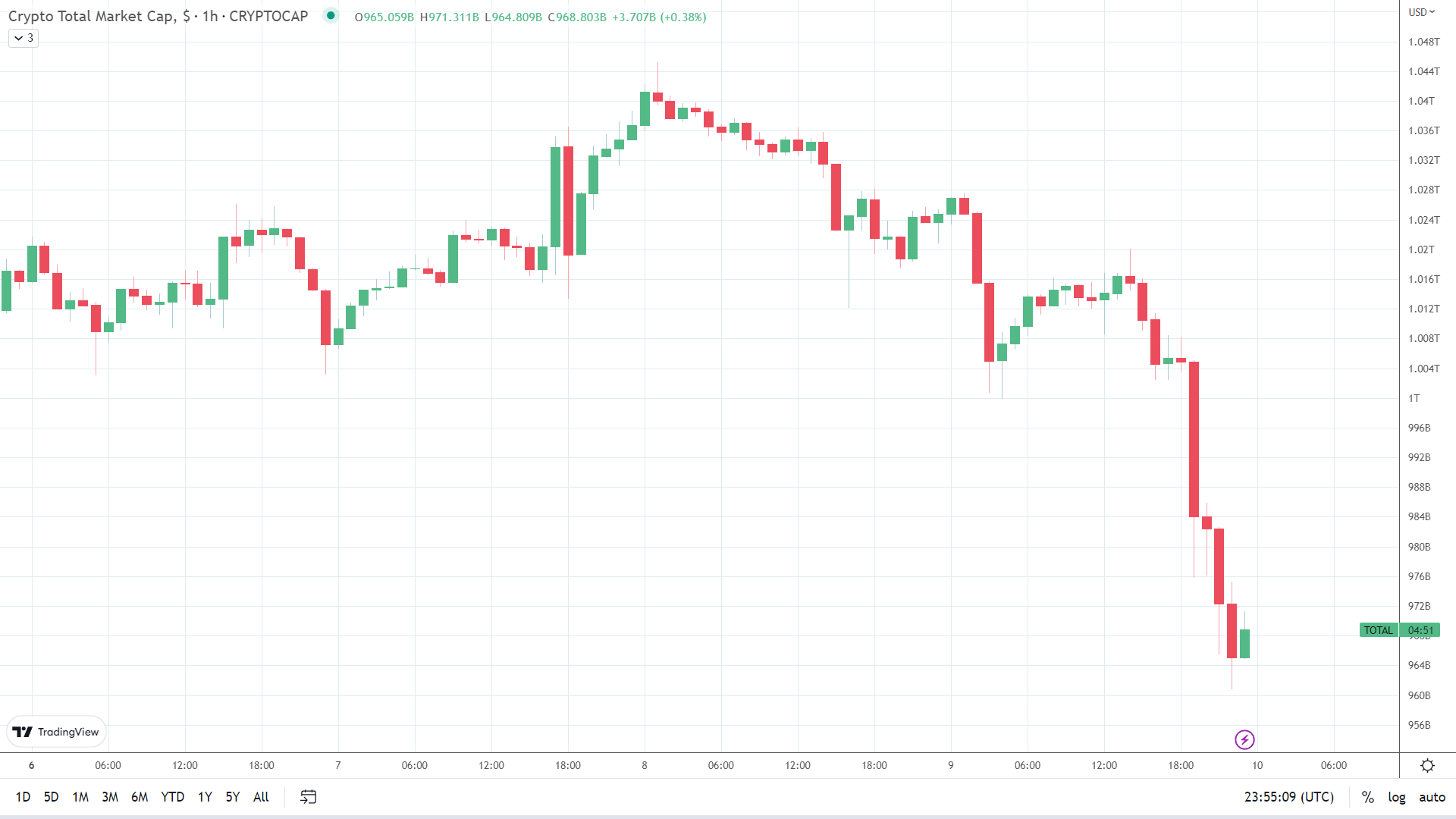 Total Market Cap 100223 Hourly Chart
Don't miss a thing!
Sign up for a daily update delivered to your inbox
Sponsored Financial Content