Coins Available

Accepted Countries

Payment Methods
Operating since 2011, San Francisco-based Kraken is widely considered to be among the top cryptocurrency exchanges in the world. As Kraken itself boasts, the exchange is 'consistently rated the best and most secure Bitcoin exchange by independent news media'. While which is 'the best' cryptocurrency exchange is, of course, a very subjective label, it is certainly the case that Kraken is among those widely considered as the most sophisticated, reputable and secure by participants and observers of cryptocurrency markets.
Contents
Kraken has the highest euro volume of Bitcoin trading of any exchange and is consistently within the top 10 crypto exchanges internationally for both Bitcoin and trading volume across all cryptocurrencies supported. It was also the first crypto exchange to have its data (trading volumes and prices) incorporated into the Bloomberg Terminal.
As well as Bitcoin trading, the other cryptocurrencies supported by Kraken are:
Ethereum (ETH), Bitcoin Cash (BCH), Monero (XMR), Dash (DASH), Litecoin (LTC), Ripple (XRP), Stellar/Lumens (XLM), Ethereum Classic (ETC), Augur REP tokens (REP), ICONOMI (ICN), Melon (MLN), Zcash (ZEC), Dogecoin (XDG), Tether (USDT), Gnosis (GNO), and EOS (EOS).
In terms of the actual trading software through which cryptocurrency buyers and sellers make transactions, Kraken has historically been considered to be good but not without room for improvement. The exchange has been known to encounter problems at times when traffic and order volumes peak. However, immediately prior to this review being written, Kraken released a full update to its trading platform. This new update is expected to improve both usability and solve the issue of site crashes at peak trading times.
As well as standard buying and selling of cryptocurrencies, Kraken also offers more experienced traders additional services such as margin trading with up to x5 leverage and the option to take a short position.
Kraken has continuously added value-added market data and trading tools to its platform, often through acquisitions, such as last year's purchase of live cryptocurrency price streams and charting specialist Cryptowatch.
For mobile trading an iOS app is available but unfortunately, and for no obvious reason, there is no Android App.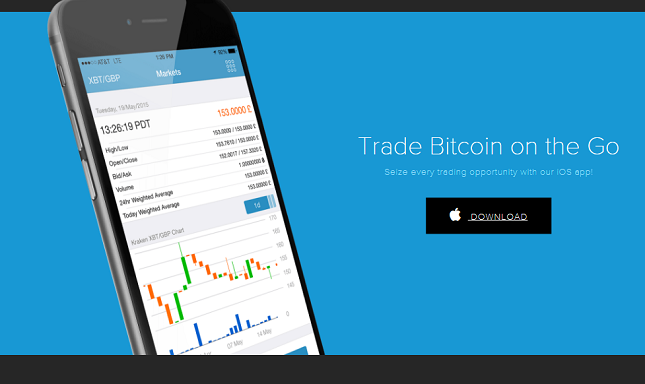 Deposit and Withdrawal Options
Deposits and withdrawals into and from a Kraken trading account or wallet can be made in U.S. dollars, Canadian dollars, euro and Japanese yen, as well as the cryptocurrencies that can be traded via the exchange. Deposits and withdrawals can only currently be made via bank or wire transfer and not from debit or credit cards or digital wallets such Paypal or Skrill. The exchange says the reason for this limitation is that the near-instant and practically irreversible nature of cryptocurrency transactions means the risk of fraudulent transactions is too high for the exchange to currently offer these deposit and withdrawal methods.
Fees and Charges
Fees and charges can be broken down into those in relation to making deposits and withdrawals and those incurred in the trading process. Deposit and withdrawals fees are as follows:
Deposit options and fees
EUR SEPA Deposit (Free) – EEA countries only
USD Bank Wire Deposit ($5 USD) – US only
EUR Bank Wire Deposit (€10) – outside US only
USD Bank Wire Deposit ($10 USD) – outside US only
JPY Bank deposit (Free, ¥5,000 deposit minimum) – Japan only
CAD Wire Deposit (Free)
Withdrawal options and fees
EUR SEPA Withdrawal (€0.09) – EEA countries only
USD Bank Wire Withdrawal ($5 USD) – US only
USD Bank Wire Withdrawal ($60 USD) – outside US only
EUR Bank Wire Withdrawal (€60) – outside US only
JPY Bank withdrawal (¥20) – Japan only
CAD EFT Withdrawal ($10 CAD fee, $25K CAD daily max) – Canada only
Trading fees are tiered so drop as trading volumes increase and also vary between what currency pair is being traded and the kind of trading ie. Standard, margin-based etc.
Kraken's trading fees, as well as those for making deposits and withdrawals, are generally considered to be towards the lower end of the scale when it comes to exchanging averages.
Privacy and Security
Security levels on Kraken are generally considered to be very high. However, Kraken does require higher levels of personal identity verification of its account holders in comparison with some other cryptocurrency exchanges. This is to a large extent connected to whether account holders wish to be able to make deposits and withdrawals in fiat currencies as well as cryptocurrencies, as Kraken voluntarily operated in line with general banking standards in this regard. There are different tiers of accounts that are based upon the level of personal identity verification provided and maximum deposit and withdrawal values are also related to this due to money laundering considerations. The minimum, Tier 1, account requires users to provide their full name, date of birth, country of residence and phone number verification. This allows only cryptocurrency-denominated deposits and withdrawals with a ceiling set at the equivalent value of $2500 a day or $20,000 each month.
Tier 3, which allows for fiat currency deposits and withdrawals from nationals of all countries, means providing a valid government-issued ID and recent proof of residence and address and Tier 4, which is for higher volume traders requires the same kind of dossier of documents as would be expected by a bank of the regulated financial institution.
Fiat withdrawals and deposits values rise to $25,000 a day ($50,000 for cryptocurrencies) and $200,000 per month (also for cryptocurrencies). Tier 4 accounts have no deposit or withdrawal value limitations.
Security measures in place to protect funds from being hacked are very high. Deposits and funds held on the account are done so in 'cold storage' wallets which are isolated from all online systems. Accounts themselves are protected by security systems such as 'two-factor' authentication so no-one will be able to log in to a user's account unless they have access to both usernames and passwords and an 'authentication Master key'. High levels of encryption are also used.
Security in terms of Kraken's liquidity is also extremely high. The exchange maintains full reserves so there is no possibility of a 'bank run' compromising liquidity and all customer funds are entirely separated from operating funds and accounts.
Customer Support
Kraken offers 24/7 customer support via email and online chat, though no telephone number is provided. Feedback around support is not great and generally considered to area Kraken could do most to improve on, with the time required to receive a response the most commonly criticized element.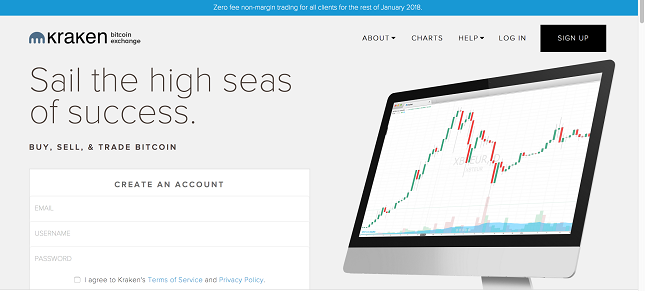 Pros and Cons
Pros
High digital security
High financial security
No geographical restrictions on account holders
Strong range of tradable cryptocurrencies
Several fiat currencies tradable
Low Fees
Cons
Customer service response times
Debit and credit cards and e-payments processors not supported
FAQs
Kraken has never suffered any major security breach and is considered to have among the most stringent security measures of all cryptocurrency exchanges. 'Cold storage' is used to protect funds from potential hacker attacks, with client deposits and other funds held in accounts that are not accessible from online. The exchange's transparency in subjecting itself to, and passing, independent audits, is also admirable. A cryptocurrency exchange that has historically made every effort to hold itself to the same standards as traditional, regulated exchanges.
What Information is Required to Open and Trade with a Kraken Account and Why?
The most basic Tier 1 account only requires the holder to provide full name, date of birth, address and phone number. To be able to deposit and withdraw fiat currencies a government-issued ID and proof of address are also required. This is necessary to prevent the risk of fraud and for the exchange to meet KYC and AML regulations for the trade of digital assets.
What Cryptocurrencies does Kraken Support Trading In?
Bitcoin (BTC), Ethereum (ETH), Bitcoin Cash (BCH), Monero (XMR), Dash (DASH), Litecoin (LTC), Ripple (XRP), Stellar/Lumens (XLM), Ethereum Classic (ETC), Augur REP tokens (REP), ICONOMI (ICN), Melon (MLN), Zcash (ZEC), Dogecoin (XDG), Tether (USDT), Gnosis (GNO), and EOS (EOS).
Conclusion
Kraken is almost universally accepted as one of the top cryptocurrency exchanges internationally. That reputation is based on its professional approach and security levels as well as a range of cryptocurrencies and fiat available to trade. The recent full update of the trading platform should further improve general satisfaction. The only real downsides to Kraken are some negative feedback on levels of customer support and that deposits and withdrawals must be made via bank and wire transfer. It's also not the exchange that will appeal to those who wish to maintain anonymity.
Kraken
Features
Coins Available
Bitcoin

Ethereum

Ripple

Stellar

Litecoin

Monero

Dash

Ethereum Classic

Zcash

Augur

Iconomi

Dogecoin

Gnosis
Accepted Countries
Italy

Japan

Canada

Australia

Cameroon

Chad

Dominica

Denmark

France

Greece

Haiti

Iceland

Libya

Mexico

Belize

Nepal

Romania

Cape Verde

Senegal

Sri Lanka

United Kingdom

Eritrea

Gambia

Indonesia

Lebanon

Angola

Malta

Bahamas

Benin

Chile

Ghana

Gibraltar

Grenada

Serbia

Guinea-Bissau

Tonga

Kenya

Finland

Namibia

Oman

Jamaica

Palau

Solomon Islands

Kyrgyzstan

Tunisia

Montenegro

Peru

Sweden

Trinidad and Tobago

Yemen

Bahrain

Belarus

Bulgaria

Colombia

Cuba

Cyprus

Algeria

Burkina Faso

Cambodia

Kuwait

Russian Federation

Saint Lucia

South Sudan

Tanzania

Turkey

Virgin Islands, British

South Korea

Malawi

Maldives

Netherlands

Botswana

Qatar

Saint Kitts and Nevis

Saint Vincent and the Grenadines

Slovenia

Sudan

Taiwan

Tuvalu

Vatican City

Uruguay

Malaysia

Moldova

Nauru

Papua New Guinea

Zambia

Andorra

Bolivia

Afghanistan

Congo

Cote d'Ivoire

Laos

Dominican Republic

Mauritania

Egypt

Gabon

Morocco

Uganda

Nigeria

Swaziland

Vietnam

Austria

Barbados

Bosnia and Herzegovina

Djibouti

Equatorial Guinea

Comoros

Fiji

Estonia

Ethiopia

Mali

Hong Kong

Ireland

Philippines

Macedonia

Poland

Madagascar

Sierra Leone

Vanuatu

Panama

Portugal

Samoa

Saudi Arabia

Timor-Leste

Albania

Burundi

Guinea

Iran

Armenia

Bangladesh

Belgium

Kiribati

Lithuania

Bhutan

Mongolia

Cayman Islands

Myanmar

Niger

Rwanda

Sao Tome and Principe

Slovakia

Czech Republic

Thailand

United Arab Emirates

Ecuador

Germany

India

Liberia

Liechtenstein

Luxembourg

Marshall Islands

Monaco

Mozambique

New Zealand

Pakistan

Togo

Uzbekistan

Venezuela

Zimbabwe

Antigua and Barbuda

Croatia

Argentina

Guyana

Kazakhstan

Lesotho

Central African Republic

Norway

Paraguay

San Marino

Spain

Suriname

Switzerland

Tajikistan

Guatemala

Honduras

Iraq

Mauritius

Nicaragua

Singapore

Somalia

Azerbaijan

Brazil

Brunei

China

Costa Rica

Georgia

El Salvador

Hungary

Israel

Jordan

Latvia

Micronesia

Seychelles

South Africa

Turkmenistan

Ukraine

Isle of Man

Kosovo
Payment Method
Deposit Options
Wire Transfer, Cryptocurrency
Withdrawal Options
Wire Transfer, bitcoin
Company Information
| Exchange Details | Info |
| --- | --- |
| Headquarters Country | United States |
| Foundation Year | 2011 |
| Type | exchange |
| Trading Allowed | Yes |
Trade With A Regulated Broker