Dollar Strength Pressures Gold, but Gold's Current Price is at an Important Technical Level
Published

: Sep 7, 2023, 21:50 UTC
•
3
min read
Gold has been in a short-term corrective cycle after gold traded to a high on September 1 of $1979.69.
Dollar Index's Rollercoaster Ride and Gold Correlation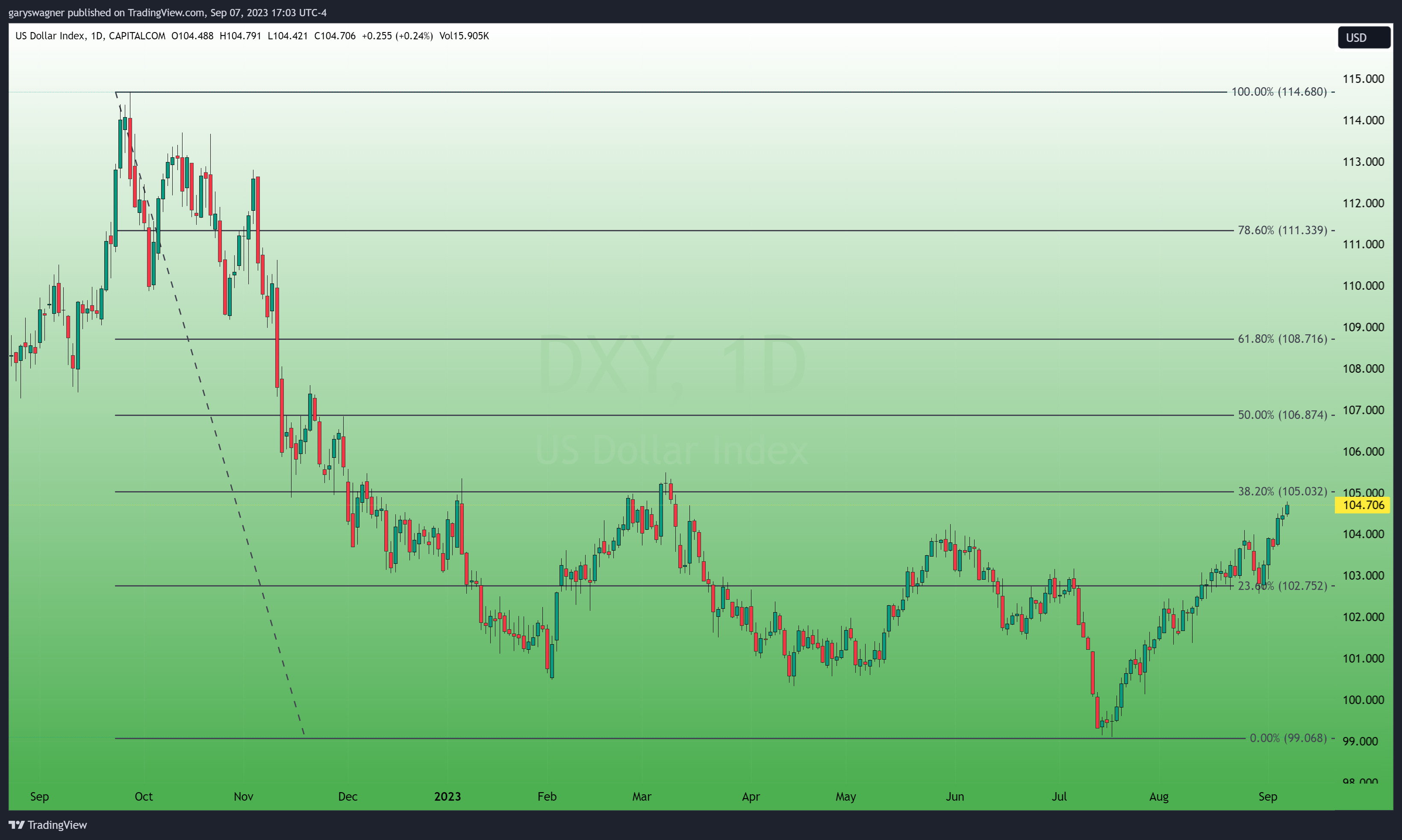 Back at the beginning of 2022, the dollar index fell to a low at around 99 points. After hitting those lows, the dollar entered a trend with an upward trajectory which concluded at a recent record high just above 114 points on September 28, 2022. The dollar index traded lower from the highs of 114 points correcting for 10 months when on July 18, 2023, it hit an intraday low of 99.14. This marked the end of the correction and the beginning of a rally that continues to this day.
Since mid-July the dollar index has been in a sustained rally moving to higher values. As of 5:15 PM EDT, the dollar is up 0.24% and the index is fixed at 104.699. Because gold is paired against the dollar, there is typically an inverse move in the precious metals compared to the dollar.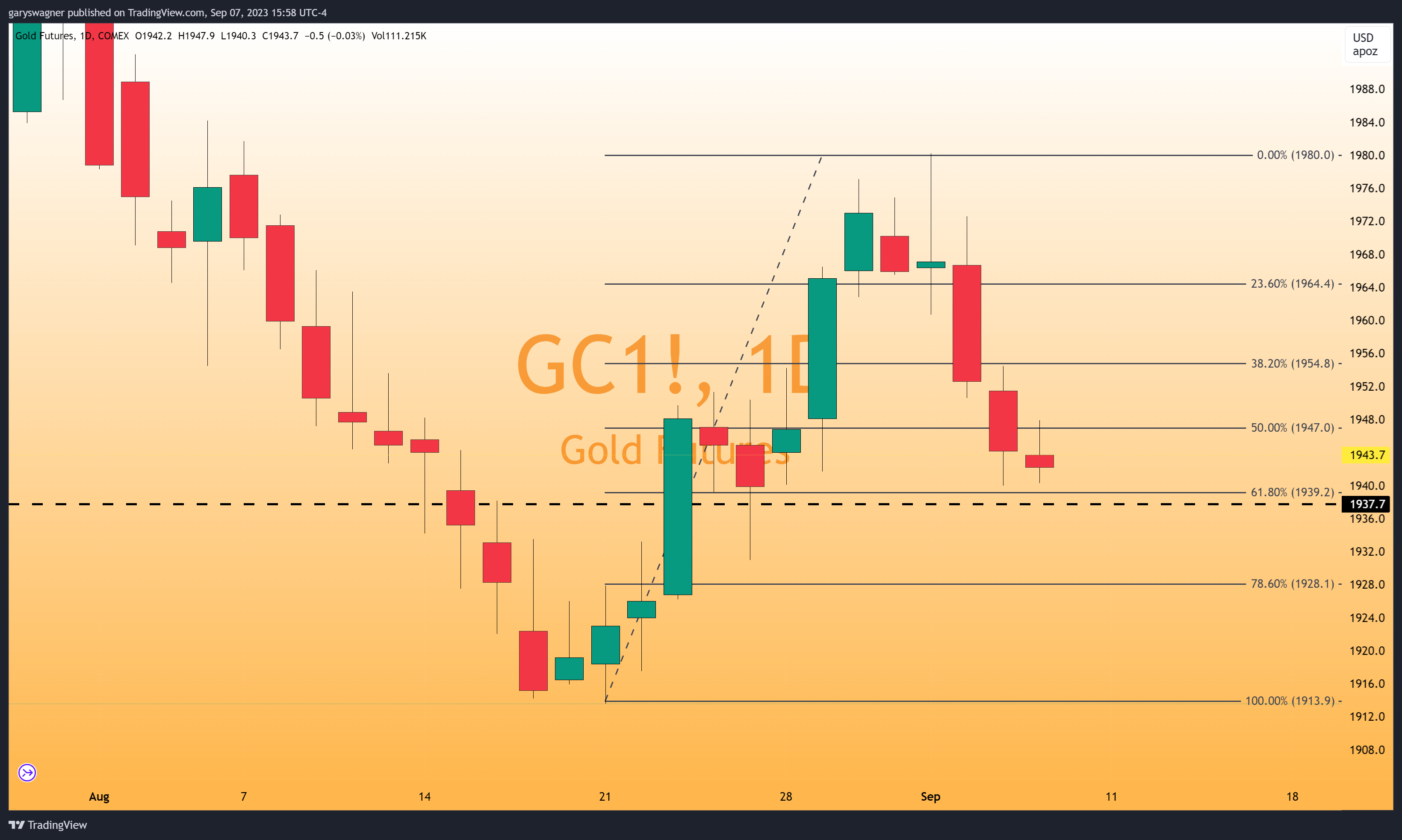 As we witnessed today during trading sessions in which market participants are bidding gold prices higher, if the dollar index is also trading higher gold must first overcome dollar strength. Currently, gold futures are fixed at $1943.70 after factoring in today's decline of $0.60, or 0.03%. Simple math reveals that if the dollar gained 0.24% and gold traded lower by 0.03%, then we would have seen a gain of 0.21% in gold had there been a neutral dollar.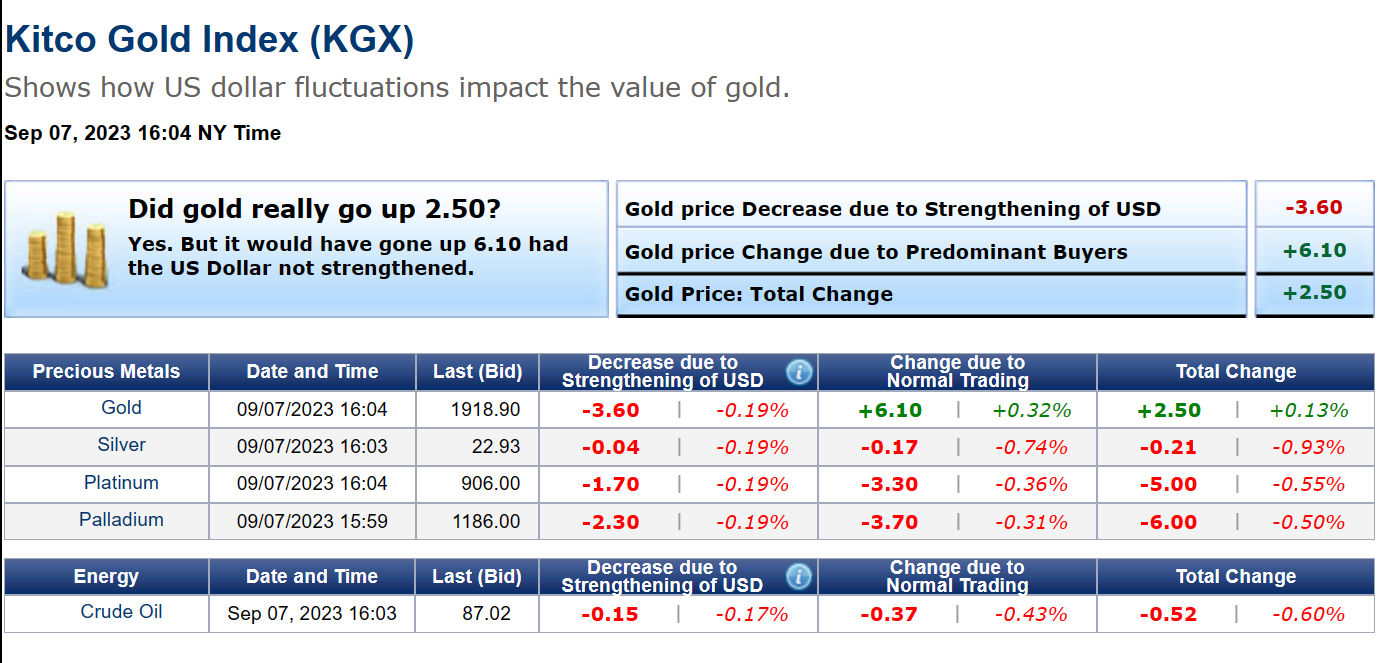 Spot gold is up $2.50 today and is currently fixed at $1918.30. But on closer inspection according to the Kitco Gold Index (KGX), spot gold gained $6.10 due to normal trading however, lost $3.60 The result of dollar strength when combined the result was fractional gains of $2.50 per ounce.
In light of dollar strength gold held up rather well. Although gold did trade to a lower high today, its trading range also included a slightly higher low. Also, the real body on a candlestick chart (the price relation between its open and closing price) was small creating a candle called a spinning top. This candlestick type typically is found during market sessions that lack any fresh fundamental news or technical price levels.
Gold Trades Just Above the 61.8% Fibonacci Retracement
Gold has been in a short-term corrective cycle after gold traded to a high on September 1 of $1979.69. This concluded the rally that began on Thursday, August 17 after gold hit an intraday low of $1916.40. Current pricing takes gold futures from the recent high just below $1980 to $1943.70 which is in approximately a 61.8% Fibonacci retracement which occurs at $1939.20.
A 61.8% price correction is an acceptable but deep retracement for a market in a bullish scenario. While it will be fundamental events or news that sparks the next big move in gold, market technicians will use the information to look for technical price support.
For those who would like more information simply use this link.
Wishing you as always good trading,
Gary S. Wagner
Don't miss a thing!
Sign up for a daily update delivered to your inbox
Sponsored Financial Content